full body clip on a gypsy horse
---
LOL, just kidding... But, I did clip her whole body with clipper guards! what a difference though... feel free to critique it's a work in progress for the next few days. I won't be clipping her winter coat away it's still very thick just more even...
she still has a mustache though, LOL, gotta keep that!
anywho...
before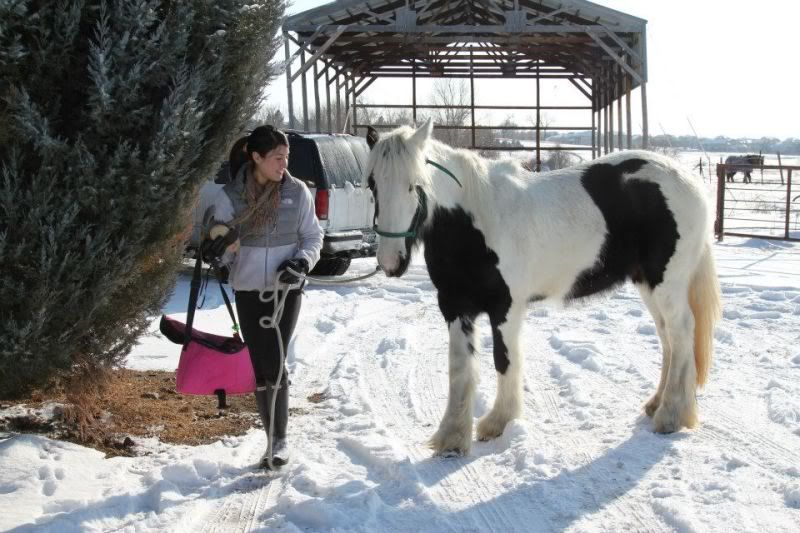 after
---
life has no remote control hitch them up and drive them your self
She looks great! Looks like a lot of work though. (; And nice braids, too!
---
It's where I learned about working hard
And having a little was just enough
LOL, thanks!

My clippers sure had their work cut out for them! after the first day/ hour and a half of trimming I had to call it quits and resume the next day. This is the first time I've ever clipped a horse before, thank you for the kind words.

I'm going to continue to trim/shape her up a bit sometime next week, LOL.
---
life has no remote control hitch them up and drive them your self
Great job! She looks not so woolly now.
Great job. All you needed to do at this point was to clip off the belly mane and clean up the face. I wouldn't do any more until after shedding, if that even becomes necessary.

Lizzie
Thank you featheredfeet,

I'm done trimming length wise. I think it's a nice thickness for a winter coat. It's still thicker than most of the horses full winter coat, LOL. I think I will go over it with a similar length guard to even everything up. I'm taking her to a halter class on the 16th and she's going up against some clydes I hear.
---
life has no remote control hitch them up and drive them your self
---
Last edited by Ashleysmardigrasgirl; 02-09-2013 at

04:28 PM

.
You reminded me that I must clip the fluffy pony too
.. You can't see it so much in the photo but you can make an idea judging by his beard . He is even more fluffier now if that's possible. Incredible how fast their hair grows.
He was clipped 6-7 times this year, the last clip being 2 months ago, a trace clip so that's why he doesn't have to much hair on his belly.
422180_545869142103966_287609357_n.jpg
---
"I am not what just I am - I am who I am not yet" (M. Heidegger)
---
Last edited by damnedEvans; 02-09-2013 at

04:30 PM

.
Love his moustache, DE!

Lizzie
Something I learned my first time that helped tremendously.

If you aren't going to ride the clipped horse for a few days after clipping, give them a good bath, then soak them with Show Sheen, or something of the the like. It helps the clippers to glide.