Growing out a rubbed tail?
---
I recently purchased a Morgan who would have a thick beautiful tail, if he hadn't rubbed off half of it.
He was recently de-wormed and I will clean his sheath as soon as the weather manages to get above freezing. He doesn't seem to be itchy and I haven't seen him rub it at all since he arrived but oh does he HATE you touching his tail. He literally tucks and clamps it in between his butt cheeks if he so much as thinks you might want to touch it! From what I've read on MTG, there is a good chance it can cause a reaction and a rash and if that happened, I am sure I'd lose the progress I have made as he actually relaxed yesterday and let me brush it a bit. Previous owner suggested slathering it in Vaseline, I am imagining what a slimy, greasy mess that would be.
Any ideas on what else I could use?
You mean what to put on the raw part of the doc of his tail to keep it from getting more irritated? Not sure but I would like to subscribe to this thread if someone has a product to recommend.
This is what his tail currently looks like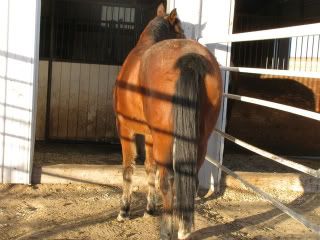 I'd like to put something on it to encourage the tail to grow back and I am wondering if it's a bit sore from the rubbing and that's why he tries to keep you from touching it, so something to soothe it would be good too.
Is there any scabbing of the tailbone? My mare, out of the blue, ended up with scabbing all over her tailbone this winter. I still don't know the cause, as her tail was clean and my other horse was fine, but I applied Equus microtek twice a day for a few weeks and the itching and scabbing stopped. I have used MTG on my thin skinned arabs with no problem, but I'm not really sure if it worked or not....maybe a little, but it does attract the dirt because it is greasy-- and makes your horse smell like bacon!

Unfortunately, time is really the only way that I've found to get the hairs to grow back. Keeping it clean and making sure it isn't dirty and itchy is really the best method to let the tail grow out again.
I've seen worse than that. That's not too bad. I think they say it takes 7 years for a tail to grow out completely but I'm thinking this guy will look much better in a few months or so. Maybe ask your vet about aloe for irritation? I know it works on humans but not sure about horses. I would use lots of cowboy magic whenever you do brush his tail to help keep the tangles out so he doesn't pull out more hair.