Help with braiding? Please?
---
Ok, so I have my first dressage show early next month (in 19 days), and we have to braid the horses manes...
Yesterday was my first ever attempt at braiding, and it was abit of a struggle; Love kept shaking her head when I was braiding her forelock, twitching while I braided so it all came out again, and the braids kept loosening. But after about an hour and a half I got it done. The thing is my instructor told me that the little ball thingys you make must be small and roughly the same size, mine kept getting bigger as they went up her neck!
This is Love's mane, it's a nice length for braiding and it's not too thick:
Photo0132.jpg
What I did first was seperate the mane into pieces, that helped a lot and made it easier to braid:
Photo0186.jpg
Then this is the final product, from the front it doesn't look too bad:
photo0189.jpg
But once you see the whole mane it looks kinda bad lol:
Photo0190.jpg
My instructor told me that for my very first time ever braiding a horses mane like that, it wasn't at all bad. We are going to be practising this everyday now, so I know I'll get better, but does anyone have any tips for me? Thank you.
---
Every girl wants their own LOVE STORY, I found mine... :)
hahaha
sorry that looks really funny, I have no advice sadly I have to start practising on Buzz soon and his mane is thicker and longer then Love Story so you can imagine what mines going to look like lol.
But practice makes perfect
Oh it also looks like you not plaiting down far enough to her neck in some thats why its stickong up all crazy like that.
Lol no problem, I started giggling when I looked at her when I was done.

Thanks, everytime I pulled it tight to get it down to her neck she would twitch or move lol, it was really annoying. Good luck with Buzz, I hope you're attempts are better than mine :)
---
Every girl wants their own LOVE STORY, I found mine... :)
Green Broke
Join Date: Oct 2010
Location: Some times Llanelian - North wales, sometimes Hull in East Yorkshire (UK)
Posts: 3,679
• Horses:
5
My advice is to not use bands!
Sew them in instead you get a far better result.
Pull her mane well so that it doesnt get thicker at the top.
Keep the plait nice and tight. It is important to get the base as tight as possible and keep the whole plait tight! then roll it into a ball by rolling the plait inwards towards the neck. Secure with thread but do not go round and round the ball, just go up and down through the ball making sure you catch the many layers with your needle.
Lots and lots of practice! If it isnt right, take it out and do it again!
This is how they should look!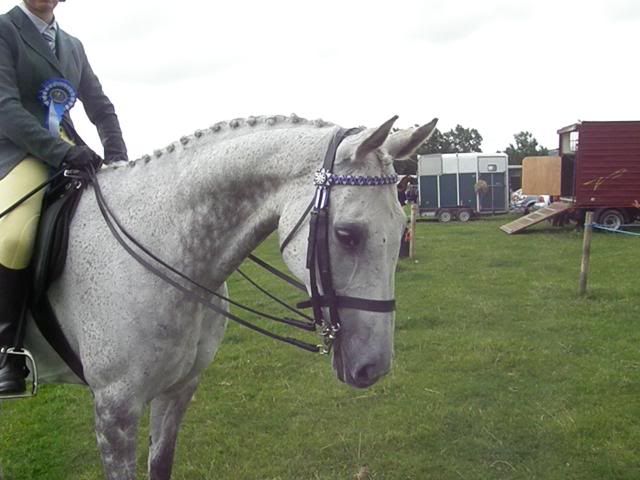 ---
RIDE your horse FORWARDS and keep him STRAIGHT


Well, your "balls" look a little long (sorry, that sounds weird, but I couldn't find another way to put it
). I would double them up again so they are of ideal and equal size, as well as neat-looking. At my last English show (January 2007 :P) my horse's mane was left alone, but pulled to the correct length, which I'm pretty sure is acceptable in the dressage ring, but I'm not exactly sure. There are "braid buddies" you can buy to practice braiding on, also. As for Love shaking her head (Love is such a cool name for a horse!), I have had this happen quite a bit with my pony Buster and my mare Dusty. I would tie her up tight enough so that she can't raise her head too high. I had the hardest time ever bridling an old horse I used to ride named Apollo (he was 17.2h!) but I put my arm over his head so he couldn't raise it very high. Although horses can't feel their manes, I believe their forelock is fairly sensitive, so you may be pulling on it. Hope this helps :)
~Casey
not bad for a first attempt. i sew in my braids as its more secure and not as easy for them to shake them out. i had no one to show me but i watched a couple of videos online and practised alot and after a couple of weeks and some rather embarrasing funny attempts i managed to get it quite good. apart from an unexplainable urge to kill the woman doing the voice over,i think this video is pretty good. hope it helps.
How To Plait A Horse's Mane (Horses)
haha well my first attempt failed to :P
I need to get Buzz's mane thiner... but its so time consuming pulling gahh guess I will have to.
I also made mine way to big lol
okay is Buzzs mane
and this is what the looked like :P
I had to use white bands couldn't find any black but there good for praticing :P
Wanted to try with thread but couldn't find needles
sorry for hijacking lovestory10
okay it looks worse when its big like that lol
I was in the dark, and couldn't see all the hairs sticking out lol.
need to pull his mane.. way to long
There's some good YouTube videos that show how to braid with thread, it looks so much cleaner. I know how to do hunter braids with thread, but they're not very good
Thank you guys, lol, I know mines like really sucky, but I'm getting better, will take more pics next time.

faye; wow! Did you do that braiding in the picture? Can I hire you? I'll pay for you're plane ticket and everything lol. My instructor actually mentioned to me today that we can try the thread on Saturday, and if that's no good we will just get help from her and my other instructor at the show, and put white tape on it to make it look neat. (I like that idea heehee)

redrooster; Thank you, I also like her name, her full name is Love Story. We think she's a tad ear shy, as she tends to shake her head a lot if you mess with her ears. She's getting better though, so braiding should be ok soon. We checked the website rules page, and it said that braiding is compulsory for dressage, so yaeh, lol, we gotta.

blacksplash; UGH! I wanted to KILL that annoying lady in the movie lol. That did kind of help, but it looks so confusing. I guess after some practise it'll get better.

RedTree; Wow, Buzz has the most gorgeous mane! It'll be a shame to pull it. You're attempt was a LOT better than mine; your first 3 are fantastic! You see the problem is that I cannot braid; I have a muscle deformity in a sense; it weakens my fingers and they shake terribly if I have to braid, so we are going to cheat and braid using two strands of hair instead of three. Did you first separate his mane into pieces before you started or not? And no prob on the hijacking thing lol.

equiniphile; I'll check good ol' Youtube, it hasn't failed me yet lol. Could you explain to me what a hunter braid is? I'm unfamiliar with it.

Thank you so much for all your input everyone, please share pics and such, and I'll keep you all updated :)
---
Every girl wants their own LOVE STORY, I found mine... :)
Similar Threads
Thread
Thread Starter
Forum
Replies
Last Post
Braiding

haleylvsshammy

English Riding

2

07-31-2012

05:04 PM

Braiding?!?!?

Rodeo Pro

Horse Grooming

9

06-28-2010

11:50 PM

Braiding... Help me?!?!?

lauraa94x

Horse Grooming

8

06-29-2009

09:56 AM

Help with braiding!

RocShrimp

Horse Grooming

19

04-20-2009

05:45 PM

Braiding?

chasin the dream

Horse Grooming

8

06-05-2008

01:46 PM