horse bites from pasturemates
---
Introduced and pasturing a new 6yo mare with a 9yo mare
and 12yo gelding.

The new mare to the group is being bitten by the others.
WILL THE BITING STOP???
Is the only way to fix this is by separating them?

Any suggestions as to how to treat the bites so the hair will
grow back.
Weanling
Join Date: Dec 2006
Location: Australia baby!! Wouldn't live anywhere else!
Posts: 522
• Horses: 0
It's just normal horse behaviour trying to work out the pecking order. It should stop in a few days.
Thanks for the reply.

I should have mentioned that they have been together for
three weeks now.

If I get after the biter while I see it biting will the
horse have any idea why I am yelling or chasing it away
from the one being bitten?
Is there anyway that you could divide the paddock and have the horse that is getting bitten at the side of them for a while so that they can't reach her but can get used to her?

I turned out my filly and gelding together and they were having a right scrap, rearing up and everything.

Now I've got them at the side of each other with enough electric to keep them apart. They should be used to each other by the time I turn them together again.

Rachiesmifx
oh it really depends on the horses. I think you should seperate them if its that bad. If you don't want to see patches on your horse constantly then yes a seperation would be good. Junior has been at the barn for about a year almost two now and he still gets bitten. Heres a pic of him and he had a bite mark which was just this past winter.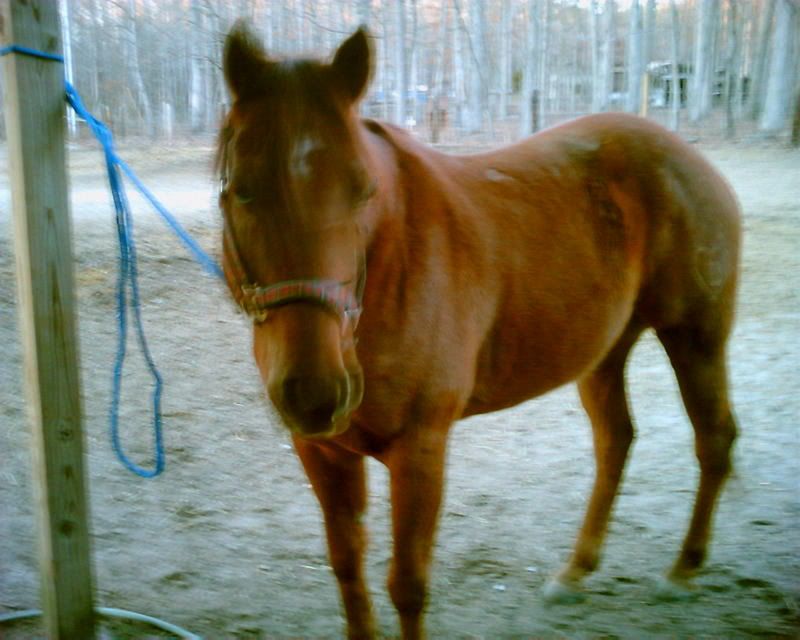 If you can see there is a patch missing from his back. You will most likely see more bite marks if you don't seperate them.
That's very common behavior. When I bought my gelding he picked on my mare for about two weeks. Monitor them closely and wait and see if they can work it out.
My mare is very dominant and picks on my gelding all the time....not in a mean way, but just to remind him that she's boss and occasinally nips still too, with these two, I don't have to separate....it may be best to wait it out a little bit longer before you choose to split them apart.....unless you're to the point of fearing for him....
This is my two....most of the time they are peaceful together.
http://i66.photobucket.com/albums/h2...s/together.jpg
It's always better to introduce them "over the fence" for a while before turning them out together. If you have to turn them in together, make sure your pasture is large enough that the dominant horse can't hem in the other horse. With enough acreage the picked-on horse can keep out of the way of the biter.
it will end most likely they jsut want the new hrose to know its place