you guys are great! one more question. what are your opinions on hoof polish? also if i am jumping, am i allowed to put boots on my horse? i have brown heidi boots and brown eskidrons with the fur around them.
Banned
Join Date: Jul 2009
Location: In a land far far away, or so I wish.
Posts: 12,825
• Horses: 0
No boots allowed in the hunter divisions. Boots are allowed in the equitation classes and for sure in jumper divisions.

The norm for hoof treatment at hunter shows in my neck of the woods is hoof oil applied just before the horse goes in the ring.
i have a few questions:
Is it required to braid your horses mane?
Do your horses have to be spotless?
Do you need a showing crop?
And, Can you wear your own saddle pad?

Thanks, this is my first year showing so i have A LOT of questions. By the way i show in pleasure no jumping for me =)
If the shows are rated, then yes, you should braid your horses mane and tail. Not just braided but show braided like...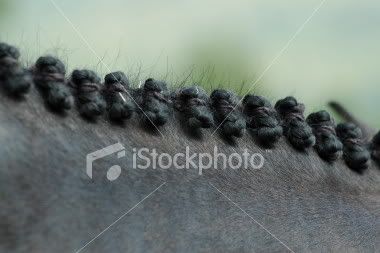 Yes, they MUST be spotless, shiney, and not sun-bleached.
If your horse requires a crop, you will need a all black, plain crop that is within the rules of the association you are showing in,
And finally, You should use a saddle shaped white pad, at the very least a square white pad.
Good Luck!
---
~~Sarah & Hershey~~
thanks everyone me and my horse cant wait for our first show. thanks for all the info
Started
Join Date: Jan 2009
Location: USDF Region 1, USEA Area 2, USEF Zone 3 - Maryland
Posts: 1,903
• Horses:
3
It's a horse show prep thread. She asked a few questions on here, rather than starting another thread on the exact same topic. It's okay ;)
---
-Melanie
Mom to 3 bays: Beau, Daisy & Cavalina
okay, but i thought taking over threads was bad? wow this stuff is confusinggg.