Quote:
I feed her 2 scoops senior feed and 2 and 1/2 ounces of ground flax seed, then I mix it with enough water to make it mushy. I don't bathe her too often, I just rinse her off after I exercise her.
Which senior feed and what forage are you using with this feeding plan?
I gotta show a picture too!
Here's my Quarter horse gelding, this was 4 months after his recovery from being super skinny (he was 20 years old here) and so he's still a bit skinny, but his diet for the 4 months prior was beet pulp, oil, **FLAX SEED**(extremely helpful with coats), soaked alfalfa hay grass cubes, and pasture. A good solid grooming helps out a lot, but this guy hasn't had a bath in what I'm assuming would be at least a year.
Oh and one more thing, I don't use any sort of show and shine on him, except for mane and tail stuff just on his tail because it gets knotted super bad.

I'll be straight with you, paints are generally never shiny. Black horses, sorrel horses and chestnuts (any dark solid color) will be always be shinier than ANY paint.
I must have had very unusual paints because they were both very shiny as well.
---
Always remember that feeling of looking at a big, open country over the ears of a good horse, seeing a new trail unwind ahead of you, and that ever-spectacular view from the top of the ridge!!! Follow my training blog:
http://robertsontraining.blogspot.com/
A really good thing for good coats is canola oil. I used it on my mare when her coat was dull adn she needed to gain a little extra weight. it worked wonders! I have a tb gelding that is on blue seal pacer and practically 24/7 turn out and he rarely gets groomed or bathed. these pictures don't show just how shiny he is or his hundreds of dapples.
I also have a chestnut mare that i have a TON of trouble getting shiny. I give her two baths the week before the show using shampoo and conditioner. She gets hosed down after rides and i am always washing her tail. Afterall she is my show horse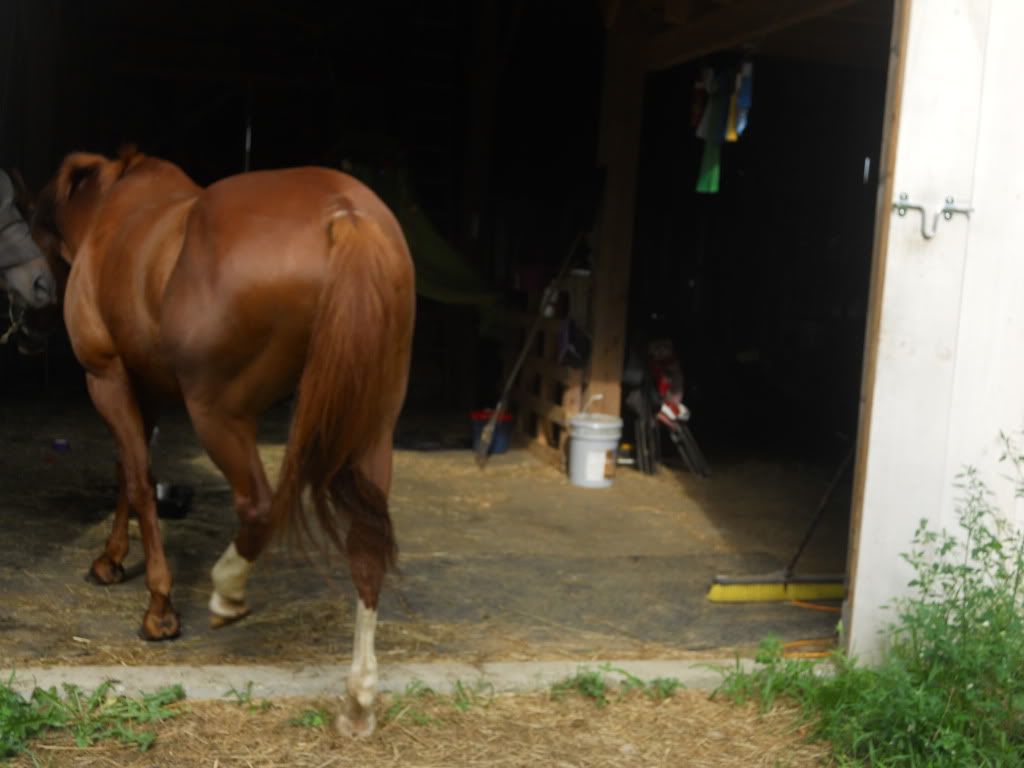 I take pride in keeping my Arab soft and shiny. Make sure you groom like crazy. Also, stay away from coat sprays as they damage the hairs with the silicon and alcohol they contain.
Posted via Mobile Device
If you are just trying to get them shiny for a show, warm water and a few squirts of baby oil work. Then dip the sponge in the water twist it out and sponge the horse off. It doesnt make them slippery or slimy. It is also safe, its baby oil after all used on tiny babies. (DUH) haha
---
Your horse is an extension of you.
We have a warmblood inspection coming up and what we've been doing is going over them with a curry comb first, and then taking a towel soaked in warm/hot water and rubbing them down with it all over their body. This is my first inspection so idk how well the end result will be, but already you can see a difference in their coat. Beyond that, LOTS of grooming and good food. (oh, and did I mention grooming!?)
Mine roll in sand and that makes them very shiney.