How do you keep your black horse (or mane/tail) black?
---
So I finally got Cinny and did a nice thorough grooming of him today. His grooming has really been neglected, especially his tail so his tail has a LOT of orange in it. Does anybody out here dye their horses hair or do anything else to get the orange fade to go black again? And once you do, how do you KEEP it black? I would love any and all tips or advice.

I'm sorry if there is already a thread for this, I did a search and couldn't find one.
My horse who have black manes and trails the tails are kept up in 3 tub tail wraps. The manes are kept clean braided and I use a spray with sun screen in it. works well.
---
-I'm so busy... I don't know if I found a rope or lost my horse.
-An Armed Man is a Citizen an unarmed man is a subject.
-Where ever free speech is stifled Tyranny will reign.
We use Quic Black on our black gelding and holy cow it works! and with my mare that I sold I would put a fly sheet on her during the day
Thanks I'll try those. I was just going to make a tail wrap for now because he's never had ANYTHIGN on him except a halter, bridle or saddle...nothing ever on his tail, legs, etc so I don't want him to rip something up the first day after buying it ha ha. Was thinking of working up to a UV fly sheet but we'll see. He will be in a paddock with other horses so I am cringing at the thought of tail chewers and blanket rippers
I love using Santa Fe by Absorbine on my bay's black mane and tail (or on any colour I don't want fading)
It has sunscreen in it and it works amazingly, even though I also use MTG (which tends to sun bleach easily) my guy's hair stays nice and black!
It works amazingly as a detangler and conditioner for mane and tails...by far better than anything else I've tried (and I've tried a lot of things!)
It takes out tangles with ease and leaves hair silky and smooth.
It can also be used over the entire coat as a sunscreen and coat conditioner.
For a fix to turn the orange black again use Aveda (for Humans )conditioner called Black Malva. It works on horses too. Put it in and leave for 15 minutes and rinse. Then keep a sunscreen on Mane and Tail :). Might need to use a whole tube or two about $18 but it works nicely.
I use Nu-Image on my guy, hes a black and white overo, so we have a lot of black.
I use nu-image suppliment(it makes them grow out a new blacker shinyer coat, and shed the old dull, bleached one. I get TONS of compliments on his color and shinyness everyday.
I think I have some before and after shots... hmm...
Before=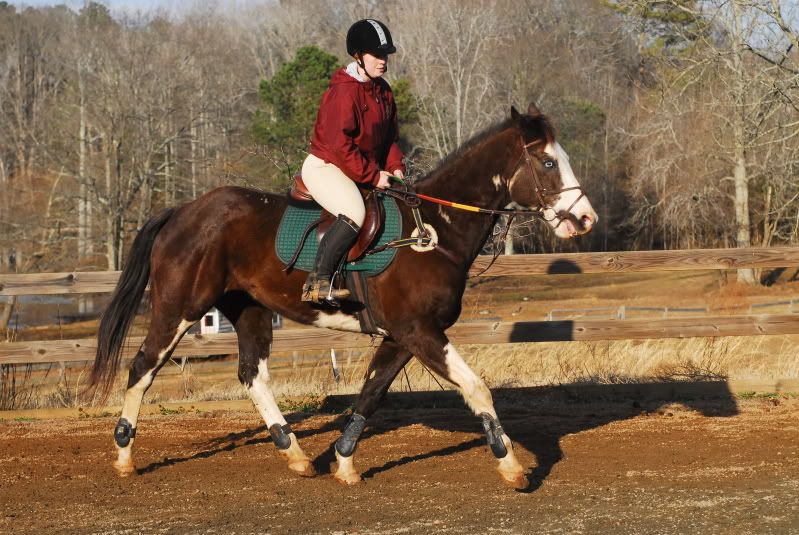 After= ( this is one tub of nu-image later) Just over a month.
this one shows off his shinyness in the sun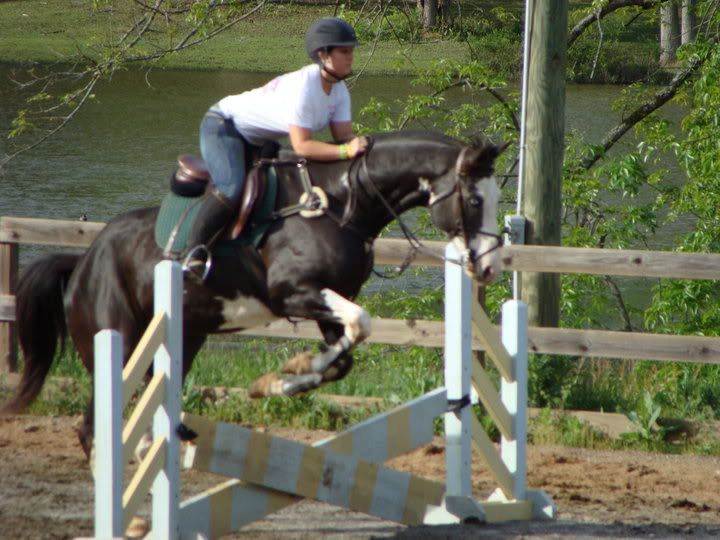 And this one shows off his over-all black color without the sun on him( and his better jumping position... lol)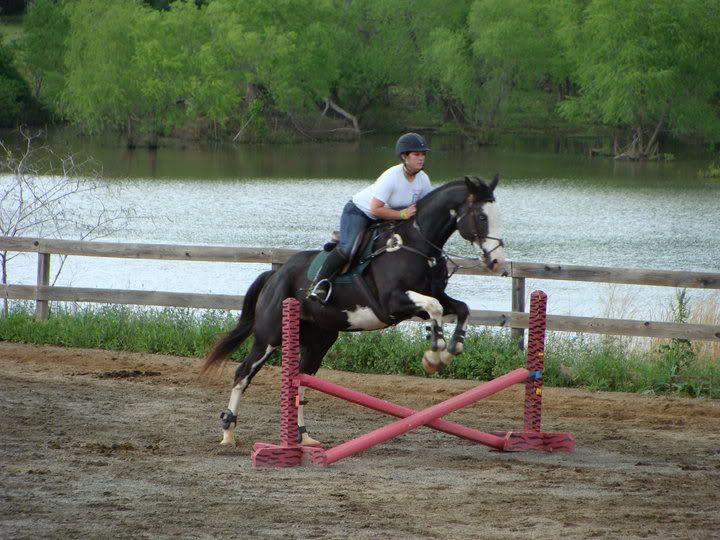 Its an expensive suppliment, but it REALLY works, fast, and amazingly.
You can also look into getting a uv fly mask, sheet, and tail bags.
Good Luck, and another note, the shampoos/conditioners with color deposit (like aveda)will temporarly re-blacken the orange. So I would only do it the week going up to a show or something.
---
~~Sarah & Hershey~~
Thanks to the above post, I am sold on the Nu-image (not my thread I know!) Your horse looks amazing and what a pretty backdrop for an arena, I would probably fall off frequently as I gazed off appreciating the scenery ha ha
---
All horses deserve, at least once in their lives, to be loved by a little girl.
Thank you Sarah. I was thinking of using the feed suppliment Black as Knight because a neighbor swears by it, but she said it takes a while to work. Nu Image is actually a bit cheaper but I think either way I'm going to try one of them. I just figure his tail won't change with it though ha ha.
Actually, They are owned by the same company! So either way its a great choice

And Sarahver- Its a nice place to ride! and unfortunatly pretty distracting. =( The other day we stopped a lesson for like 10 minutes to stare off and watch a stampede of horses and cows into the lake. lol
---
~~Sarah & Hershey~~