How to help a sun bleached dun
---
So this is my mom's red dun. Don't let the color tint of the picture fool you-- she really is that pale. Her legs are the only part of her that shows her original color. She's 18 years old, and lives out in the pasture with a couple other horses. Besides keeping her in a stall all day (which isn't possible most of the time because of other animals), is there anything we can do for her poor coat?
---
Impressive Wild Angel- Ginger Happy Go Lucky- Duncan Little Boy Blue- MellowSweetwaters Eqyptian King- Sam

Too late now - sun bleaching. My dark golden pally would be light blond by this time of year unless kept out of the sun which I wasn't going to do. if she went in it was her choice. Her winter coat is hiding under there so all you can do is wait for it to emerge.
Hmm. Well, thought I'd ask! My mom regrets not putting her in the stall more often, misses that red coat. Oh well!
---
Impressive Wild Angel- Ginger Happy Go Lucky- Duncan Little Boy Blue- MellowSweetwaters Eqyptian King- Sam

This is what my gorgeous Liver Chestnut should look like; taken Labor Day 2010 after being out every day in last year's summer. He was formally diagnosed with Equine Metabolic Syndrome in 2007.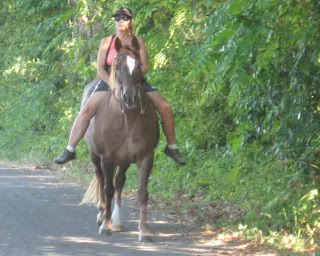 Annnnnnd here he is nine days ago, 08-04-11. Let me add he has bleached out more since this was taken. He might be considered a Towhead with a red mane if he were a person
I had added copper and zinc to his diet last spring because my pastures and hay are high in iron and copper/zinc is supposed to help coat color, boost the immune system and stabilize insulin in metabolic horses.
This is the first year his coat has bleached this bad, his CHEST sunburned and his hair started to fall out so I had to start covering his chest with clear zinc oxide and Vetericyn. I took him off the extra copper and zinc, his chest quit burning so bad but he still gets the sun "dots" on his skin. So I am paranoid and continue to spend a fortune on clear/pure zinc oxide and Vetericyn to cover his chest every day before turnout.
My beloved Bud is a TWH will be 24 October 3rd and has been my riding partner since he was a coming three year old. I sure didn't expect him to have to deal with all this garbage as he is not the first horse I have had up into old age. I had two others that were 27 & 29 before I sent them on and neither got sick until the last 8 months of their lives.
So to the OP, please tell your mom not to add copper & zinc if someone tells her it will help keep the coat from fading. It might help but then again, look at my Fella
---
Last edited by walkinthewalk; 08-13-2011 at

05:28 PM

.