MHFoundation.... your stalliona are lush and yourelationship with them is amazing.... My man had the chop yesterday lol!! feeling rather sorry for himself today haha....
And cinny is beautifullll i love that pic with the snow!!
Thanks Shelley! Aww, they always act rather pitiful after the chop! He will forgive you...eventually LOL!
---
Life is like a camera. Focus on what's important, Capture the good times, Develop from the negatives and if things don't work out, Take another shot.
I know most of mine about as well as anyone can know a horse. I think a very big part of that though is the fact that I was the one who did all the training on them.
Dobe is definitely the quirkiest horse I have ever handled. He has a personality the size of Texas and is certainly not afraid to let you know when he's not happy. He doesn't like his right ear to be handled, but he loves to be scratched on his butt on either side of his tail and right in the middle of his belly. I have to be careful what I ask him to do because he will give his all to get it done, even if it puts himself in danger (jumping in front of a charging momma cow, going down a cliff at a dead run, etc).
He was completely unhandled when I got him, and a 3 year old stud on top of that. He had learned at his previous home that the way to get humans to leave him alone was to charge them as soon as they entered his pen. After he figured out that I wasn't going to run, he settled down quickly and we came to a bit of an understanding. Within just a few days, I was riding him through cattle and we've never looked back.
He was a bit of an odd type horse, he always just seemed so happy to have a job and a home and somewhere to go. He never called to the other horses at the barn, even when he was still young and green, though he will nicker to me every time I go to the barn.
Then, there's Denny. He was abused at his previous home by the 'cowboys' who tried to break him. Every time he would get scared and flinch or jump, they would get mad and hit him so that solidified his flinchiness and sensitivity. He's a very hypersensitive horse and, even though he is extremely broke, very few people can ride him successfully. He needs more than just knowing how to ride, you have to know
him
to get along at all.
He hates dominant riders and if you
tell
him to do something, you'll just make him mad and then you have a fight on your hands. However, if you just ask him to do something, he'll do it or die trying. He yearns to please but he doesn't tolerate domination.
When he was younger, he thoroughly hated men and would very nearly freak out if one approached him. He is much better now, but he is still uncomfortable and on high alert whenever a man is around.
He loves to be rubbed on his face and his poll and he enjoys giving me hugs (and getting them
).
This picture is old but it is one of my favorites of me and him.
---
Always remember that feeling of looking at a big, open country over the ears of a good horse, seeing a new trail unwind ahead of you, and that ever-spectacular view from the top of the ridge!!! Follow my training blog:
http://robertsontraining.blogspot.com/
Froggy is my buddy. I've only had him a few months but we know a lot about each other.

When I am feeding, I call him in. He usually runs halfway to me, circles back, rounds up his cows and then comes running full blast for his grain.

If he doesn't round up the cows, he gets close enough that I could grab him before he lays down and rolls in the mud...*laugh*

He doesn't like treats. At all. He will take sunflower seeds as his treat...thankyouverymuch.


He likes to have his 'boobies' scratched and will track you down to get them..

He loves being a calf baby sitter. The momma cows leave all the babies with him and go to graze. He keeps a very close eye on them. He also seems to have an uncanny sense of when a momma is going to calve. He keeps her extra close. Once they do have the baby, he is always right there with momma, licking the baby.

He is a big time napper. He loves to sunbathe and nap. Half the pictures I have of him, he looks like he is half asleep...probably because he is.

He is an off the track TB but you would never guess it. He is so laid back about everything...

If we are on the trail and encounter something that needs a little thinking to get around, if he starts getting huffy, I just lay my hand on his neck and he relaxes.

Here is my boy Froggy.
I feel like Sunny and I understand each other very well. I've had her since she was 20 months old and, aside from basic halter/feet training, I've done all of the work with her.
Sun is a horse that you really have to know and understand to work with. Sometimes you have to push her really hard to get her to listen, others you have to be very patient or she will shut down mentally. If you don't know her, you can't differentiate between the two and it will likely end ugly.
She is so quirky;
You can't leave anything lying around or she will pick it up and throw it as far as she can.
She hates apples, but LOVES her apple treats.
Whenever she's eating and I ask her to move over in her stall, the look she gives me is PRICELESS. It's like a, "How dare you touch my hip while I am
eating!" She always moves over though.
Man, I miss my little girl! I haven't seen her in one week. But we're going to pick her up tomorrow to bring her to the new stable!
Posted via Mobile Device
I have had Jake for about...7 Years now? Honestly when I first got this horse, I hated him. I didn't want to ride him, he was pushy and I had trouble controlling his frequent lateral movements. Lol At the time I had an appendix that my dad wanted to sell, I wanted to keep that horse but eventually I was just left with Jake. Despite my problems with him, I wasn't going to stop riding. So our journey started there.
Jake is almost fearless, I can count all of his 'spooks' on one of my hands those were all when he had an eye injury and had limited vision in one eye. This horse has never said no to me, any water crossing, any jump, honestly if I specifically didn't tell this horse to turn away from a fence he would (actually has) run into the fence for me. I remember one time I was lost and trying to see where I was on trail. So I dismounted, detached one rein and climbed up a 5 foot vertical embankment. When I was at the top Jake was staring at me at the bottom with ears forward watching me for a moment before he took a step back and crouched down. I jumped out of his way as he tried to jump up the embankment from a standstill, he landed on his stomach, with his front legs up and his back legs down on the soft crumbling dirt. With the dirt being so soft, he couldn't get back up, so he just laid there calmly staring at me like "what now?" I ended up jumping down and having to dig out the dirt from under his belly before he slid down and we went on our way.
Jake LOVES sandwhiches. He knows I always have one at shows and that he gets the crust, he is the only animal I have that is aloud to beg. And boy does he beg!
Besides being as hot as he is, he relatively has no vices and never has. I have put him in situations where any other horse would have kicked and he hasn't. (including attacking dogs, poking wounds in his back legs with razors or needles to drain....running at him from behind and jumping on his back....ect) Never bit anyone, lets kids pull/climb all over him.
Jake gets along with all horses. He ignores most, and has been knocked off his feet a few times from ignoring them. He doesn't move out of other horses way, but doesn't push his way around either.
Jake can be super light on the bit, or super hard depending on the rider and his mood.
I know this horse in the saddle like the back of my hand. I am pretty sure there is nothing this horse can do to throw me, or unseat me (not that he tries.....but being special as he is he throws himself off balance) The only time I have fallen off of him, is because I've had to throw myself off because he's hitting the ground too.
When Jake gets super frustrated he goes two ways. Up (rears) or down (lays down) haha. This horse can drop to the ground like he's been shot. He'll lay on his side and won't get up<---I have on video lol.
Jake knows when they (him and dutchess) are loose and we are chasing them (otherwise they stand in the arena like bums and won't move anymore than they would in their pens) that when he is done if he stands by me he doesn't have to run a round anymore. He'll come to me and stand/follow me around. While Dutchess still is galloping laps.
This horse believes to his core that trails are for galloping, and that I'm a stupid human for not letting him do his job. He gets very frustrated that I am this stupid.
Jake can canter practically in place (asked and not asked for), and do a bad version of a Pirouette (asked for) but can't canter consistently.
I also stretch out his legs when I tighten the girth. So after I tighten his girth I stand in front of him and he'll lift his legs for me.
Out on trail, forks in the road are always something that set Jake off. I don't know what's so exciting about them, but a change in direction makes him oh so excited.
Jake likes under his neck and his chest to be scratched.
I have never met a horse so focused on its person before. Its rare that he doesn't have at least on ear on me when I'm riding. When I'm walking around he always has his head up watching me do what ever I am doing. I tell you, If I;m with him and I crouch down to grab something, his head is also on the ground looking at what I'm looking at. If I'm sitting on the ground he will keep his head at my level for a good amount of time.
Jake also comes (85% of the time) on command.
I'll stop here. Lol
HOW FUN!
Okay, so I have to say I know Gidget pretty well. She is my best friend in the entire world when it comes to animals but also includes most people :)
Lets start by saying Gidget can host her own talk show if she wanted to. She is very vocal and will talk to you and I can literally have a conversation with her.
When I tell her to stretch and I point she will stretch each side for me.
She hates her belly touched and will glare at you as to tell you to back off.
She is the only horse that will run around in circles when she knows it's time to feed. If you don't feed her her alfamo at a certain time she bangs on the stall door to remind you.
When we are about to ride she tries to put the bit in her mouth be herself.
She gets bored and rearranges her salt and mineral blocks.
She poops outside her stall and pees inside.
She knows when I'm sad and lets me hug her neck. She is a very sensitive horse and I'm a very sensitive person so we relate.
Gidget knows her name. I can call her and she will answer me back. When she is in the pasture and I call her she will look at me and I call again and she walks..I tell Gidget to come her
and she takes off in a full gallop to come see what I want.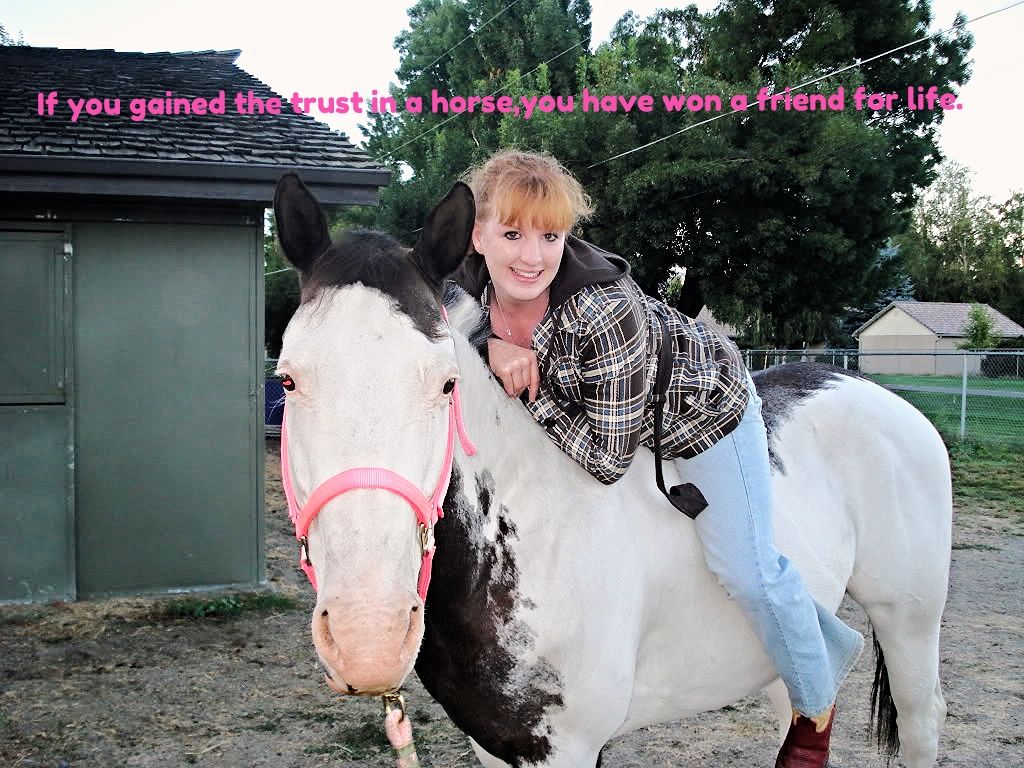 my colt Rooney, is quite a special thing. I have had him for 6 months but we have relly come close.
we had a lot of problems when he arrived cos he new a lot of comands he was broken way to soon, he does passgae, piaffe, and kneels for you to get down, well he used to now he doesent cos i let him be a horse a lot more.
he likes to run next to the pastures when he see me come he goes by my side in the other side of the fence.
he likes to rise his hean when i try to put the bit, making me stand in a bucket to be ablo to do it.
when your walking him (not ridding) he likes to do some sort of spanish walk.
when you are riding if you put the 2 reins in one hand he starts bucking even if they are loose.
when you are troting him he just wants to canter and he starts making funny noises with the bit.
when you are cantering him he likes to move his head up and down...
if other hoirses come he side steps and kinda dances arround them of course i dont let him an im working on it lol.
this is my boy
2.jpg
My QH mare, Candy and I have a very special bond,trust between her and I. We became each other's in 1995 when she was an 8 year old. It is now 16 years later and she is now 24 and as healthy as the day she came home with me. We have had many great and rewarding experiences together. We have covered many, many miles of trails, many camping ventures with blazed equestrian trails in area National Parks. We have participated in our areas largest and longest parades. There has been joining in saddle club gaming playdates. Have I said yet, "I love my horse"!!

Oh and we had 3 foals together, also. She is an exceptional Mom.
All your horses are so beautiful! I don't have any good pictures of mine! I know my guy pretty well although I have only had him a few months.

He has some good quirks. After he eats his grain he will pick up the feed tub and fling it. He will not go to the bathroom in a stall. I only have him in for a few minutes before I ride him but he will not go in there, he also will never poop in the aisle way or washstall, he always waits to go outside or if he has to go really bad he will in the arena. If I have him cross-tied too long and he needs to pee he will dribble a few drops out to let me know he needs to go. He always expects a treat after a workout and makes an adorable face to get it. And he always lays down and takes a nap in the morning after breakfast.