Collectively, my hubby and I have 3 horses and a donkey, but only 1 is solely mine as she came along before we ever met. I call her Dora (or just D) and she is a 14 year old Arabian mare. I got her as a yearling, sold her at 5, and then got the opportunity to buy her back a few years ago. She's amazing, and even the previous owner commented on how we clicked immediately, after being apart those years. A little about my girl...

She's a little stuck up. She will acknowledge a person's presence but then give the biggest look of contempt, sneer up her nose, and if she could roll her eyes like a person I believe she'd do it. She's a very one person horse and while she doesn't act up, she just does not care at all to be messed with by "others".

When she wants to play she'll come to you for a quick petting, then she nods her head a few times before throwing her tail and trotting off. She wants you to chase her and she makes a big deal about it, snorting and blowing and just looking wild. It never lasts too long, and she'll turn back to you for some more petting then she just walks away.

She'll do anything for a peppermint. ANYthing!

No matter how much I ride her, every time it will take her about 30 minutes to even out. For those 30 minutes she trips on grass, everything is scary, it's just a whole new world. If you can wait it out (my husband can't, makes him so mad!) the rest of the time she is perfect.

She loves being groomed and pampered, loves being clipped and her feet being trimmed. She really is a girly girl and knows when she's looking her best. She always seems to step a little higher and arch her neck a little more after a good bath and trim.
I've had Sam since he was born and he's now 10 months old. We have a very good relationship.
- He talks to me everytime he see's me, no matter if he's in the barn or in the pasture.
- He gives me kisses.
- I know that he's going to try to get me to itch his but everytime he see's me.
- If he's laying down, he likes me to rub his belly or lay down with him and we take naps together.
- I know that everytime I water him, he's going to try to give me a bath by dumping the bucket TOWARDS me.
- He pees in his hay and sleeps in it (nasty little colt)
- If he gets caught up, stuck, or what have you, he doesn't panic, he lays there and lets me help him (a lot of horses thrash around)
- I don't have to hold him to lead him, he follows me faithfully at my shoulder.
- His ticklish spots are between his back legs on the inside of this thighs, the insides of his ears, and of course, his butt lol
- When I'm brushing him, he'll steel a brush and brush his toes
- He doesn't care what I do to him, I desensitize him with bags, ropes, saddle pads etc., and he just stands there.
- He will try to steal the tools out of our farrier's belt
- He likes to steal my mountain dew bottles and drink them haha
I dunno, he's just my baby. He acts up with other people and will try to bite or kick them, but with me he's an angel. I can put a 3 year old on his back and lead them around and he's perfect. As soon as my grandma or grandpa try to lead him, he'll try biting them. (I know, naughty naughty)
I haven't had Koti for very long, only a few weeks. But she already talks to me everytime she sees me and would rather be with me than the other horses. I still have to get to know her to know her quirks and stuff. Although, her stall is next to the grain room, and she will shut the door to the grain room with you in there and then turn around as if it wasn't her. Guess she has a little humor
The first picture is Sam
Green Broke
Join Date: Aug 2009
Location: Vancouver, British Columbia
Posts: 2,808
• Horses:
2
Beautiful horses everyone. Shelley I LOVE your mare.
Well I rescued Hunter almost 2 years ago at 18 months. He was a bratty little guy.
In the past year we have come a long way in getting to know one another. He is a sneaky little guy. He tried to get out of his paddock under the gate and got stuck but he is so good he just layed there and ate grass until the BO came and rescued him. If I dont let him eat grass while riding he will just go down on his knees butt in the air and me on his back and eat. He is always untying himself, hates apples but loves stud muffins.
He is very smart and picks up on things very quickly. Hates arena work (me too) and loves the trails. His first trail ride last year he was the first to lead out.
He doesnt like to be groomed, which sucks because sometimes I just wanna go see him and brush him but oh well.
He will walk all over you if you let him as I learned. I used to be afraid of him and almost sold him but soo glad I didnt. I mustered up some courage and now things are a lot better between us and he knows he cant get away with much anymore. Not that he doesn't try.
14129_375756068079_732348079_3565538_2461575_n.jpg
67287_447064773079_732348079_5185082_6771730_n.jpg
I've only known BUstie and Alli for like 6 months but...
Bustie is the biggest softie ever!
- when i'm bringing her feed over she will do the whole black beauty head thing
- first time I fell off she stood a meter away, nose outstretched to me asking "watcha doin down there?"
- headbuts me just before I step backwards into her when I ti the gate
-lets me fault (and fail at) onto her bareback from a big blue bucket thing...
- always walks off when I get on her straight from the ground but never walks off when I get on off the gate- the big blue bucket is also a nono on this occasion tho...
-loves me stroking her star- she knows shes pretty!

Alli is my mischief maker...
-only does her feet in the right order FL BL FR BR
- chews the blue rope but not the purple one- no idea why!
-will only be caught when her headcollar is already on or I am playing with Bustie- who is a dream to catch
- has a knack of telling me when a saddle doesn't fit- very good for saddle fitting!!
-hates her new smaller meals- her opinion: why should she have to lose weight by eating less when Bustie gets to eat more and put on weight???
- will only take lick from one side of the tounge twister thingy
- lets me poke around any wounds but spounges and cream are a nono
-loves either side of her dock scratched
-very ticklish just in front of her point of hip
---
~I live for the moment when a creature with a spirit wild and heart untouched puts its head in your arms and falls asleep~
Wow, this is such a lovely thread.
-I know that she'll come straight to my whistle
- Every time I halt anywhere, she'll reach down and itch her right leg
- She'll pick up anything within the first few attempts at trying
- She's far more talented than me, as is shown, but still puts up with me anyway
- She flies over jumps like they're 5ft
-As soon as I get on her she has a wee, regardless of where we are (and in public)
-If she circles before she lets me put the saddle on, we'll have a good ride
-But if we tack up good as gold, she's not in the mood (strange huh?)
-Whenever she's free galloping in the field with Tazz, she'll always put on a spurt and sort of charge and toss her head; it's lovely to watch and hard to explain (pictures)
-Every time I get off her, she'll wait til I've put the stirrup up on one side, then as I cross her head she always always always uses me as a scratching post.
Pictures of the last two!
---
Mount up and leave your troubles behind on the ground.
I've had my mare Flicka for about a year and a half now...she has come SOOOOOO far in that time, for me atleast, hahahaha!
*She was a bucker/bolter when I acquired her...she is now a very good trail horse
*She is extremely smart; she catches on to both 'good' and 'bad' things easily! This also means she gets very creative if she gets bored with our riding routines, so I have to switch things up in order to prevent any goofy antics, and keep her focused.
*she has pretty much made it clear that she is a one person horse. She is not mean to other folks, but she has no interest in being affectionate with others, and she is still quite leary of men. I'm not really sure of her past, so that "may" have some impact on how she reacts, even though I try to have others just act normal around her, and desensitize as much as possible.
*She has a major sweet tooth! Butterscotch disks are her absolute favorites!
*She is a show off when we do ground work...I swear when other horses and owners are present she really amps up her responses, and she is really responsive in the first place; we get compliments too. Lol!
*She is one of the only horses I have ridden/owned that is literally never effected by what other ruckus other horses and riders are causing around her; she can be a complete goof about other stuff, but this is something I am extremely thankful for, especially when I am on the trail and other horses are bolting with their riders!
*when I take her halter off in the paddock she follows me back to the tack shed, and then back up the run when I leave.
ETA...she is also a horse who is very in tune with my emotions as well as physical state; she knows when I am not feeling well and is more cautious and careful around me. When I had surgery last year, I used her as a 'therapy horse' since the doctor told me to take lots of walks, but I was really sore; so I would put my arm over her neck when I needed to, and she would slow her pace even more and steady her neck to balance me. She was never taught that; just seemed to know that's what I needed.
---
"The ideal horseman has the courage of a lion, the patience of a saint, and the hands of a woman..."
---
Last edited by mom2pride; 05-29-2011 at

11:30 PM

.
I've owned my horse for 3 yrs now he is a 10 yr old registered AQH gelding. We know each others ins and outs!
-He knows when I am having a bad day, because he will act like a fool, he knows that I dont show my emotions well and will keep them bottled up, so therefore he acts crazy so that i eventually wind up talking to him and crying on his shoulder.
-He knows when I'm in a good mood and will act perfect!
- He has an attitude the size of TEXAS! If you don't do something the way he thinks you should he will let you know by being the biggest pain in the rear you have ever seen.
-Along with his attitude he has a HEART the size of Texas, and will absolutely do or try anything I ask of him.
-He will go over and through anything!
-He has a bad habit of needing to be sacked out before every ride, I can always tell when he is going to behave or if he is going to rear when I put the saddle on him. He thinks he is an OUTLAW. ha ha...
-He doesn't like young horses. He isn't into all that frolicking.
-If he is pastured with a bay or black mare he likes to act like a stud by not wanting to be caught. It can really be a pain in the butt if the mare doesn't like being caught too!
-If he is turned out with any other horses he will meet me half way to be caught!
-He only eats manna pro apple bite size treats.
-He LOVES bathes!
-The only time he wants to really run is when he is chasing a cow.
-He loves grooming time an thinks it should happen at least 2-3 times per day!
-And despite all of his issues at the end of the day he is the only horse I can rely on in any situation! He knows when I really need him and when he can get away with goofing off!
100_0322.jpg
---
"Don't Hate Me Because My Horse Is Fast, Hate Me Because Your Horse Isn't Fast Enough"
Okay so I'll only name a couple things since I don't want to go on and on and go to bed super late.
My horse used to be really spooky. But everyone at my barn says that once I bought her and she had one human to call her own, she has become very trusting of me and is a lot calmer. Now I know when she's nervous because her eyes bug out.
But she stays calm and lets me guide her. She still thinks that plastic bags are highly suspicious. She is still fearful underneath it all, and she lets you know it. Once she has a bond with you, she will trust you, even if the situation is scary. She gets nervous while trailering sometimes.
As long as the person not tense, anyone can ride her. I mean a two-year-old has led her around the yard and she followed as if it were my trainer leading her.
She has an old soul and does not like stirring up trouble. When the horses are let out, she waits on the side until everyone is out and then follows behind because she doesn't want to get into any scuffles.
She tries very hard to do what you are asking of her, even if it is something difficult. She has no hidden agenda, doesn't try to outsmart you, or cause you any harm. She wants to please.
We like running up hills.
All I do is put her at the bottom of the hill, go into halfseat and BAM, she kicks it into gear. I'm addicted to that QH burst of speed. But what makes it even better is that I can drop my reins and we can walk up the same hill in a completely calm manner.
She is the one horse that I trust completely.
---
"He doth nothing but talk of his horses."
~William Shakespeare
---
Last edited by IslandWave; 05-29-2011 at

11:39 PM

.
awwww, these are all awesome!
I just got a new horse this week, but I've been riding her for a month and she's a quirky one alright! She's another one of those one-person types, and apparently i'm her person...lol. She also LOVES to lick me. She'll say hi by licking my hand in the pasture. She used to be terrible to lead, but she walks nicely next to me now =) She's deathly afraid of water.... she peed in the cross ties and was so scared of stepping in it i had to soak it up with shavings first! She also never ever gets dirty.... she always comes in ready to go to a show! It's very handy, but i really like to groom so i must find a way to make her dirty...muhaha =) We also have a weird ritual when i put her back in the pasture, she gets a treat in the pasture and then one from the other side of the fence. She'll start licking the exact spot where i fed her the last treat on the fence, every time! She's got plenty of riding quirks too, but i won't go into that for now =P She's a princess with hooves, but i love her <3
I've had Abby since September, which I suppose it long enough to get to know her well.
**She's very uptight and anxious about the world, so the two of us rely on SmartCalm to help her relax and just be a horse.
**She gives off the vibe that she thinks she's much more intelligent that the silly humans, but puts up with our silliness anyway.
**Lately, she has seemed to
really
enjoy young kids. When my BOs' kids are out and walking by while she's in the crossties, she'll walk forward to try to follow them. She lowers her head so they can pet her.
**Part of her anxiety problem is when she is left alone. She is fine when she's taken away from other horses (because there's a person with her), but when the horses are taken from her and she's left alone, she has a panic attack. She tore down a fence and climbed out of her paddock a couple months ago because of this.
**If you give her a peppermint treat, nothing else matters in the world.
**In addition to thinking she's smarter than people, Abby also basically "tells" you to "treat me like a horse, not some fluffy poodle". She is very self-aware and knows she's a horse, so she commands respect before she respects a person. (If you've read Harry Potter, she's rather like a hippogriff in this sense.) If you don't respect her first, you'll get a swift cowkick.
**In the time I have had her, I have never seen her attempt to kick backwards behind her, like most horses would. She cowkicks out to the side.
**She has the best facial expressions possible. As seen below:
I don't know what this face is. I got it the other day and she held it for a long time.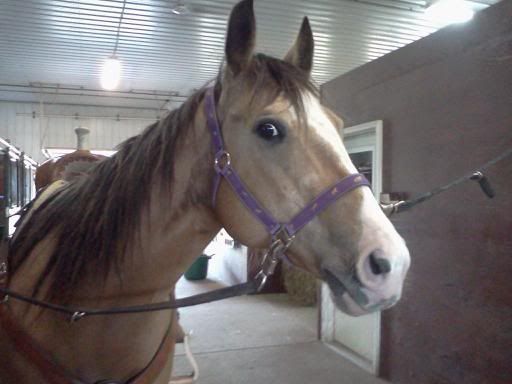 This is the "What are you doing?" look. I get this often when trying to take a picture with my phone, which is rather suspicious of. She is a Paint, so she a lot of sclera and generally looks like a poor, tortured animal most of the time. This is a lie.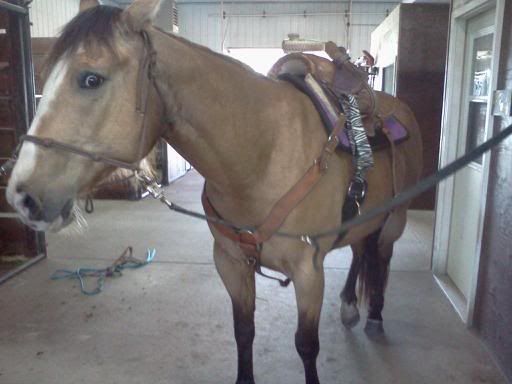 Disgruntled Abby. She is not in the mood for my shenanigans, aka lunging.