How would you clean this?
---
I *tried* to clean Gem, my mostly grey leopard appaloosa.
This is the before shot.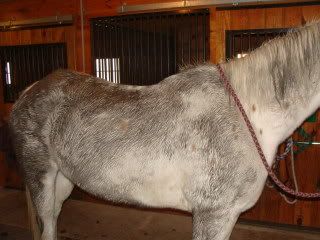 I used a shedding blade to get off what mud/dirt I could, which wasn't too much.
Then I took a curry comb and did that.
Then I took a medium brush (I can't use a hard brush because he has very sensitive skin)
And this is what he looked like afterwards
Not much better IMO.
It was in the high 30s (F) today but with the wind chill, it made it in the low 30s. There is no heated water, or indoor wash stall. He is also out during the day and in at night and he is not blanketed. (We are not planning on blanketing this year unless a specific horse is cold and needs it)
What would you use/ do differently?
Was he wet when you were trying to mess with the dirt/mud? If he was, wait until he's dry. It should come off much much better then.
You could stick him in a stall or indoor/covered arena...

Good luck!
It did rain earlier today, but he was dry, except for parts of the mud.

If i stuck him in a stall to dry off, I'd have to bring in my mare too (he's really attached to her) and I rather not do that.
Honestly, I would clean it like you did and let time do the rest. It isn't going to hurt him to be dirty, unless his skin is, right?
Do you get snow? We are lucky because if our horses are dirty going into winter the snow is going to do the cleaning!! They roll almost every day and once the snow is here it is a natural "bath!"
Good luck and next time buy a bay!!
LOL!! I can safely say that since I have two greys!!
Yes we get snow. Lots and Lots of snow! I also know with some rain he'll get cleaned as well.

I dont think it's down to his skin. He has a good inch of fur on him right now.

well, he's not technically mine, he's my fiance's. I have a chestnut and a bay and love the dark colors!
i wouldn't worry about him - you can pick a day when it's warmer and go to town with a curry comb!
(and green spot remover if you must
)
---
kickshaw
Justin (qh/tb)
Boo (asb)
Wow that looks like some nasty mud! I'd let it go for now if I were you and go at it with a curry comb and stiff brush later!
---
TM Tardy's Chick "Hunter" - 13 yo Paint
Remmy - 18 yo Morgan/QH cross
Gunner 3/31/11, Heidi 7/2009 Miniature Sicilian donkey

if he doesn't roll tonight or tomorrow morning, I'll do that. Might pick up some green spot remover too (that is actually something that I DONT have lol)
i dont think he looks that bad,fluffy dirt heheheh i fight the burrs day in and day out, winter and a white horse??? i dont see how you'd ever keep him clean without warm water and a dryer. Personaly i think they like to be dirty, sonny makes a point of sticking his head into the yuckiest whatever he can find. green out doesnt work on him at all but being buckskin it doesnt show so badly.