Howed I do? *Tail Braid*
---
Not sure what the actual braid is called but I thought is was pretty so I'm trying to learn it. Didn't turn out to bad i don't think considering my boy has "pasture tail" and I'v never french braided in my life.
What I was attempting to do
Attempt #1(turned out better but crappy pic)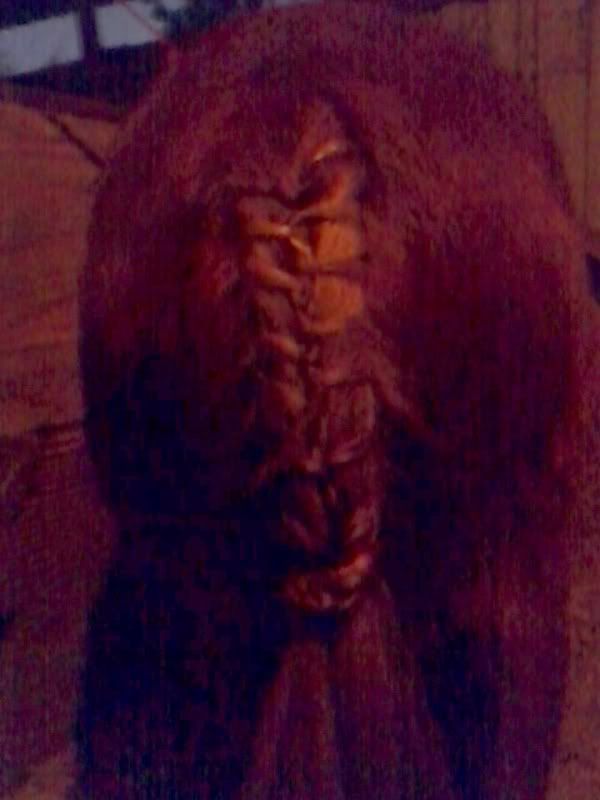 Attempt #2(figety 2 yr old)
It's a good second attempt, keep practicing and soon you'll get it perfect.
Looks good so far, make sure to keep sections tight and approx the same size, this will make it look more uniform and 'neat'. Had to learn all the braids as I'm taking a cosmetology course at the moment, and the more practice you get the better they turn out!
---
Falling Maples Homestead
www.fallingmaples.wix.com
Showing
Join Date: Jun 2011
Location: Cariboo, British Columbia
Posts: 11,951
• Horses:
3
I can never get a braid tight when the hair comes in from above. Prefer it going to the underside of the plait.
I hope to get some pictures of how I do this soon.
The tail is tucked right up because it keeps the mud off it when out fox hunting.
Great attempt - keep practising.

Try to keep the pieces you bring in very small - and they are brought in with each movemnet of the braid. What you are endeavouring to do is cover the tail hairs over with the braids. Print the picture of the tail braid and refer to it while you are plaiting.

What you have done is to bring a piece in then braid down for a few twists.
Great second attempt! I'd just work on taking pieces that are closer together and take smaller pieces. Also focus on making it tight.