lil bit of shedding here too. Lol. I wish horse hair had any value, our pony would make us a fortune!!!!
Posted via Mobile Device
I like shedding season. It allows me to make another special pillow for my highly allergic ex.
That reminds me, I have to pick up some more Febreeze.
I have to agree here! Ive got hair all over me and of course it blows right in the face..
My niece has a bay horse that sheds kinda like yours in the photo's but in smaller blotches..
Have you wormed your horse lately?? It could just be allergies..
My favorite lesson pony (I don't own, and I'm too big to ride ponies, but for some odd reason this little mare has a special spot in my heart) is black and has a very thick coat. We do not know anything about her background, but I'm assuming she was from somewhere cold because her hair is EXTREMELY thick and much thicker than any of the others. Her hair is so thick that on her neck the hair goes the opposite way! I curried her and went over her with the furminator 3 or 4 times before there wasn't as much hair coming out! I'll post pictures again next time.
---
Intermediate Rider~Learning Equitation and English Pleasure~Interested in Eventing
A horse will tell you everything you need to know about him, if you listen.
-Winston Churchill
Showing
Join Date: Jun 2011
Location: Cariboo, British Columbia
Posts: 11,940
• Horses:
3
OP, that blotchy shedding your mare has going on would be a reason for me to totally body clip! Mine just tend to look shinier & sleeker each day, but I do brush like crazy. I take a short cut for my show horse however, since our first show is almost 6 weeks away, I clip his whole head and legs so I only have to tackle his body with my arsenal of shedding tools. By the time our show rolls around, his head & legs match up with his body. I hate de-furring his face & legs!
Posted via Mobile Device
I have been brushing one of these babies off of my boy every day for weeks!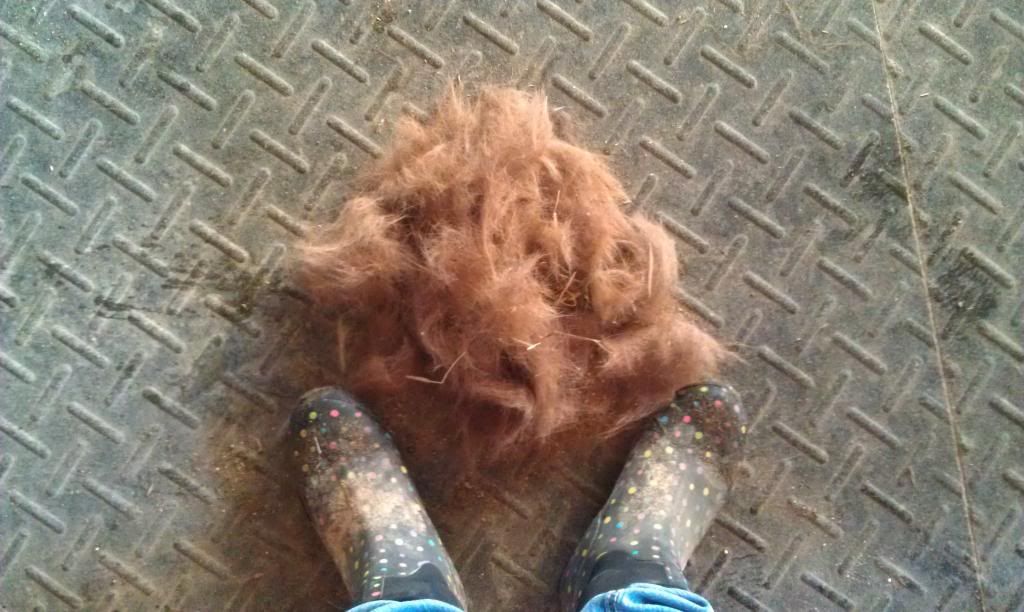 ---
"A rider who would trade partnership for obedience
will have to settle for neither."
High Velocity Blowdryer. Moves the skin on the back of your hand, ambiant room temperature. Get a horse over the shop-vac-noise, and you'll never pick up a brush again. 3 sessions once they start blowing coat, and it's over.
Posted via Mobile Device
LOL the pictures of the furry patches crack me up laughing!
Quote:
im just giggling over here because my horse is body clipped =]
Hehehe me too :)
This was my guys coat as of yesterday, pretty shiny and sleek.
Let me tell you, the 100 bucks I paid the guy to clip him was SO worth it!
P.S. sorry the picture is sideways, I can't figure out how to fix it!
Mine doesn't shed out as obvious as that, but whenever I help shed Brisco out it looks like it snowed!!
---
🔫 Don't Tread On Me 🐍
,.-~*'¨¯¨'*·~-.¸·,.-~*'¨¯¨'*·~-.¸