Foal
Join Date: Aug 2011
Location: I live near Sacramento, California
Posts: 77
• Horses:
1
Thank you, everyone, for your suggestions! I'm going to be doing a lot of brushing and flax seed, plus nutritional grain and deworming <3
Quote:
YES, I forgot to add regular, consistent rotational deworming! Your mustang is going to be wormy and sandy and will need psyllium as well.

You're doing this for the Horse Expo at CalExpo in Sac, right?
I'm actually entering in the Fort Worth, Texas National show! Haha, a bit farther from home xD
Oh very nice(: Good luck with your man! If you need any advice, I know a REALLY epic trainer who trained Boomerang (the little beast!) xD She did the Mustang Challenge at CalExpo with him!
---
The hills were bathed in moonlight, the shadows not so stark;
Silver light reflected off his brown hide as he held me in the dark
– I love you, Mudpie!
Foal
Join Date: Aug 2011
Location: I live near Sacramento, California
Posts: 77
• Horses:
1
Quote:
Oh very nice(: Good luck with your man! If you need any advice, I know a REALLY epic trainer who trained Boomerang (the little beast!) xD She did the Mustang Challenge at CalExpo with him!
I'll definitely contact you if I need any help with it! xD I've been just soaking in all the info I can get lately. The auction is on the 31st!!!
Just to add a question to this post...is ground flax meal okay or should you just stick with whole flax seed?
FLAX FLAX FLAX FLAX FLAX! i'd say try everything since you have 3 months time. but when i say everything, i mean anything natural. :) have fun!
So I'm really freaking lazy tonight so I'm going to quote what I wrote before in the way of grooming products to help with the shine ;) I do agree with the currying and the flax, I just haven't gotten around to getting my pony any straight flax seed, I'd go with whole flax seed. Here's a good article on it.
Flax Seed
Quote:
Originally Posted by
yourcolorfuladdiction
View Post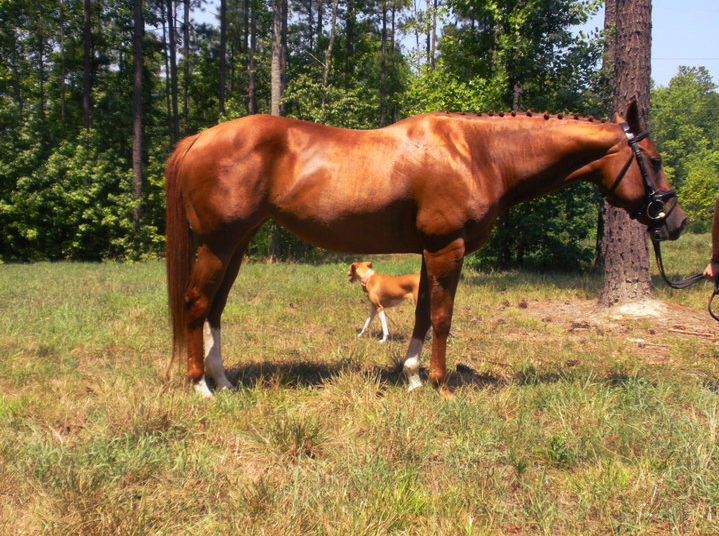 I use the Vetrolin products ;) For her body I put some vetrolin liniment and a little bit of baby oil in a bucket and then add water (in the winter I use hot water). And then rub it all over her and dump the excess on her and wipe it off with the sweat scraper. I also use Vetrolin Shine on her tail daily (whether I actually comb out her tail or not to keep it detangled but even if I run out and don't get any for a while it remains combable for a while). When I'm at a show (and probably in this picture), I'll spray her or a soft brush with the Vetrolin Shine and brush her lightly to pull off the excess dust. I also use Vetrolin Shine after her show baths to keep her white socks clean.
You can see her tail is fuzzy at her dock because my pony is a compulsive rubber, I usually use Cowboy Magic Detangler & Shine to get the hair to lay flat there (unless I have to braid, Cowboy Magic + Braids = BAD IDEA lol).
As for her big baths I normally use either Suave Shampoo and Conditioner (if I'm in a hurry) or Vetrolin Bath, White 'N Brite, and Conditioner.
I also treat her coat from the inside with Focus HF Hoof (has the same ingredients as hoof and coat supplements but is seaweed based, which is safer than soy). She also gets 1/4 cup Canola Oil twice a day (again canola is safer than soy).
---
---
Last edited by yourcolorfuladdiction; 03-07-2012 at

11:24 PM

.
Two things I did not see mentioned that I have had a lot of success with are the supplement Source and silk protein.

The silk protein is a hair care product that I buy at like a Sally's Beauty Supply. I mix about 2 tbs of the protein with about 2 cups of water in a spray bottle and mist it into mane and tail as well as over the coat. It is the most amazing detangler for the money you will ever find. Over the body, after a thorough grooming, mist the water mix over the whole coat VERY lightly and then go over with a soft finishing brush.

Source is a seaweed supplement that very quickly adds a lot of healthy nutrients to their diet. I have seen it bring out dapples in the coat of a chestnut mare in her mid twenties when that was the only change in her diet in almost 8 years.
Flax or i feed Oil Cake its great for the coat as well. I always sprayHealthy Hair Care Hair Moisturizer (a therapeutic lanolin and oil enriched concentrate that assists in replacing vital oils to the hair and skin. And there is no Silicone or alcohol to dry out your horse's hair coat. Daily use helps to control dandruff and dry skin) Then i use PEPI Conditioning Aerosol Shining Spray at the show spay on rag and wipe on horse, baby powder on any chrome and baby oil around eyes and muzzle CLIP!! makes a world of difference. To help with body weight soak all your feed with water and add whole yeast the horses body does not need to work as hard to break down the food and absorbs more.
Similar Threads
Thread
Thread Starter
Forum
Replies
Last Post
Dressage Shine

HorseyCharli123

Horse Grooming

6

09-12-2011

07:08 PM

How to shine

Rodeo Pro

Horse Pictures

5

12-09-2009

03:26 AM

shine in the ring

Rodeo Pro

Horse Grooming

3

11-29-2009

10:42 PM

Shine On

Sootie

Horse Grooming

2

11-29-2009

01:21 AM

Shine

Cedarsgirl

Horse Grooming

31

03-04-2007

09:48 PM