I need some advice on grooming
---
Hi there everyone,
I have a wee
13.3 pony
that is kept out in the fields for most of the time and I really want to
work some magic
and get him looking like the star he is. I will be
showing him in the summer
. His coat is
chestnut
but it looks quite dull most of the time and plus his winter coat is coming in, so that doesnt help. I really want to
bring out the shine
in his white blaze and ermine markings as well. I know he can look well If I put in some work and im willing!!!
does anybody have some cheap and easy tips to get my boy looking his best?
anything and everything is appreciated
I want to know how to get every part of him gleaming and gorgeous!!
P.S really busy at the moment so will post some pics of him soon as i can x
thanks,
shannon
A shiny coat has less to do with grooming and more to do with nutrition. A well-rounded diet with some healthy fat (like flaxseed, for example) is the key.
Paprika would help his coat and you wouldn't have to give the little thing that much; here is a link to a thread I started a little while ago about it:
Paprika for horse coat color enhancement?
A lot of people helped me out on the subject, so it should answer all of your questions!
I have never used it but I've heard that some people use bluing mixed in shampoo for the white spots? Someone else could give better advice in that respect.
Nutrition has so much to do with how healthy they are, and how healthy their coat will look, too. Does your pony only eat hay and grass, or does he get some grain and additives as well? Bioton is great additive to feed them and so is HorseShine. There are a lot of others too.
Show Sheen also helps to make horses' coats look shiny. You just mist it all over them.
Also, do you keep his mane long or pulled? Either way, here are some things I do for my horse's super long mane: Fructis Sleek and Shine leave-in conditioner is the best stuff, and I really like Cowboy Magic products too. MTG is a great product to really get the hair growing, but I warn you it stinks like old bacon! I know that most people don't comb out their horse's manes or tails a lot if they want them to grow, but I do it ALL the time. It is not with a regular mane comb though; I never use those. I love the Grooma Rake; it has teeth that spin so it does not tear any hair out, and it takes very little time to comb the hair out. It used to take me about 25-30 minutes to brush my horse's mane and tail but now it only takes about 10 minutes! Here is a link to it:
Grooma Rake - Grooming Tools from SmartPak Equine
Pictures of your pony would definitely help also!
Last of all, here are three before/after pictures of my horse; you can see the huge difference that nutrition and "hair care" can make:
This is her when I got her: She was totally pathetic.
100_2540.jpg
A year ago: Big dif, and overweight! Gained some muscle tone,too.
100_5631.jpg
And here she is now: Had her lose a couple hundred pounds and look at how much her hair grew! Gained some more muscle tone also.
DSCF2963.jpg
DSCF2269.jpg
---
**I must not forget to thank the difficult horses, who made my life miserable, but who were better teachers than the well-behaved school horses who raised no problems.**

Quote:
A shiny coat has less to do with grooming and more to do with nutrition. A well-rounded diet with some healthy fat (like flaxseed, for example) is the key.
Ditto
This was taken a year ago, when this horse was 24; I have four horses, so quality brushings before turn out each and every day are rare. He also has Equine Metabolic Syndrome, so it takes some extra effort for me to keep him healthy.
None of my horses eat grain; this one gets rice bran because the EMS has made him a hard keeper. They all get a good vit/min supplement, Omega-3 Horseshine and wormed whenever the vet says their fecal tests show they need to be.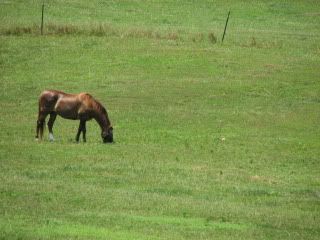 yes will have to get pics ASAP! although lucky does look quite similar to your horse (horsecrazyteen). Currently lucky gets grass all day and a bucket of hors feed evry day. Also gets hay when hes stabld or during bad weather/wintr
oh and also i keep luckys mane long! :) and by the way horsecrazygirl + walkingthewalk both your horses look fabulous! their coats are so noticeably glossy and healthy looking!
I agree with above, and also a horse that is in shape, usually has a better coat.
I second the rice bran. Typically a stabilized rice bran like Maxiglo is the only supplement my mare gets, and the rest of her diet is mixed grass hays with a little alfalfa. I often get compliments that she is "glowing". She is a sorrel also.....seem to be a few sorrels on here
Grooming can help produce a shiney coat as it stimulates the skin. I was giving lessons to a gal with a dark chestnut Welsh that pretty much lived on pasture. Beginning 10 days before a show, she and her sister put a lot of effort into grooming this pony. Their efforts paid off by all the compliments and despite a winter coat that had started, she absolutely gleamed.
personally my horses are eating the right food for what i demand off them at the minute and i agree that nutrition is the key but im not in a position to change his feed or buy any fancy supliments although i will try paprika and vegoil etc.. thanks ;) keep the ideas and advice coming i appreciate everyones opinion!