Mane "pulling" critique
---
I rarely pull manes, but my mare has a really thick mane with ends that have gotten really scraggly lately. It's hot and humid here, and she comes in every night with her neck drenched underneath. I decided to "pull" (I used a cheater Solo Comb)- we don't show at all, so I didn't have any particular breed/discipline standard in mind, though she is a Morgan.
So, on a scale from "Looks like a 4 year old attacked a horse with scissors" to "I wouldn't be embarrassed to be seen with that horse" what do you think? The last picture shows there's a lot of unevenness, so I think I need to do some more work. What would you recommend?
Before, scraggly ends: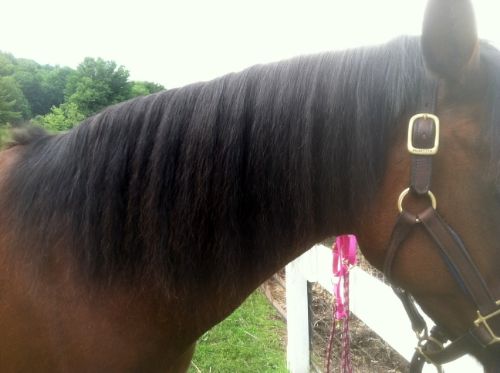 After, shorter, still uneven though- now what?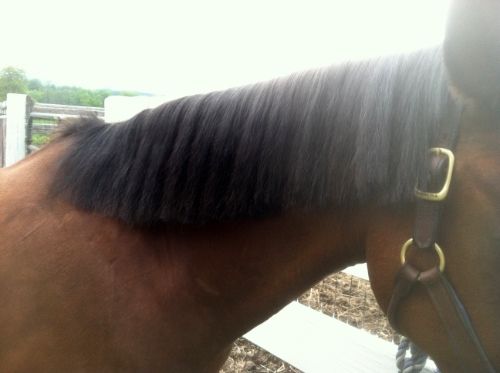 If it were me, I would take even more off until the mane was about the width of my hand. I would also make sure it was an even length the whole way down. At the moment, her mane is shorter at the base of the neck and gets longer as you go up it.

If you don't want to take that much off, I would still neaten it up and make it the same length the whole way down :)
Thanks, Nae. Any tips on tracking the same length through the whole length of the mane?
Here's a tip, for when it is finished and pulled:
To prevent the mane looking blunt, and cut with a scissors, get your scissors, and hold them vertically upright, so they are in line with the mane. Proceed to snip at the mane from this angle. It makes it look much less blunt, and it looks far better :)
I think you did a really even job! I couldn't pull manes to save my life!