Mane & Tail Grooming
---
Chili is extremely dusty and dirty and since I've had her, there has NOT been a warm enough day to bathe her - even remotely. And her mane & tail just keep getting dirtier - greasier and I dunno what to do about it. To make matters worse, she loves getting into cockleburs(sp)!
Is there a way I keep her mane and tail from getting any greasier?
She has a beautiful forelock and bc part of her mane is clipped (ripped?) short from eating hay outta cow feeders, I'm contemplating cropping the entire thing short but leaving her forelock -wdyt? I dunno how she'd look with it all clipped off but I also have no idea how long it'll take for that big section to grow back either?
---
Michele
"Not evil, dear. Wicked." - Once Upon A Time.
Can you use some cornstarch or something on her mane and tail to absorb the greasiness?
i help my boss take care of his horses at the ranch and i roached one of his horse's mane except his bangs. he looked super cute :) plus when his little mohawk grew out it looked so awesome haha. i say go for it!
In wintertime you could still wash the tail, I get a bucket with sudsy water and swish it around then again with clean water. I don't get the dock soapy but at least the hairs are clean, then you could braid her tail up if yoiu like. The mane is depending on how you lik it, I'd bnnever roach my horses mane but thjats because I like it natural and longer
Posted via Mobile Device
My O So shaved the middle part of his mane out about a month after I got him. I figured I would show you some pics of him to kind of get you an idea how long it has taken to get to the stage we are right now! I didn't want to cut the rest of his mane because I really like long manes. I figure once his new section gets long enough I will trim it all to one length, then not touch it again! I want it really long!
This is O So right after I got him in the beginning of July of 2010.
This is in August of the same year. This pic is a nicer pic. I have one that shows the blood after he shaved himself down to the skin!
This is tonight, 1,1,2011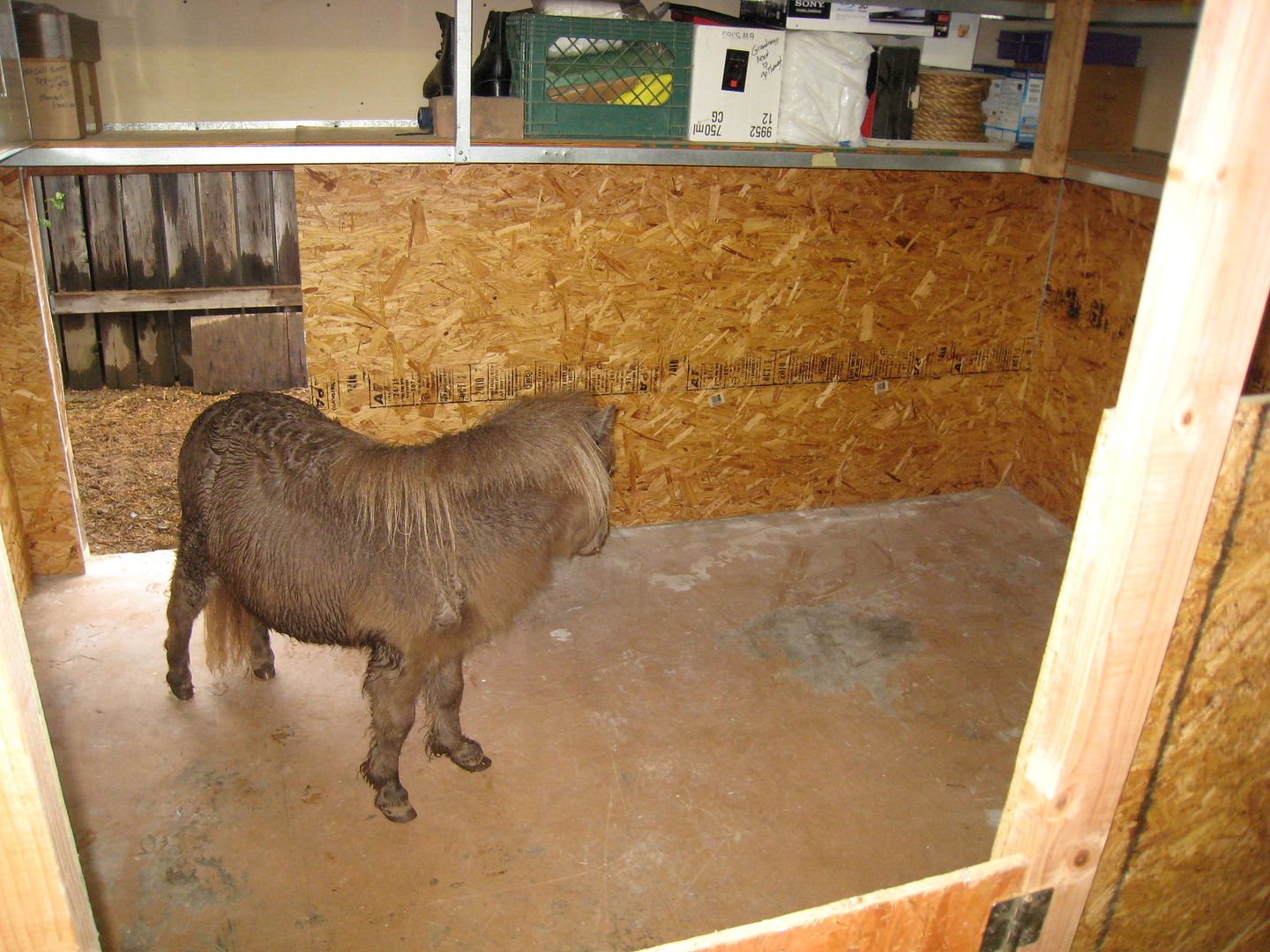 In the last pic you can see that his mane is finally getting long enough to lay down. I am going to wait till it lays down completely before I trim the front and back of his mane. Probably another couple months!
So from August till Jan is how long it took to go from skin to where it is now, almost 3 or 4 inches long.
I am glad I didn't roach him. I was much happier just dealing with the blank spot then having nothing to comb at all!
Now if I could just get the rest of his mane and forelock to grow as fast as his tail does, I would have it made!
cowboy magic detangler and shine does wonders for both grease and burs also to help combat the burs i keep my boy's tails braided in a lose normal 3 strand braid see in pic below lol (not the best pic lol)
---
Last edited by shaggy; 01-02-2011 at

12:28 AM

.
Her tail and forelock are in great condition. Her forelock is a little greasy but no tangles or "dry skin" (still trying to determine that issue). It's more her mane. And I have been able to run my fingers through it to detangle it for now... but where it is short, it's VERY short. :( I really don't wanna cut it down, which is why I've put it off.

Her forelock, however, has grown a lot since I got her a month ago! (err, one day shy of a month anyway)
---
Michele
"Not evil, dear. Wicked." - Once Upon A Time.