Manes & tails for english
---
I show western so most of the time so her mane is banded & she has a fake tail in.
But for days when I just show English, I never know what to do,
Everyone does different things,
Whats you guys' thoughts on it? (:
Posted via Mobile Device
First of all, what are you showing in? I'm think Hunt seat, than you should do hunter braids. A great book for both English and Western braiding is called Braiding Manes and Tails
---
I Ride. I Win. I kick butt, like a girl! So get over it!
Quote:
First of all, what are you showing in? I'm think Hunt seat, than you should do hunter braids. A great book for both English and Western braiding is called Braiding Manes and Tails
Sorry I shouldn't said lol
Uhmm I show English pleasure & equitation
Posted via Mobile Device
You should make a french braid in your horse's tail for english and keep the fake tail in to give it a fuller look. As for the mane, I'm not really sure what they're called, but they're rolled up braids that kind of look like miniature buns. Maybe google it! :)
---
~BearleySmokin~
Thanks! Will do! (:
Posted via Mobile Device
I always French braid the tail for English like this. Then for small/fun shows I band the mane the night before so it stays flat and then leave the mane down during the show (I keep my English horses' manes at 4 inches or so for shows). When I do some bigger shows I'll end up doing hunter braids, though. It makes the horse look a lot more professional. If you have a mane you don't want to cut, a running braid is always gorgeous but I still can't make it short all the way down the neckline; mine end up going downwards. It takes practice but it looks really neat.
---
Last edited by equiniphile; 11-17-2010 at

07:14 PM

.
Yeah I normally just band it cause never know what I should do lol but I'll probably start braiding it & the tail!
Posted via Mobile Device
well for my first horse show I did a running braid and it looked kinda cool! I'll post pics in a minute! And the tail I just braided it like equiniphile did.
I like the way running braids look, like the one on Arabella in my avatar. This one is sloppier...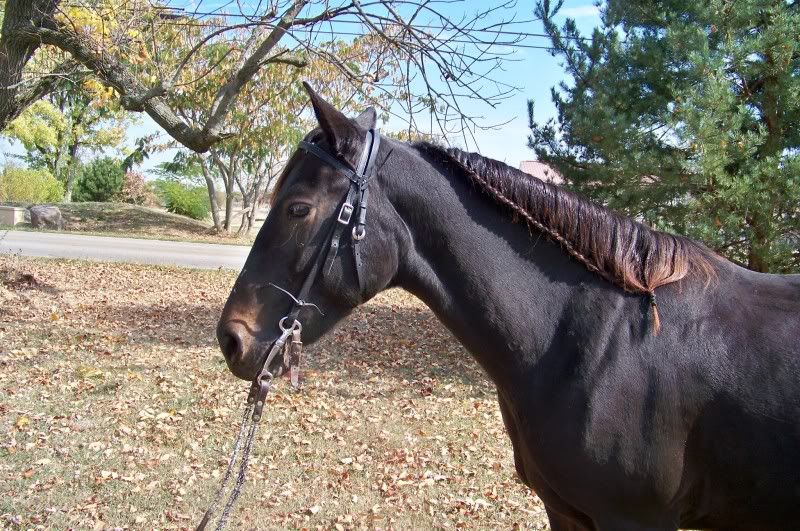 ---
100% Anti-Slaughter and PROUD of it!

---
Last edited by ShutUpJoe; 11-17-2010 at

10:30 PM

.
that one's the front of her running braid and the little bobble thing on her forlock.
And there's a pic as well, sorry we're kinda far away, I didn't have many good pics.