MTG Before and After photos?
---
I've been looking into the MTG line and was wondering if anyone had any before-and-after photos.
I currently use Cowboy Magic to shampoo my geldings, but it doesn't really enhance their manes or add a noticeably nice sparkle to there coats. It does get them very clean and soft, but I would also like to see some 'zing' after baths. Shinier coats, fuller manes, etc. Especially on my nine year old. I love his long mane, I just would like to see it with a little more 'poof'.
They are pasture-paddock kept. I do not have a stable to put them in (yet, hoping to by next winter).
Nine-year after shedding out in the spring.
http://fc06.deviantart.com/fs33/f/20...c06e751f85.jpg
Long mane, no poof. Funky coat, no zing D:
---
Wait! I'll fix it....
Ugh.... he is B-E-A-U-T-I-F-U-L!!!!!! huma a na huma na....lol.....
sorry, cant really answer your question, I just got my first horse and am going out today to buy some products for his first bath, but good luck, you wont need too much
Hmmm, try some "show shine" stuff to make him look shinny - perhaps something that add volume to the mane? I don't know brands, just the general product. sorry. good luck =]
October 26th, 2008:
December 27th, 2008:
March 2nd, 2009:
March 21st, 2009:
It's a little hard to tell the length of his mane in the after pictures, but it has gotten a few inches longer. You can tell it has gotten a lot thicker.
Okay, it took FOREVER to find some of my mare where she was holding her neck at the same level... but here are a couple:
October 24th, 2008:
November 20th, 2008:
April 15th, 2009:
It's hard to find B&A pictures when you didn't purposely take them... because there are so many factors (neck level, lighting, whether or not it's been brushed, how clean it is, etc)... but trust me, there is a huge difference after only a few months.
I used Cowboy Magic shampoo once and I hated it. I much prefer Mane 'n' Tail shampoo and conditioner.
You could also try giving him flax seed. I LOVE the stuff. My gelding is just starting to lose his winter coat, so I can't see much of a difference in his coat, but my mare is clipped, and she got really shiney and started getting dapples after only two weeks! I only give them one tablespoon a day.
This is her on February 25th:
This is her on April 15th (only two weeks after starting the flax seed):
She's still shiney in the first picture, but you can tell it's more because of the sunlight than because her coat is healthy. She also doesn't have dapples in the first picture.
I also started giving her this supplement:
Platinum Performance Equine Wellness
Good luck! : ]
To get them super shiny and soft after a bath try 'Vetrolin' Shine Spray. It's amazing in tails and keeps them from getting knots. I don't use it on manes because I have to braid (hunter/jumper) but it would do the same thing. You can spray it on their body as well just don't spray anywhere close to where the saddle goes. It will slip all over. :P
---
The essential joy of being with horses is that it brings us in contact with the rare elements of grace, beauty, spirit, and fire. ~Sharon Ralls Lemon
Ok well heres mine, I used MTG for rain rot, and it helped grow the hair in on his body: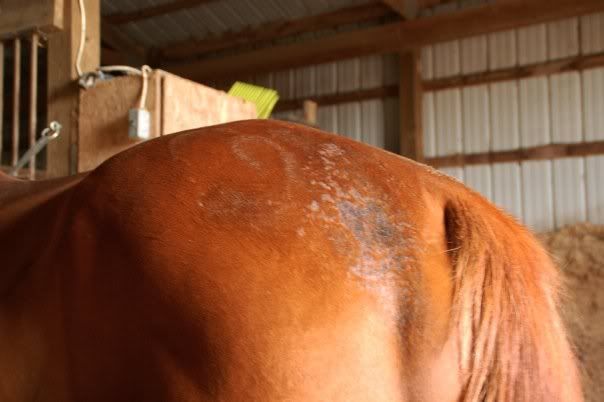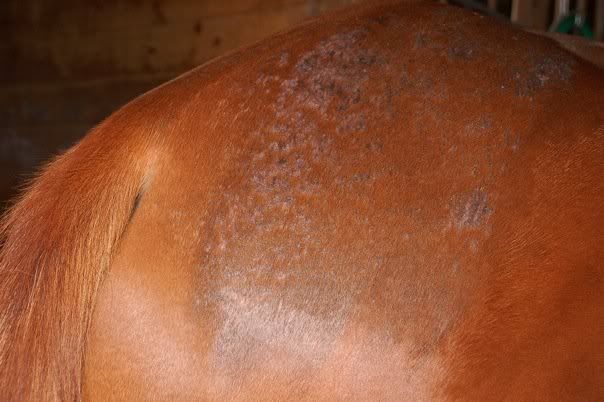 2 weeks later: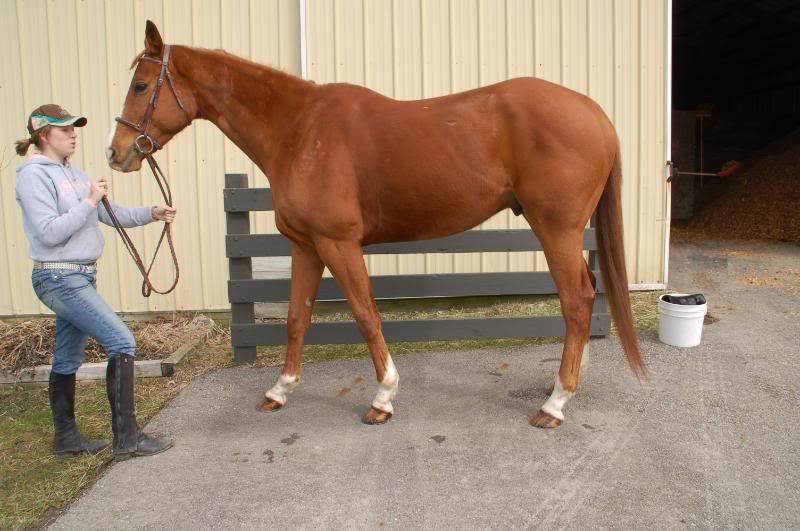 Ive had great results with MTG, it smells like burnt rubber and bacon grease, and make sure you use gloves while putting it on cause its greasy. But it works great.
Thanks for the replies guys 8D I definitely gotta try this stuff out...as bad as it smells.
---
Wait! I'll fix it....
Green Broke
Join Date: Jun 2009
Location: Was in Ocala, Fl Now In West Union SC!
Posts: 3,175
• Horses:
1
I hate the smell. every time I use it my hand smells like bacon for a week.
Haha. I like the smell :P
Haha i like the smell too for some reason. I just hate the greasyness.
---
"A good rider can hear his horse speak to him. A great rider can hear his horse whisper."