Green Broke
Join Date: May 2009
Location: Winnipeg, Manitoba, Canada
Posts: 4,510
• Horses:
2
The Mud Contest - Who Can Be The Dirtiest?
---
So I know a lot of you saw the pics I posted right after my Paint filly Jynx got her bath and was all shining white (post titled I haz a shiny). Well, it just rained for a week. And I could cry. But instead of crying - let's have a mudball contest!
Let's see those pictures of your horses at their absolute FILTHIEST! (Incidentally, it took me and Shay-la over an hour of tag teaming her just to get the first sixteen layers off. I don't think she'll ever be white again.)
Just for reference - this is what she looked like last Sunday: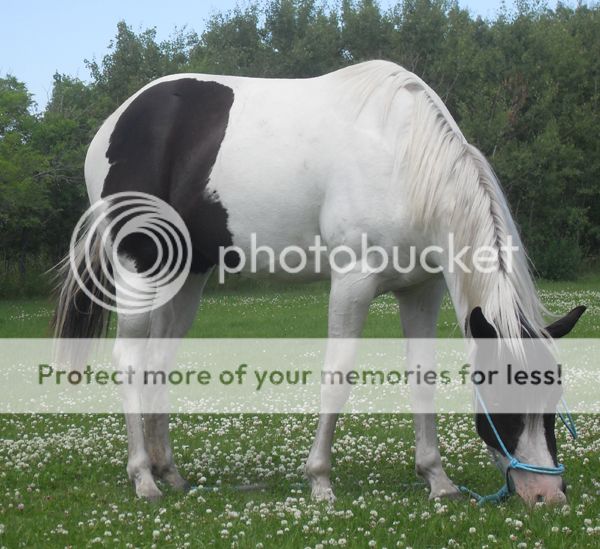 And now - THE FILTHIEST PONY!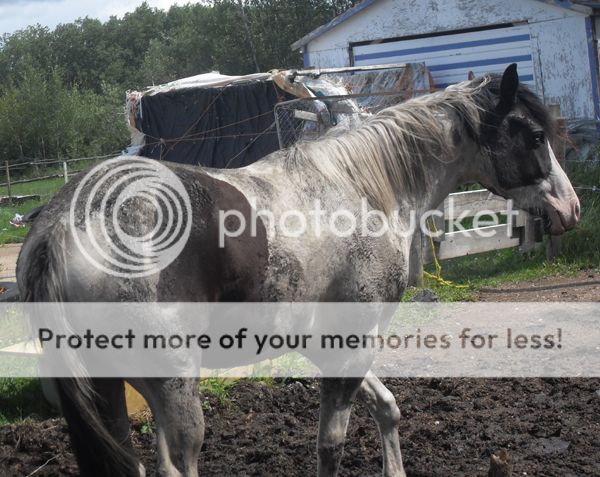 This is actually the GOOD side
Look at that innocent face!
Evil brat...
SRSLY????!!!!
Haha, ok, let's see 'em! I can't have the ONLY mudball!
---
Quote:
I hope God tells her to smash her computer with a sledgehammer.
OH MY!!!!!!
She almost looks a little bit ashamed for making such a big mess of herself! But not to ashamed!
Oh my! I'm really glad that my horse doesn't have a speck of white on his body anywhere. Good luck with that mess!
LOL!!!!
My horse is exactly the same
aw, man! splash is a roan with white legs, but he stays clean for the most part. i am really glad not to have a white horse. they take so much work to stay clean!
---
My horse Iceman in caught in the act getting up from a roll :P
The result
Whenever I give my mare a bath, I always walk her around until she is completely dry! For this reason. hahaa
---
When God Made Horses, He Painted The Good Ones.
"All I pay my psychiatrist is the cost of feed and hay, and he'll listen to me any day."

Here's my boy. He's grey too. Must be a white kinda thing
---
Only As Old As You Feel - Sometimes I Feel VERY Old
Oh, and this is him doing it
---
Only As Old As You Feel - Sometimes I Feel VERY Old
Similar Threads
Thread
Thread Starter
Forum
Replies
Last Post
Contest!

librahorse94

Horse Pictures

15

02-11-2011

09:03 PM

Contest!!!!!!

VanillaBean

Horse Contests

49

09-07-2009

03:32 PM

a very fun pic contest!!!

myboydoc

Horse Pictures

33

02-15-2009

12:31 PM