I laughed at your pics. I've been fighting cockleburrs at my 5-acre place for several years now. I can say that every Fall I get some days where my horses have reached through the fence where the burr plants grow and come out of it beat up with burrs just like in your pictures!! ROFL
I made lemonade out of lemons bc it gave me the excuse to constantly groom my horse's manes and tails. Though I really like Showsheen, and I've tried Pink, my personal favorite to detangle is plain, old, corn oil. If you coat the burrs with it they literally slip right off.

It's like this--I do NOT use any herbicide to kill burrs. I pull them, mow them, bury them and burn them. I have 1/2 the burr problem this year, 2011, that I had in 2010, and it will be better in 2012. I will be cutting the ones left and they'll be burnt in the middle of my north pasture where my burn pile lives, so it's doubtful that those will reproduce.

Personally, unless you want to help de-weed the place or help the owner groom the horse's manes and tails, I think the horses look otherwise healthy and you'll just pXss off the owner by getting involved. JMHO!
BTW, did you know that the leaves of the cockleburr plant soothes skin irritations and burns? (Thanks to Reuben, my little Amish farrier!!)
They're in good weight, I see shelter in the background.... why do you need to take time out of your day to nosey around someone else's animals when there are no clear signs of abuse? There are SO many horses in shelters that need help if you have that much spare time to stop and nit pick someone elses' otherwise happy and healthy looking animals.

Just saying, I'd be annoyed if someone was taking pictures of my horse and posting around on the internet looking for abuse because of burrs.
My mare in the morning being turned out in the pasture
My mare in the afternoon when I caught her in again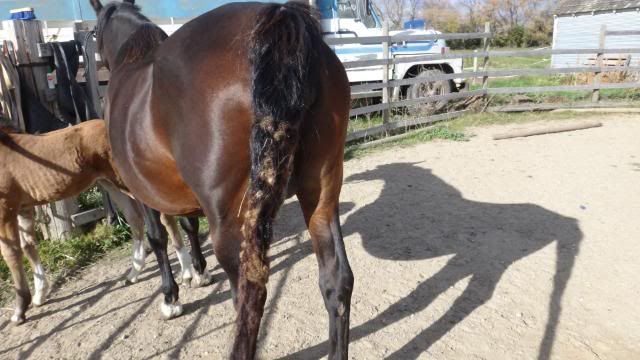 and after a bit of work
No burrs don't have to be cut out, with patience you can groom them out
You can clean up horses but if you have a lot of burrs they will get infested again and can look gross in just a couple of hours.
Yes it would be more sensible to get rid of the burrs, but it's a long process, and if they come in the hay, or if they are through the fence on your neighbors land it is even worse.
Yes they irritate and are totally unpleasant for horse and handler, makes you wonder why they insist on keep doing it
OP, good for you for asking, and welcome to the wonderful world of horse message boards, ask 10 people opinions, get at least 11 different answers.
Quote:
ask 10 people opinions, get at least 11 different answers.
I think I like that saying.
I should add that in September, 2010 I got SO SICK of them that I cut my horse's forelocks off. (DH wasn't happy.) BTW, your horses can get burrs stuck in the hair behind their pasturns, too. Generally a good mane and tail comb gets them out, but be sure to check that area when you're pulling =b
LMFAO at those last before and after pics of your mare golden horse...

All I can say is IM SOOOO glad we dont get burrs like that over here - it would do my head in!!!

At first I was mortified when I looked at the pics - but after reading the posts of how they just get covered like that in a day - no I wouldnt say abuse at all - and they do all look happy and healthy in the pics...
I caught a good look at their hooves and they look fine. Seems like a non-issue now. Again, thanks for everyone's input.
Thank you for being concerned. There are so many people in this world that see wrong and don't speak up. It's nice to see that you are one of those people that asks questions and WILL speak up if your investigation shows that it's needed!
you are quite right to worry but i don't think it is cruel. They have got a shiny coat and look like they are the right weight.
My gelding when he was a 4months to 3years would get WORSE then that everyday. He'd go out with none in his mane/tail/forelock and come in with a clumped mess; I mean you could move all of his mane/tail by one piece. I tried everything! Braiding, oiling so they'd come out easier, etc but nothing worked. After a while I was actually going to roach his mane/forelock so I'd only have to deal with his tail. I moved to a new barn (different reason then the burrs) and they had no burrs (in the hay or anything). Yeah, it might be uncomfortable but its hard for someone to manage grooming one horse let alone more, with burrs and the only way to get them so they don't have any is getting hay with no burrs, chopping off the burr stocks (which you have to do often because they grow back fast), or move to a different location.
Here is my gelding after not even an hour of being out with a brand new halter on.
---
It's something you need almost like air or water. ♥