OMG! BUGS!!
---
Just wanted to throw this out there, if anyone has been considering the new Amigo bug buster. My show horse is outside all day, and is EXTREMELY buggy. Cannot stand bugs on him, not an ounce, and will stomp his hooves to smithereens. Also note that I live right next to wetlands on a piece of property that has not been lived on for 20 years! (this is our second year being here). So we have some CRAZY bugs. So I got him the Amigo bug buster, and I just put it on... what a DIFFERENCE! He isn't stamping, is enjoying his food... with NO fly spray on. The Bug buster is pricey (150$), but seeing as it's the only way to keep him welt-free for the show season... I am in LOVE. If anyone was wondering if it was worth the price--YES! OMG, yes.
how is the sizing? does it run bigger or smaller? i know you just put it on him today, but is he sweating much?
I'm on the hunt for a new fly sheet for Vega. I got her
this one
but she was sweating in it and it's rubbed her too :(
For me, it ran big. I have the amigo heavy weight turnout in size 78 for my 15.1 paint, and I got him the 78 fly sheet... nooo go, lol! I returned it and got the 75, and It fits him nice. I like it because it's white, light, and mainly--AIRY. I'll go take a picture of him, lol!
ok, i'll start off with the 75 and see if i have to go bigger or smaller.

I might get it for her. I just don't want her to sweat in it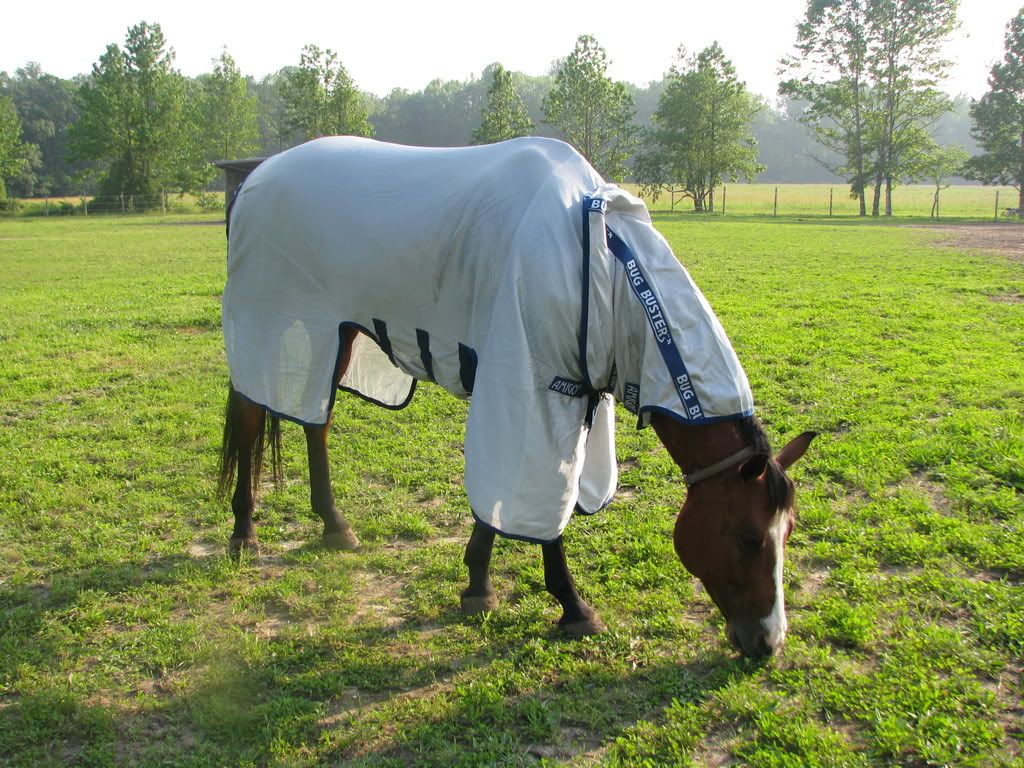 It's 95 here, and my other horse is sweating to death (he and blankets do not mix, lol!) but the Key-man is fine. Also, I am in love with this flysheet! lol
I know what you mean.. it helps create a barrier from the sun directly onto their hair, and it's white AND protects him from UV rays, which not all fly sheets do. I don't know why the rambo fly sheet is the same price, but doesn't have the 'buzz block' technology. lol
no sweat and it's 95 there.. hmmmm.

Maybe i'll invest in one if i see that she's getting aggrevated at the flies when we move them.

Thanks for the info Mayfield:)
Aren't fly sheets the best invention?? My horse is known for going lame stomping at the flies so I just got the Rambo fly sheet today for him and I'm in love! Immediately when I put it on the flies were gone it was amazing.
I love fly sheets!!
They are awesome...& no fly problems ever!
---
Ride more, worry less.