Quote:
Originally Posted by
brookelovesparelli
View Post
WOW xsj how did you do that?
yeah its amazing! my horse's crest is wide too so it may be worth me learning that one.
Quote:
Do the button braids or golf balls (whatever you call them in the UK) for his mane and french braid his forelock. If you can't braid his tail due to the fact he's a kicker, just make sure its clean and brushed out. Make sure you get the ribbon in it too. If you feel concerned out standing behind him make him back up to a stall door or a hay bale, get someone to hold him and stand on the other side of the object and tie it in. Even if he does kick back, it won't hurt you he'll just kick the object. I know that doesn't sound nice at all but its a lot better than you getting kicked.
good ideas, when he is tied in this stable his back-side is close to the wall anyway, so i think that would work.
---
Keep your feet on the ground when your head's in the clouds.
sorry for the late reply guys-


so plait them as though u were doing rosettes or hunters-

just a small plait- depending on the length here comes the tricky bit


you can either stitch it under the next plait - for a 10-15 cm mane ( u just have to see how far it will reach)

or for the proper version

skip one and stitch it to the next ( you will need a longer mane for this one- but it looks cool coz they crossover so the length of the finished braids should be the same as the above one)


heres a pic so u kinda know where the crossover ones go
---
WOW! IM so trying this on my girl next weekend for the show, thanks SOOO much! just another quick question, what do you do with the last plait? it would have no 'friend' to link to.

Thanks again!
---

~He knows when you're happy~He knows when you're comfortable~He knows when you're confident~And he always knows when you have carrots.~Author Unknown
oh i see! im going to try it on my boys mane, its quite long!
---
Keep your feet on the ground when your head's in the clouds.
XivoShowjumper that is such a nice plait!
I love plaiting! Whenever I showed my old pony I would put his mane in a french braid like this...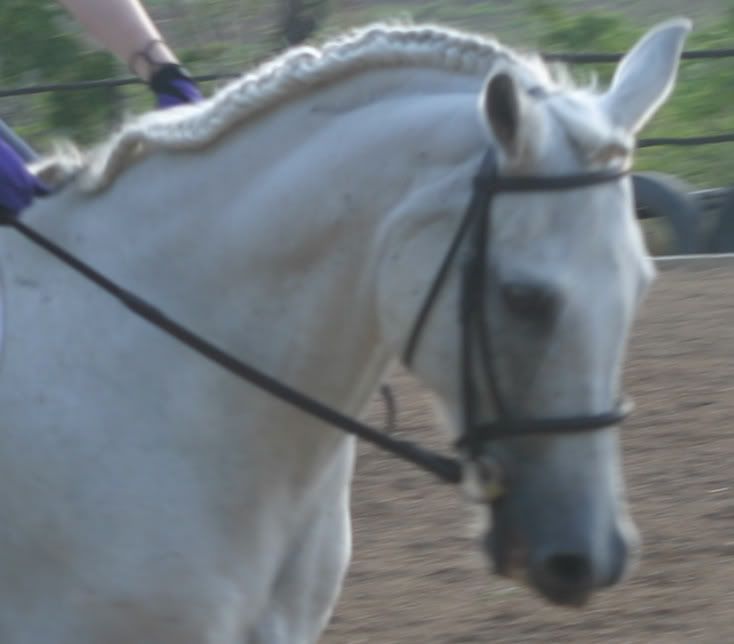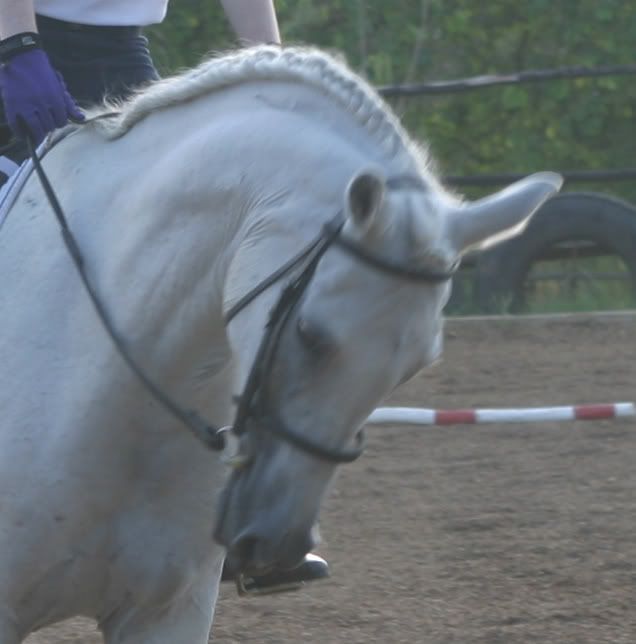 I don't show, but sometimes I like to braid/plait Caleb's mane just for fun or to get it out of the way for schooling.
This is the best one, quick and relatively easy:
Right side:
Here is the style the O.P posted:
I was going to do that for a parade we went in, but he decided to get all dirty so I ran out of time and had to do a regular running braid, and I ran a little string of battery operated LED lights through it (the parade was at night), we got a lot of comments.
well i havent been on for a while sorry guys- but with the last one i like to just fold it in half and sew it to itself- but i guess u could do a hunter braid or whatever really?
---