Quick Black Shampoo
---
Ok I have a black bay horse (who looks more black then bay) and his main an tail have orange in them....I DOESNT go away lol

I have been using quick black shampoo on him...BUT my issue is that on the bottle it says to let it sit for ten minutes before washing it out and i just dont have the patience (sadly)...

SO before I drive myself nutz waiting for ten minutes on this stuff to sit I want to know if anyone else has had luck with it when used properly... It works well on his body with just a few minutes sitting...he gets one soapy bath mid summer and just rinsed with water the rest of the bath season...

I guess im just curious to see if its worth the ten minutes or if I should just try something new... if so any suggestions on new products?

Along with quick black there is a quick color, quick silver, so on an so forth...has anyone used any of the products with success?

Also the reason im using a shampoo is because its the cheapest way to darken my horse...I already have to put him on weight building an hoof supliments....no money for color suppliments....

Thx for reading!
---
Horses Will Listen...Even When No One Else Could Possibly Understand...
I use QuicSilver on Lacey and oh man. That stuff is my BFF. Haha On her body it only needed to sit for a few minutes to get her really white but her tail needed a full 20 minutes (it only said 15 on the bottle) to get really white. It was very worth the wait though because her tail was BEAUTIFUL when I rinsed the stuff out.
I cleaned and oiled tack while I was waiting which worked out really well because I could keep an eye on Lacey (I had her tied up) but also be doing something worthwhile.
Pictures! (I know it's the opposite problem you're having but it might give you hope) =)
Before:
After: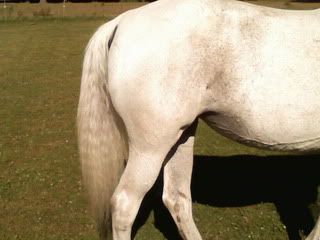 Good luck! =)
---
Fabio - 13 year old Arabian/Lipizzan gelding

~
Rest peacefully, Lacey.

Holy Jesus! Those ARE amazing results...I have made up my mind soly on that... They are the same brand shampoo time to see if quick black works as well as quick silver!!! I could stand to oil my tack as well! :)
---
Horses Will Listen...Even When No One Else Could Possibly Understand...
yea, once it sits on Blue's black spots, you can see her dapples, and she really darkens
---
Jumping a horse = Getting wings!
Why live on the edge when you can jump off?- Greenwood Horse Trials Tee-Shirt
Similar Threads
Thread
Thread Starter
Forum
Replies
Last Post
Shampoo

Haley

Horse Grooming

4

10-03-2009

10:45 AM

The Best Shampoo i ever used

ofer35

Horse Grooming

5

06-24-2009

06:18 PM

Shampoo

Brumby

Horse Grooming

10

06-20-2009

04:43 PM

Shampoo ?

VanillaBean

Horse Grooming

11

05-10-2009

11:41 PM

Best Shampoo

RebelsRose

Horse Grooming

20

06-28-2008

11:51 PM