The Reason I Pulled Mark's Mane.
---
Aside from the fact that I was showing hunters, BURRS ARE A NIGHTMARE.
This is why it was much easier to just have a pulled mane lol.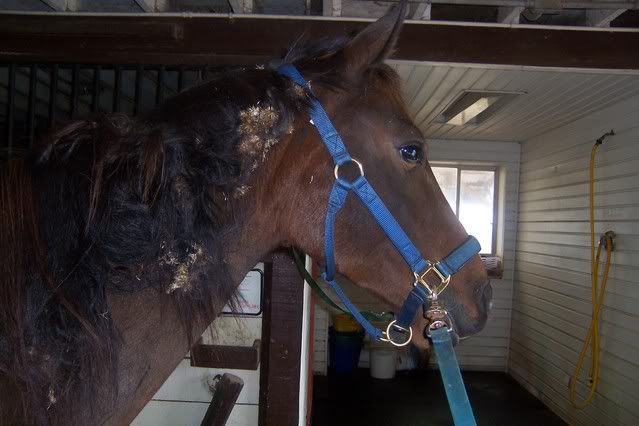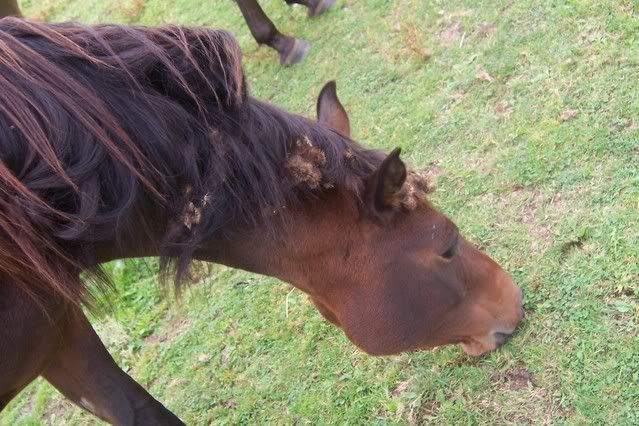 Let's just say I was not pleased to find him in the field that day lol. It took 4 hours, 2 bottles of baby oil, and a lot of itchyness to untangle this mess. By the way, his tail which drags on the ground was so matted that it was only the length of his tailbone. That was even more of a nightmare.
Who else has troubles with burrs?
---
~Kait & Mark~
ME!!!!!!!! Not as bad as you and Mark, but Thumper seems like he always comes in from the pasture with his forelock full of burs! It makes me sad because he used to have the most gorgeous forelock ever, and now it's poofy :). When you take the burrs out, it pulls and breaks the hair! GRRRR... lol burrs are my worst nightmare :).
---
Not anymore!!! Haha! Although sometimes the yearlings get TUMBLEWEED in their tails, and let me tell you that is SO much more painful to get rid of than burrs! I would take burrs anyday over the days they come in from the field with tumble weed!
---
"The ideal horseman has the courage of a lion, the patience of a saint, and the hands of a woman..."
Oh gosh, I can't even imagine tumbleweed! Burrs aren't really painful, just itchy and annoying =/
---
~Kait & Mark~
omg i feel so bad for you. I don't have those problems but i just had to comment on this b/c i was so shocked!
---
:: Karley ::
Tucker WB/TB- 11 yr
Speedy QH/TB- 22 yr
Thankfully (now that I say this it'll probably happen *knocks on wood*) Lacey has never come in with burrs in her mane. She has, however, gotten her whole tail completely knotted up with them before. When she did that I just got out my trusty bottle of showsheen and sprayed the bejeebus out of her tail, then let it sit for 5 minutes. Surprisingly enough the burrs all came right out with minimal damage to her tail.
When I first got her she had one stuck right below her tailbone that had formed a huge mat...We ended up having to cut out almost 1/3 of her tail becuase it was so darn matted...if only I had had my showsheen. haha
Burrs are horrible! But tumbleweeds sound SOOO much worse.
---
Fabio - 13 year old Arabian/Lipizzan gelding

~
Rest peacefully, Lacey.

if you use alot of baby oil to take them out it works XD i leave my horses mane grow long for winter and i pull it in the spring
I don't really have any after pics, those pics were from like 2 years ago before I pulled his mane. Now it's short.
---
~Kait & Mark~