running braid question?
---
Okay so this will sound wierd cause I don't really know how to explain it but i'm going to try.
OK. So there's a running braid, but also I have seen a running braid and along the botton of the mane after the running brade is done, there is also a braid braid.
How to do it? If that even makes sense
Like this?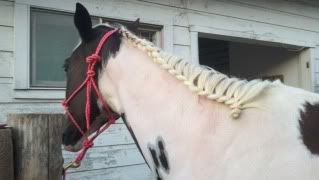 ---
~*~Never approach a bull from the front, a horse from the rear or a fool from any direction. - Cowboy saying~*~
Quote:
Like this?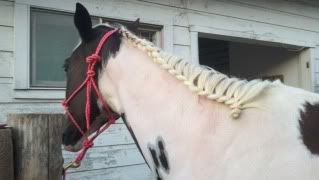 Yes how did you do the bottom a braid??
When you come down to the bottom of the neck, rather than going all the way to the end of the mane, leave just a inch or two or so of mane. And then rather than french braiding up tight to the neck, french braid down, mixing in the last few strands of hair.

Hope that makes sense.

That picture isn't the *best* example, because I braided down, and then scooped it under.
---
~*~Never approach a bull from the front, a horse from the rear or a fool from any direction. - Cowboy saying~*~