Shedding...I'm going CRAZY!!
---
Okay, so we are officially in the middle of shedding now...and it is driving me up the wall! We've made progress toward looking less like a woolly mammoth and more like a regular horse. But now, instead of having 4" of outer coat and at least one layer of undercoat (possibly two, with as much darned hair as I'm getting off him!), he looks like a horse with a normal winter coat. However, our weather is quickly climbing toward the 80s and I'm worried that he still has too much coat on him.
I've used five separate grooming/shedding blades or combs on him in the last week. Each time I've worked on him, I've gotten almost enough hair off him to make a mini. These are the tools I've used:
A rubber curry (didn't hardly do anything):
Rubber Curry - Horse.com
A shedding blade:
Shedding Blade 26 Inch - Horse.com
A metal curry comb:
Metal Curry Comb - Horse.com
A sweat and water scraper thing:
Sweat Water Scraper Generic (Equine - Grooming - Grooming Aids - Combs Brushes)
And a dual-row dog shedding rake.
He is still hairier than I would like. Most of the horses at the barn (that have owners that come out more than once a month) are already almost in their summer sleeks.
This is how he looks now (except a little less hair because he's been deshed once since this pic was taken):
This is how much hair I get off him EVERY TIME I groom him: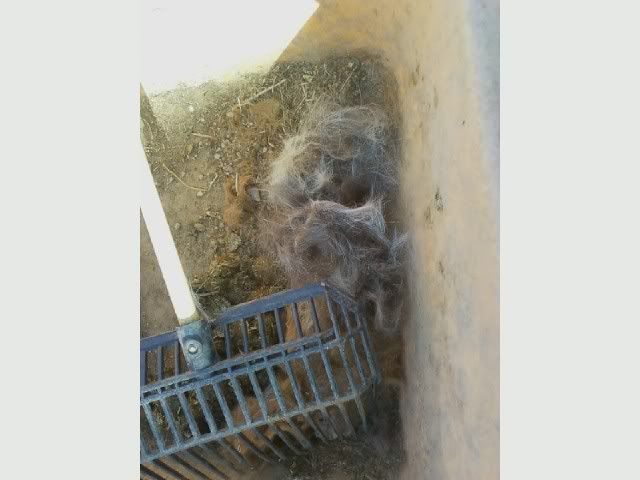 So, any ideas on how to get rid of the hair faster or more efficiently?
---
Do not tell me I can't...because I will
show
you that I can.
LOL, told ya it was gonna be like this! Actually you got a lot of fur off him. That first rubber curry is useless and the third curry you listed is another piece of junk. The shedding blade is ok for the very loose stuff. Get a grooma or a jelly curry with big grippy teeth and a griddle block or bot block (slick 'n easy-brand name), both of which are quite cheaply priced. A furminator works great but I am finding the teeth are clogging up so much right now, it works better during the last part of the shed, but they are pricey. I have ordered a sleekez shedding blade, haven't got it yet to review. Sorry but there is no quick & easy way, you have to brush it out or wait for them to shed it out on their own, which takes much longer than we want.
Quote:
Originally Posted by
DraftyAiresMum
View Post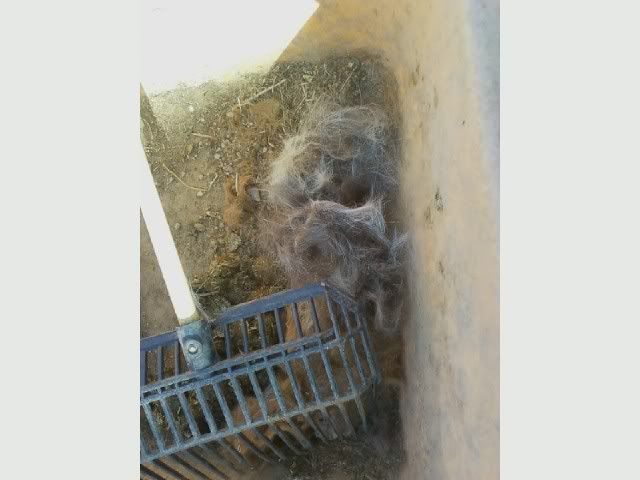 That's nothing! You should see the pile around Dakota once we're done with him.
I just use a good ole' shedding blade & a curry comb :)
Posted via Mobile Device
lol, I feel your pain! Just hang in there! Your horse will be sporting his new summer coat before ya know it.
---
PITT BULLS ARE NOT THE ENEMY. WE ARE THE ENEMY. Shorty Rossi
I just realized (after looking at the pic somewhere other than my small cell phone screen lol) that that pile is NOTHING compared to what I got off him, even today. I'll try to get a better pic next time I groom him.

Funny that you say the third blade is useless, wares, since that's the one that got the majority of the hair off him. lol I've been using the fourth one, mostly, and it does a decent job. I think my friend has one of those jelly things you're talking about, so I'll have to try it. Right now I'll groom him, then turn him out to let him roll as much as he wants. I'm surprised the BO hasn't said something about finding black and white hair all over the place (I pick up as much as I can and put it in the wheelbarrow, but a lot of it gets missed lol).

It doesn't help that my dog is blowing out his winter coat right now, too, and he's an aussie/st bernard mix, so there's A LOT of coat to blow out. *facepalm*
---
Do not tell me I can't...because I will
show
you that I can.
---
Last edited by DraftyAiresMum; 04-24-2012 at

11:50 PM

.
I just brought a dog sized Furminator, (horse sized ones dont do as well apparently)
this:
Shedding Solutions for Dogs
It's doing wonders for my mammoth of a mini, my big thorougbred and my black lab x hunterway. I get sooo much hair off, and it pulls the dirt out of the coat too.
I brought it off Trademe though so I only paid $14NZD for it
My dogs coat is now so much softer and sleeker, and even shinier than it was.. I havent really used it on the horses much yet as it's coming into winter here
---
R.I.P ~ Bubbles - 25yo tb mare - 13.04.2011 ~ 8:30am ~ passed away naturally and peacefully in my arms
You got that spiral metal curry to pull hair off? Must be my operater error, I pitched the thing years ago as it wasn't working that great and metal isn't the best thing for a coat, but that wouldn't make too much of difference on a woolly horse shedding out. Maybe the newer ones have better gripping teeth than the old ones?
I need to see if I can find a Furminator for cheaper than the $40USD (minimum) they are in the stores. Would make working on my dog sooooo much easier!

wares, I don't know how old the one I used is. It was hanging on my BO's wall of "communal" grooming supplies, so I just grabbed it and went to work. I got twice as much hair off him as is in that pic of the wheelbarrow.
---
Do not tell me I can't...because I will
show
you that I can.
If it's working the best, keep at it!!!! And switch arms, I got tennis elbow from shedding out two nags and only using my dominate left hand.
I can't use my left too much 'cuz of my surgery. If I use it too much, it starts to hurt. And I'm left-handed. lol

He's such a goof...he even likes me to take the rake/blade to the front of his face (he'll drop his head down low and just stand there with his eyes half-closed).
---
Do not tell me I can't...because I will
show
you that I can.