Quote:
It is also an option to compromise and put shoes on the front only, leaving the rear barefoot.
Yep - that's what I did the couple months my mare had shoes!
Posted via Mobile Device
There's nothing more obnoxious than someone who thinks that they're opinion = facts. You are 100% free to think and feel however you want, but that doesn't make it right/true. I could say with absolute confidence that the sky above is red (and that I know it is because this is what I've seen/believed for "this" many years which must mean I know what I'm talking about) but that sure as heck doesn't make it so.

Stop talking in absolutes, stop stating your views as the end-all-be-all, stop being so closed minded and maybe people will take you a little more seriously. I know there's a few people on this thread who's given me a good laugh with their massively uneducated statements being touted around as facts.

Threads on pro/anti shoeing (as well as a few other choice topics) always bring them out of the woodwork. At least it's a good way to weed out the kool aid drinkers from the rest. BTW, yes, I'm talking about the die hard barefoot fanatics. Because rarely, if ever, do you see someone pro-shoe spouting so much drivel and judgement to people who prefer going barefoot. We're not the ones trying to shove our opinion down your throats and throwing a tantrum when asked to provide actual, reputable proof/back up to support your ludicrous claims.

It's embarrassing.
Have you guys seen the website soulfulequine.com? (I'm pretty sure that's what it's called) but it's a horribly biased website for pro barefoot people, trying to educate the "ignorant" people who shoe their horses. I think that kind of ties in with the above post
Posted via Mobile Device
I deal with them a lot in my area. Random barefooted horse person rides up to me "You know shoes are bad for their feet?" (me in my head) "Do you know that letting my horse gimp around lame for over a year and riding them like that is worst?" I rode my mare on a pact dirt trail for about 20/30 min. I noticed she did not want to trot or lope when asked (This is from an Arab who thinks running is the best thing besides grain). I hoped off and looked at her feet. They where BLEEDING! This horse had no shoes on for over 3 years and had been trimmed 4 weeks earlier. That's when I said "Front shoes". This is the main reason she can never be without shoes
Before shoes
With shoes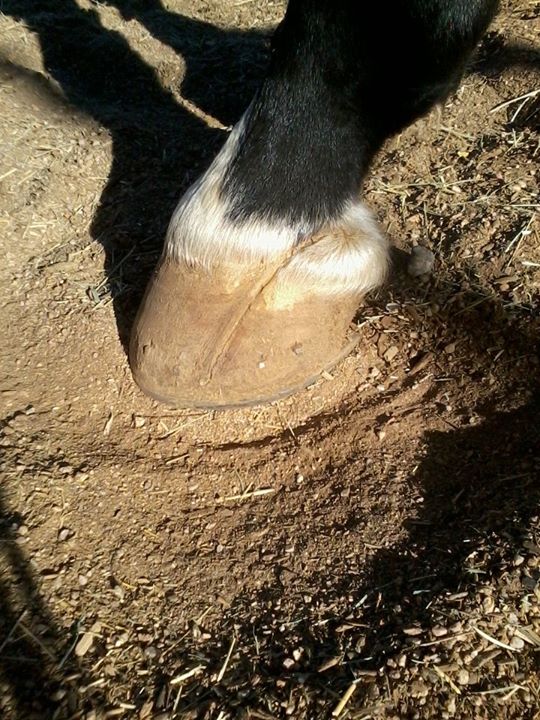 But as I said. If You are willing to use boots and he dose not trash his feet in his stall no shoes should be ok. And if he is being a pasture puff for a while then id pull shoes too.
I'm considering just doing her rear hooves and see if she does better with them. If she does, Ill do all fours. If not, I'll keep her barefooted. Thank you everyone for your help. It helped me a lot
.
---
"It doesn't matter how good you are. It matters if you have the passion." -Unknown
Did my pics show up?
Im not seeing them and i was before.
First I didn't see them. I see them now though
. And that's a huge improvement! What happened to her hoof/hooves?
---
"It doesn't matter how good you are. It matters if you have the passion." -Unknown
---
Last edited by Meadow; 01-17-2014 at

01:54 AM

.
Idk. she was like that for at least 6 (7?) years. her previous owner did not touch her feed at all for 3 years. I assume (educated assumption because of where i got her from and behavior) she was used for horse tripping. I guess she could have gotten it from that. idk the scar goes from the coronet down her heal bulb to her heal (the hoof). Luckily its only the top layer. I tried to keep her without shoes, most farriers wanted to charge me 200+ to mess with her. Bfs dad drills an extra hole in her shoe so he dose not get a nail in the crack and she is fine now :). The crack is much tighter now because it was immobilized. Will that crack ever grow out? nope (vet confirmed) its a deep scar through the coronet.
Sorry I sound scatter brained, it's late lol!
I rode my horse barefoot for three years because she wasn't mine. Then when I bought her my farrier, trainer, BO, and I all came to the agreement that she should have front shoes. She has small feet for her size and her front left is clubfoot. Let me just say that I have seen drastic improvement. She no longer does that short choppy stride and she is no longer super stiff. She loves her shoes! I agree shoes aren't for all horses, but for some it is better with them than without.