Simple tail braids
---
I wanted to braid star's tail for christmas (im braiding challenged so i want to have time to practice!
) I would love insturctions on a simple and pretty tail braid that i might possible be able to braid a ribbon into, i want to send the pictures of her to Dan the person who rescued her and gave her to us because its been forever since he has seen a new picture of her.
thanks a lot!
Check this out:
Pretty, EASY braid for THICK tails...
I do this to my friesian's tail when I feel like braiding it but don't want to spend the whole afternoon doing something
really
fancy.
i dunno if you want to braid the whole thing or not, but this is what i usually do to the mustang i take care of (actually now i do it a little different, i just braid the top part and let the rest hang loose).

i figured it out on my own somehow (i'm usuall horible with braids), but here's a video i found with a demonstration :)

I do this one too. It's a very nice one if you don't want to braid the whole tail
But it takes some practising.
Ohh I found a photo too. This was the first time I tried it (I
invented
it out of boredom) and I was so happy with the outcome that I made a quick photo with my phone. It looks funny but the more you practise the better the result is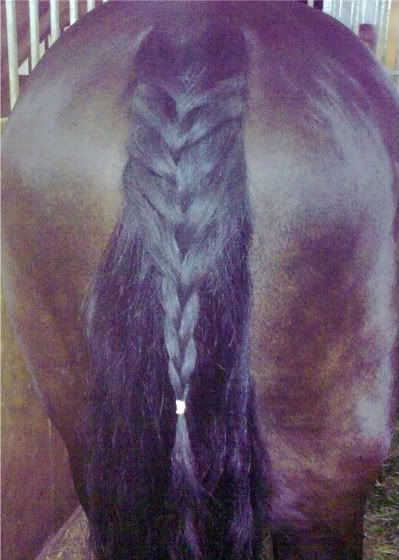 i saw the braid in a native american horsemanship book. they didnt tell you how to do it, but in one of the pictures the horse had it and i liked it :) so i figured out how to do it and do it ALL the time lol. the picture i showed was the first time i figured it out
When I was younger I had a friend and she was a hairdresser. She used to do it on people all the time (it was a very popular hairstyle back then) and I was always so frustrated cause anytime I tried I just simply could.not. do it. Once I figured it out but it was just a mess to me, I had my hands full of strands of hair I had no clue what to do with. Then I forgot how to do it again... Now I'm very comfortable with doing it on a horse's tail but somehow I'm sure if I were to do it on somebody's head I'd totally not know what to do again
Now... talk about skill and patience!
haha yeah i'm not the best hairdresser in the world either :P i was really urprised when i figured out that easy horse braid haha!
I should try this on Quinn's tail. That's a gorgeous tail design!
Similar Threads
Thread
Thread Starter
Forum
Replies
Last Post
Braids

RacePony007

Horse Grooming

21

02-10-2013

10:16 AM

Braids Anyone?

trIplEcrOwngIrl

Horse Grooming

10

03-30-2010

08:45 PM

Different braids...

brookelovesparelli

Horse Grooming

9

05-25-2009

10:23 PM

braids

IrishCailin

Horse Grooming

11

05-06-2009

08:36 PM

such a simple ...

*ArabianPrincess*

Horse Training

1

05-14-2007

10:30 PM