Trained
Join Date: Sep 2007
Location: Hatton Vale, QLD, Australia
Posts: 5,227
• Horses:
7
some questions about doing rosettes
---
so as you will probably hear a thousand times over the next 6 weeks, possum and i have our first show together coming up. in the past i have always had someone prepare my horses for shows and im sad to admit i wouldnt have the first clue about all the fancy sewing and stuff lol sooo, im thinking i will just do it with bands.

is it just like doing a bun in your own hair that you hold in place with a band?

also, what products can i use to hold it all in place? should i apply the product when i plait it all up the night before or should i wait until i do the rosettes or both?

one more question about braiding tails? i know how to braid so that isnt a problem but possums tails is all different lengths at the top from when should would rub it before i got her. its long enough to braid but i cant see that it would be very neat cause it would have a lot of little bits sticking out. any tricks of the trade would be greatly appreciated :)
---
"I whisper but my horse doesnt listen...So I yell!!...He still doesnt listen"
Proplait or a styling gel will hold the tail in place.

I never sew plaits anymore, takes to much **** time lol. I always do dressage plaits tho, the only times Ive ever done rosettes I sewed them so Im not sure how they would sit with bands. You could try a practice run tho to see how it goes
Trained
Join Date: Sep 2007
Location: Hatton Vale, QLD, Australia
Posts: 5,227
• Horses:
7
what are the dressage plaits?
---
"I whisper but my horse doesnt listen...So I yell!!...He still doesnt listen"
He had rubbed them out before I took this photo but it gives you the idea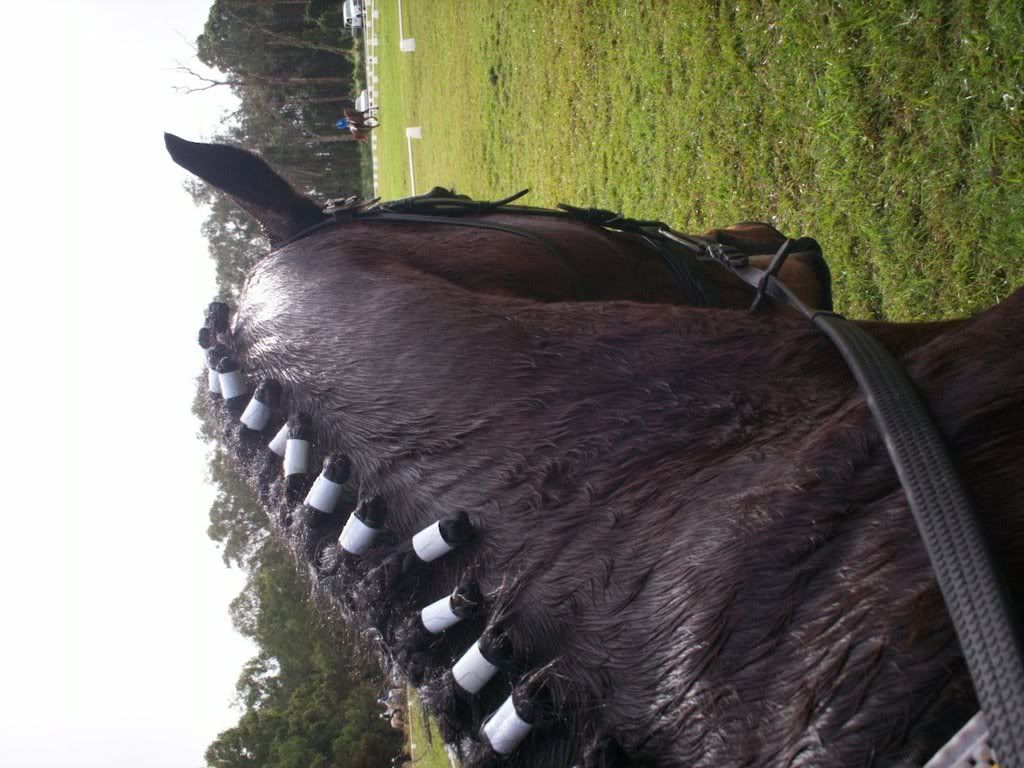 Rosettes:
1. Plait the mane (normal plaits) in equal sections all down the horses neck and fasten with an elastic band
2. I trim the end coz my horses mane is really easy to cover up how uneven it is, but you might want to instead do a little bun at the end of the plait just to hide away the little bits that fray out
3. grab the end of the plait, and roll it up underneath the top of the plait, so it's in half, do that again, then fasten it with an elastic, it holds suprisingly well if you do it properly.
4. Put gel in once they're all finished

Tail:
If you know how to plait then plait the tail, andjust gell the frayed down bits in place, when your out in the ring, they're not so noticeable anyway