View Poll Results

: how often do you brush your horse's tail?

everyday
18
27.69%
just before a show
5
7.69%
occasionally/ when i feel like it
38
58.46%
never
4
6.15%
Voters: 65. You may not vote on this poll
I'll take pics tomorrow of thunder's tail. THis tail only gets brushed maybe 1 every couple months because even a week after washing it....it's all tangled. he's got weird hair....thick and corse never soft.

OH and thanks appy and mini! ill have to try something. ill take some before and after pics lol. do you wash out the conditioner? or leave it in? how often do you change and rewrap?
your horses are stalled? i thought you couldnt wrap and leave them if stalled? please educate me on this-soooo wish i could post the pics of Sonnys tail for the show-Donna did an English 1/2 braid with a scoopy tied up bow/loop thing-took forever. we did it right before the show as she said he'd rub if off overnight?
Thunder is stalled from about 4pm-8am as long as the weather is nice....if it's crappy outside he stays in his stall and only gets turned out for a few in the arena or if i come visit and take him out, but he's got a run in his stall, so he can go outside too.
you can wrap/bag a tail in a stall IF there is nothing to catch the tail on. My stalls are free of any protruding objects and if she would find something to catch it on, then it is so loosely braided it will fall right out. The only thing any of mine could ever catch it on would be the water bucket, and since I have mine fairly low to the ground, that would take some talent.

The MTG is applied once a week and left in. I try to keep mine locked up only at night or in nasty weather, I have a few that would rather stay inside than go out into the cold wind right now, but I make them go out there anyway. We have to many coyotes, bears, and supposedly a panther in this area for them to be outside at night as they are minis. The only one I dare turn out at night is the mustang.
---
You know how to make a miniature horse even smaller? Leave them in the dryer a little longer!
"Don't ever regret something that once made you smile"
---
Last edited by minihorse927; 11-23-2008 at

02:47 AM

.
I don't wash the MTG out and if I use a conditioner, it's the spray, leave in kind.
I will re-do this about once a month, though it depends on what it looks like. I believe the longest I've left Vega's in was almost 2 months.
My guys are out during the day and inside at night (because it's cold) There is really nothing they can get it caught on.
I also use anywhere from half to a whole roll of vet wrap (depending on the thickness and length of the tail, or how much vet wrap I have left on the roll)
You can also use the vet wrap in the spring/summer, but just make sure you add some string at the bottom of it so they can use that as a tail.
Here is Vega's tail with the string attached. (this was taken in the March or April of 08)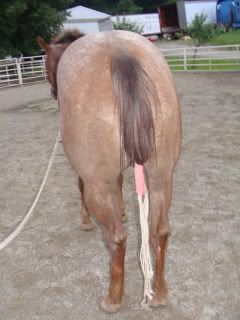 This is her tail in June 08
Just for reference, this was her tail in Sept of 07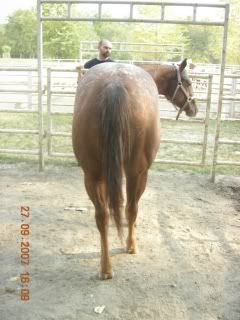 I don't think I ever managed to brush the tail on my horse when I had him. It was very tangled and really thick with coarse hair. I cut it so it ended around 6 inches before hitting the ground but that was it.

A friend of mine brushed her horses tail a lot and it just got thinner and thinner so she ended up stopping.
Ok I managed to dig up a photo. It's not my horse but my uncle's horse but they had pretty much identical tails that were kept the same way (i.e nothing much done to them)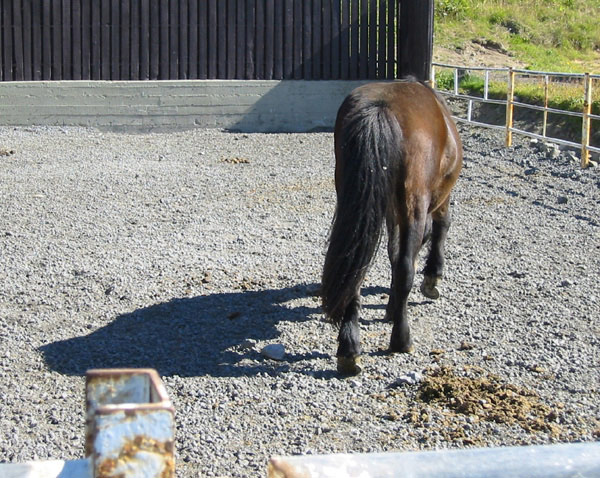 ]I don't have aproblem with thunder's tail growing....i actually had to trim it today lol.. but I have a problem with it getting nasty! Here's my first attempt at wrapping it...
BEFORE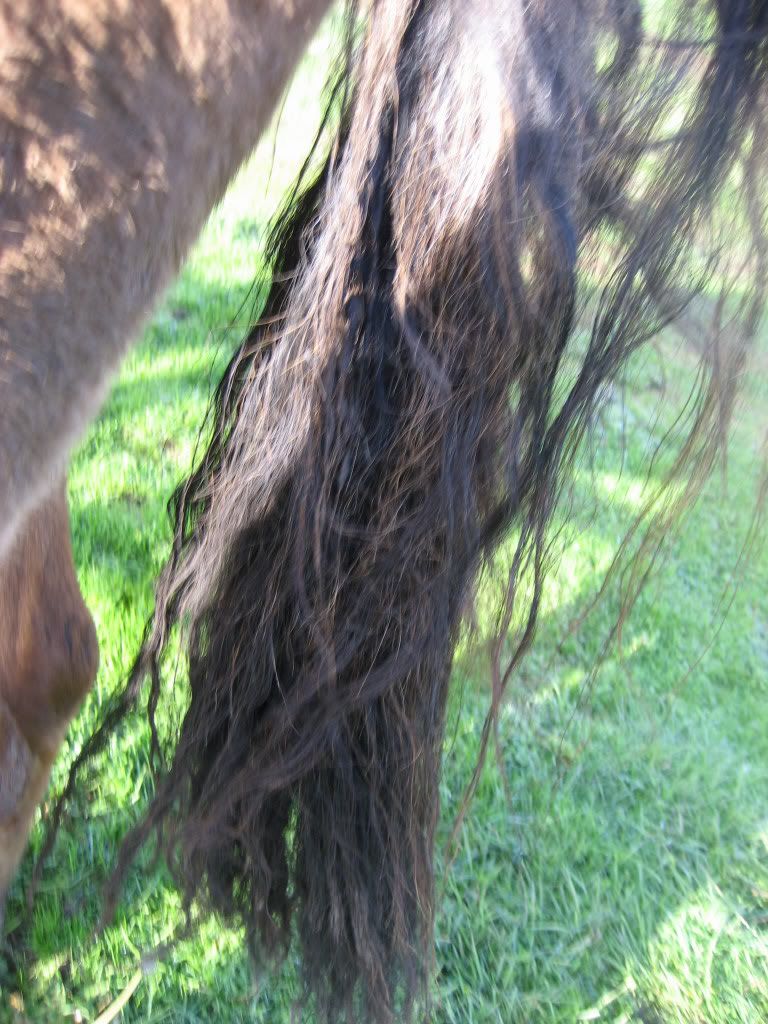 AFTER (CLEAN ON THE INSIDE LOL)
My horses tails are usually 90% of the time in a tail bag , taken down every week and I pick it out with my hands and put more detangler in it and then some Mtg and up it goes again.
---
* Elmo's War Cloud- 9 yo Appy*
* The Pride The Glory- 4 yo Tennesse walker*
* Rock Views Montana- 5 yo Paint*
all of the show horses i know have their tails up.
i personally never brush with a brush...i pick the entire thing out with my fingers.
---
kickshaw
Justin (qh/tb)
Boo (asb)