Thoughts on blankets w/Hoods
---
I've never used a hood before but this winter I will be trying to keep the coat under control for winter lessons/riding. Do I just want to get a hood because I see other horses with them? Are they really necessary? Do you just use them for when it's really cold or do the horses wear them all winter?

I'm ordering blankets for the minis so while I'm ordering I thought I should get a hood for my Mare now if I was going to at all.

My horse is stalled in a heated barn at night (heavy blankets come off) and out in turnout during the day. If it's really, really cold out the BO will keep them in. I have a midweight blanket and a liner for some flexibility.

Last winter it took me over an hour to cool her off after a lesson but she wasn't blanketed at all then.

Thanks!
hi, i have just bought 2 mediumweight rugs with hoods for my 6 month old and 18 month old fillys, they will be wearing them when it gets abit colder, right upto when it starts to get warm again, they are out 24/7 not stabled, only trees for shelter, i prefer these rugs when there out alday and night.
I only started using a hood last year because we decided to clip the underside of Jesse's neck so he could cool off faster. If you don't clip his neck at all I don't think they are really neccessary.
---
"You know, for as long as I can remember, I've had memories." ~Colin Mochrie
By hood to you mean neck cover, or face cover?

If you mean just a neck cover, all my horses have 'combos' which is a ruck + neck cover. They are turned out 24/7 all winter in a paddock without much shelter.

If you are talking about a face cover - I would never leave one on a paddocked horse. Too dangerous.
---
I'm definitely talking about neck covers then. I'm not sure if I'll clip at all but if I use the neck cover I thought it would result in less thick hair growth and keep me from having to clip. Not sure if my logic is sound there but it makes sense to me.
I use a hood/neck cover in combo with the rug because I have a white horse and I compete through the winter. The key to reducing a winter coat is not only early blanketing but light control in the barn.

If you really want to lessen the sweating/cooling out time, you may want to consider a trace, blanket or strip clip. These offer cooling effects without removing the whole protective coat. If you do clip, then you def want a hood.

My only dislike about hoods is that I've noticed Primo's mane is thinner. Though if your horse has a really thick mane... this could be a good thing.
---
If your horse says no, you either asked the wrong question or asked the question wrong

And God took a handful of southerly wind, blew His breath over it and created the horse
Rugs don't stop the hair growing, they just keep it clean and make it sit flatter.
Posted via Mobile Device
While I'm showing during winter, I use his regular turnout blanket, sleezy, and a neck cover on top.

My Paint doesn't get a heavy enough coat to clip, but just enough to make him fuzzy if I don't blanket to tame it out.
---
"You're just as sane as I am."~Luna Lovegood.
---
Quote:
Rugs don't stop the hair growing, they just keep it clean and make it sit flatter.
Posted via Mobile Device
If your horse has grown in his winter coat a blanket wont stop the hair from growing, but if you put it on when him/her startes shedding his/her summer coat, it will stop it from growing
---
"Good things come to those who wait… greater things come to those who get off their ass and do anything to make it happen." - Unknown
I personally like the rugs with the neck part as it keeps my boy so soft and his coat really healthy and shiny, though I'm sure hed be okay without one I still use it.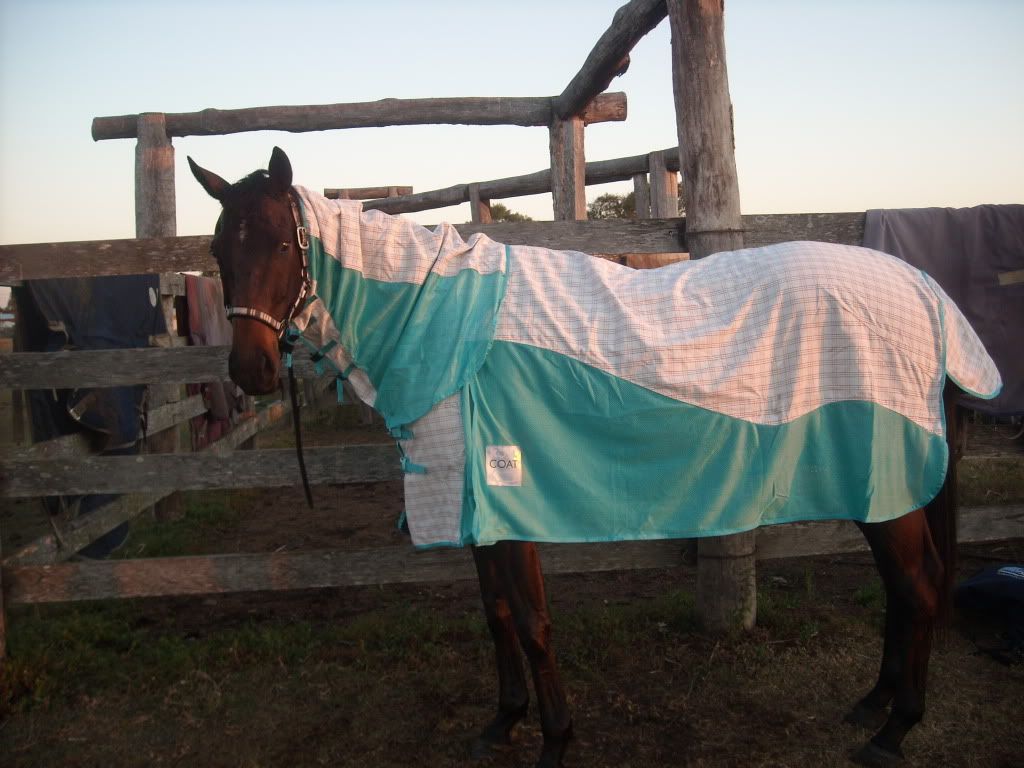 This is the one he has atm though soon we will be changing to a simple blue and white one with no mesh.
I think they keep the horse softer, cleaner and I just love my horse rugged with a neck thing, i wont buy one without the neck part :)
---
Horseriding- The art of keeping a horse between you and the ground.