Typical Rain Rot Spots
---
So I've never had to deal with rain rot, this year Scarlet got her first batch.....I'm assuming. Everyone at my barn was saying that's what it is. I noticed it because we went for a swim yesterday (her coat is pretty grown out this time of year) and I could feel scabs. They were wet and lifting so when I went to pull a few off, chunks of hair came with it. No flakes or dry dandruff or anything like that. So they suggested putting listerene on it.
I drew a quick picture of where it's at on her. What do you think?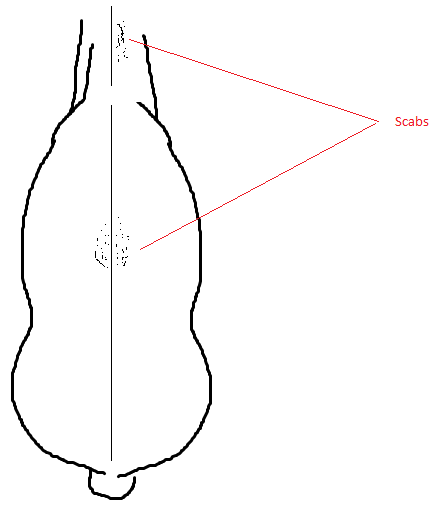 Is there something I'm doing or not doing to prevent this? I don't always rinse her off after riding, but majority of the time I do. And then sweat scrape her.
Vitamin A/C/B-12 shots might very well help. And then you've just got to keep her healthy and pick all those nasty scabs off. You can smother it in baby oil, but it makes an absolute tarry mess.
Mitch arrived here with it covering his face nearly a year ago, I picked the scabs off, cleaned the areas and put on equifix (it's got emu oil in it, works wonders that stuff) and within a few weeks it was gone... Now I have to deal with it being all over his legs.. oh the joys of owning a horse
---
R.I.P ~ Bubbles - 25yo tb mare - 13.04.2011 ~ 8:30am ~ passed away naturally and peacefully in my arms
Yep.. my boy has it all over the left side of his hindquarters, a few spots on his back I cleaned out really well, a bit on his shoulders.

You aren't a bad horse owner.. it definitely happens.

To get rid of it, wetting it helps it come off without pulling hair strands with it. Bathing in Head and Shoulders shampoo and letting it sit there for 15 minutes before hosing it off helps too.. and my gosh it makes my white horse's rear shine and ever so soft! :P

To help keep it off... curry curry curry! Before and after rides.. everywhere! If your horse is sweaty, get them dry before currying.. use a cooler or towels or air dry.. then scrub with a curry.

Can you tell I'm a perfectionist? :P
Lol thanks!
Posted via Mobile Device