Wanting that shiney coat- Flax seed?
---
I'm moving my guy to a much nicer stable, where I will get to have a say in what he's fed!

So, right now he's on ultium performance (which he DOES not need, he is a for-pleasure, light working, 1000 lb gelding quarter horse)
Anyways, his coat is somewhat dull, and only picks up a very slight sheen sheen with loads and loads of grooming, or a bath. And his mane and tail tend to be dry and unhealthy at the ends no matter HOW MUCH cowboy magic gets applied. (he's chestnut so this is kind of saddening to me, he has lovely coloring)

-he does not have worms
-he does not have any other medical issue
-he is 5 years old

I want to start adding flax seed to his food, which will NOT be ultium. Probably nutrena's safe choice or seminole wellness.

So does anyone else feed their horses just straight flax seed?
How much (in ounces or pounds) do you feed them?

He will be fed grain twice a day- so should he get flax seed with both meals, or just the morning one? Or just the evening one?

And anyone who uses Safe Choice, Seminole Wellness, or flax seed, I would love to see some pictures!- preferably if your horses are at least sometimes pastured.
I use Omega Horseshine which has stabalized flax seed in it and I really like it. Comes heartily recommended by our local feed store.
If you feed just plain old flax seed remember that you need to feed it ground or your horse won't chew well enough to really grind it up themselves. Here is some neat information about stabilized flax seed:
Flax Seed Horse supplements
and why it does more than just make shiney coats :)
Some pictures of my shinyyyy pony! He's pastured 1 - 2 hours a day so not really the same as a pasture pony but still!
Edit: I don't even think I groomed him before taking these pictures. He's always very shiny without a lot of elbow grease. Just a quick hard brush and he's sparkly!
---
---
Last edited by Deerly; 08-28-2010 at

12:36 AM

.
I use Mazolla Corn oil as part of Solon's high fat diet. One of the many benefits is a nice shiny coat.
---
Unless it weighs a ton... it's just a horse.
Draft horse motto.
I give my boy 1 cup of flax seed every evening. I mix it with his A&M., but you have to grind it up or they will just poop it right out & it will be a waste. I have an old blender that i keep in the barn to grind it up with, it works great! Flax seed is also good for their feet.
---
MUSTANGS...AMERICAS REAL HORSE
RUGGED...EARTHY...AUTHENTIC...LEGENDARY
I WILL FOREVER BE A STUDENT OF THE HORSE.
my horse gets one cup of flax seed, and she is super shiny! I also found canola oil helped to ( I gave it to my old horse who always got colic, canola oil helped his colic and his coat!)
Posted via Mobile Device
Yeah I feed ground flax seed daily. You can buy it pre-ground or buy whole and grind it yourself in a coffee grinder.
My guy in the shade today, not a spot of anything on his coat: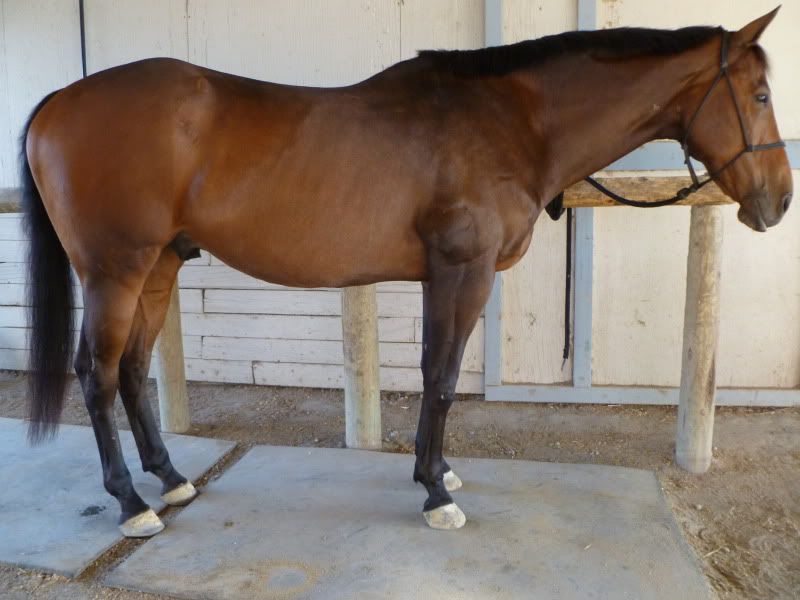 He's 16hh and gets about 1 1/2 - 2 tablespoons, I just measure in my cupped hand. I have always been told they don't need much for a big difference and I've seen that proven firsthand in multiple horses.
---
Last edited by rocky pony; 08-28-2010 at

02:26 AM

.
We give rice bran pellets on occasion, and it seems to work OK:
Something I use for my thoroughbred is black oil sunflower seeds. It has protein in it so it gives his coat a nice shine.
I second the Black Oil Sunflower Seeds, or BOSS, I give them to my TB and she has a beautiful shiny coat.
How cool! these horses are all so lovely and shiny!! I will definitely look into rice bran and black oil sunflower seeds (and corn oil, though that sounds messy!) when I'm shopping!

Thank you so much to everyone who replied, especially those who posted pics!