Quote:
And that is why I said ALMOST 100%, which you quoted, so I assume you read it.
Please quote the rest of my response.
Quote:
I do give her a small amount of rice bran though with her probiotics and the canola oil..of course I wet it down. I thought about getting ultra guard vitamins...is there any other vitamins people recommend? Oh and she also has a salt block and I give her a good dash of salt in her bran to make sure she is getting the salt she needs.
If you're going to feed bran I HIGHLY recomend using the stabilized rice bran pellets. I was using a traditional bran mash to add supplements to and since switching to the stabilized pellets (which are much much safer and more benificial) my horse's shine level has at least doubled what it used to be. As for supplements I use Accell. My mare also has a salt block with trace minerals should she want it, but I never add salt to her feed. I believe (could be wrong, if so someone please correct me here) that the readon for addng salt is to increase their water intake. I accomplish added water intake by using a trick my trainer showed me. I make whas she calles a Slurpee which consists of about 2 cups A&M or other similar feed, 1 cup stabilized rice bran pellets, Accell supplements and at least a gallon of water. It took my mare a couple of days to get used to the very watery consistancy, but now she slurps down every last bit.
Here (hopefully) are some pictures of my mare after having a good roll in her very dirty pasture.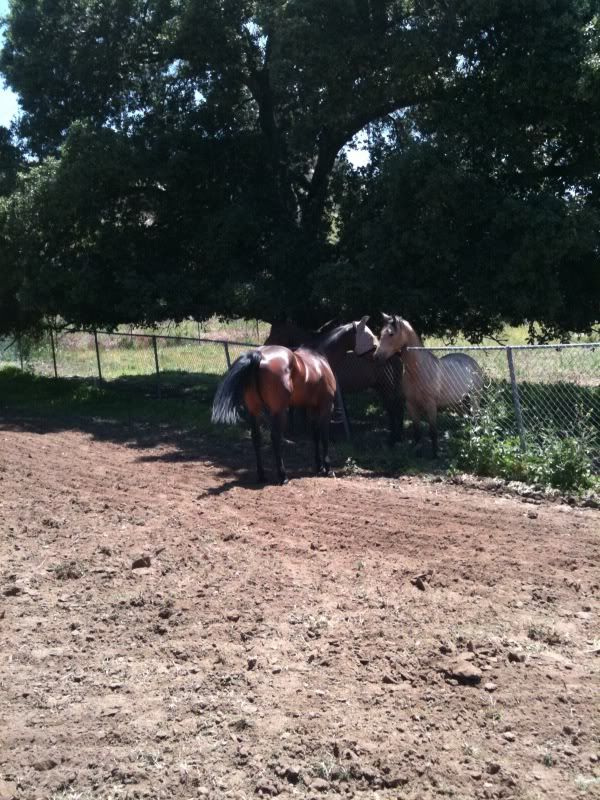 ---
My blog ~
Life and Horses
~
Flax Seed and Alfalfa(real hay, not pellets) improves any horses coat, no matter what else you have tried. Just make sure it fits in with the rest of your feeding regimine-you may need to accept that some just shine more than others. But the flax is generally safe to add to most feed programs-makes some horses look like they are wet all the time.
Oh yeah, and less water is better for a shiny coat. The best coats I ever worked with was with AQHA world halter contenders and they NEVER washed except just before show. Let sweat and dirt dry, they curry hard, then vacuum-really brings out the oils. They looked like winning photos all the time, with no shine products. And fed alfalfa.
Quote:
My pony is shiny all year round. Some times it depends on the breed, TB's for instace are mostly ALWAYS shiny. Try mixing sunflower seeds or sunflower oil in to you horses feed.


Some heavery breed sometime dont get shiny.
Really? That's news to me and Jack! All these have been taken in the last couple of weeks as we come into spring
and this one is after hacking...
Good quality food and sensible regular exercise is far more important than lots of grooming (Jack's too big to groom too much, I get bored easily
) and I definitely wouldn't bother putting anything on the surface, it would cost me a fortune to do his whole body
Darker colours do tend to shine better than paler colours though...
Quote:
Hmm. I have to disagree. Or you have to explain why all 30 some horses at our barn do not shine the same.

Some hair is more coarse and dense. It simply cannot transfer the light back the way a more smooth folicile can.
Entire response.
---
All horses deserve, at least once in their lives, to be loved by a little girl.