What does the coconut oil do for the mane??
---
i've heard that people are putting coconut oil in the mane of they're horses, what is it that it give the mane? Olso what the baby oil does? i really want to try it on, but i don't know what it will gife the mane?? any ideas?? or pics??
---
If they don't have horses in haven, I'm not going.
CO is a really good conditioning tool to use! I use it on my mares tail just about everyday! Its also good for people :)
Yeah I have used coconut oil on my own hair before, and it's amazing. Basically just makes the hair shinier, and a little stronger to breakage. I haven't used it on Bali's tail before though...
---
Proud owner of 13yr old Paint Gelding, Bali! <3

Awsome, Thanks, but what about the baby oil??
---
If they don't have horses in haven, I'm not going.
basically it does the same thing. It also helps with tangles
hmm not sure about baby oil i never used it on my horses before! i dont know if it has silicone in it or not but if so you want to try not to use silicone based products on the hair it drys it out. I use Eqyss products and CO and have great results from both!
I used the coconut oil before...I really liked it except that it did collect dirt very easily, so I would probably leave it in for a couple days then rinse. here's thunders tail after braiding with coconut oil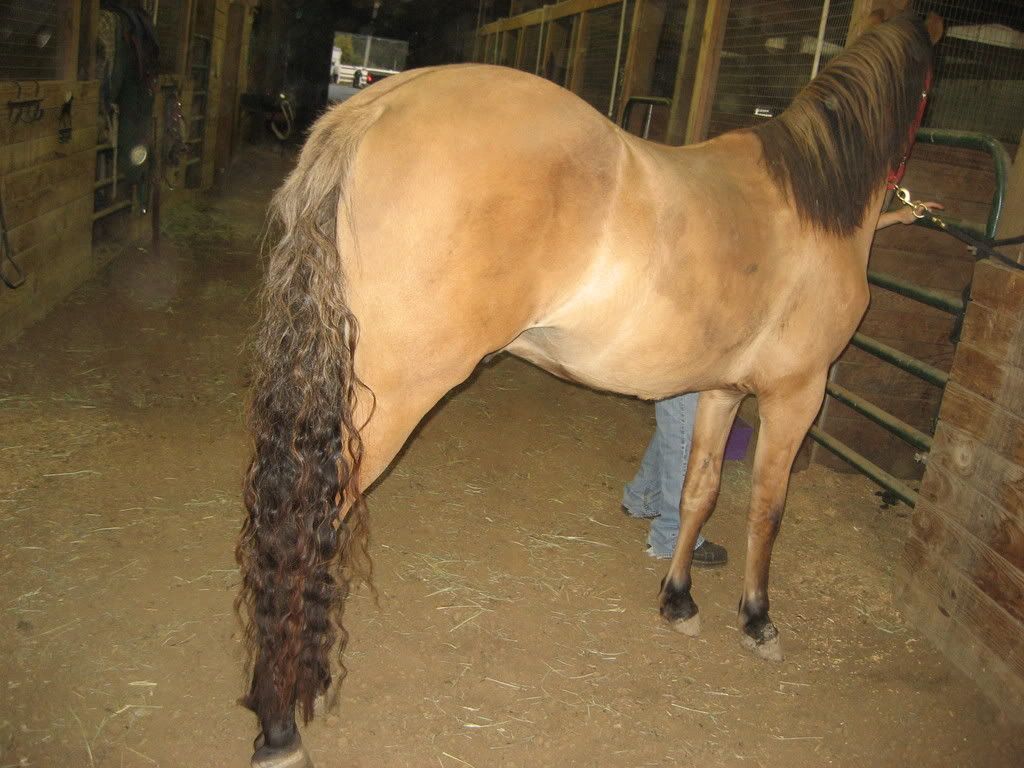 I think baby oil is more mineral or petroleum based. Not as good as a plant based oil like coconut or olive oil. Actually, if I remember my chemistry right, lanolin is one of the only things that has the correct molecular structure to be absorbed by the skin, so I wonder if it might be better (?) I'm sure it would be too expensive to use on a horses hair.
I absolutely love
this stuff
and you can get it at at most stores that carry hair care products for black people
---

"Until one has loved an animal, part of one's soul remains unawakened..."
- Anatole France
---
Last edited by Vidaloco; 10-28-2009 at

03:34 PM

.
coconut oil isn't expensive at all and you can find it in the organic section in your grocery. It goes a LOOOOONG way as well :)
Thanka, WOW look at thaat tail, i want to have it!!! i need to check that coconut oil, but you the baby oil drys?
---
If they don't have horses in haven, I'm not going.