Just curious but how come he has to have shoes on all the time? Is it because of that injury?
Does he wear them on all four feet?
Im lucky to be able to keep April barefoot... My farrier said that he wouldnt put shoes on if I would ask him to do (which I have no problem leaving her bare)

Chloe has to have them on the front since she chips up really bad. I just have regular steel shoes on her but have to take them off for snow. She doesnt have any problems with them when walking on the hard road.
---

It's not the will to win, but the will to prepare to win that makes the difference.
- Paul "Bear" Bryant (Former college football coach)
I shoe for show season only, then I use aluminums.
---
"Be a best friend, tell the truth, and overuse I love you
Go to work, do your best, don't outsmart your common sense
Never let your prayin knees get lazy
And love like crazy"
Stella wears Ground Control polyurethane shoes. I just pulled them last week, but we've had snow and ice and she never slipped with them nor did she get snowballs.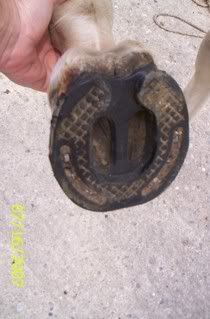 ---
Stella - sweet, timid, elegant, lovely, lively, amazing
Luna - large, unattractive, naughty, adored

those look quite interesting!
Are they applied with nails or glue? (can't tell from the photos)
They're nailed on and for being plastic they last longer than you'd think.
---
Stella - sweet, timid, elegant, lovely, lively, amazing
Luna - large, unattractive, naughty, adored

When I first bought poco his feet where horrible. I have never seen a horses feet so cracked in my life. He had quarter cracks on the inside and outside of all his feet, and crack straight up the front in all his feet. I mean, you could lay your pointer finger down in the gap. They were horrible. He still has the front cracks in his front feet and a quarter crack on his right front. They are closed up now and only superficial. The only quarter crack he has now was due to an injury in March of 07. The guy I was boarding with put him in a field with a young stud and they faught constantly. (I had just moved and didnt realize this had taken place till another boarder contacted me) The stallion ended up cornering Poco and when the stud reared he came down on Pocos front foot causing a huge indention and later an absess. The indention now is completely gone. I was told by both the vet and farrier that he would always have a deformity of some sort. So, thank the lord it healed perfect. I have had his feet healed up completely several times and both I and the farrier decided to leave him barefoot to see how his feet would do and within a week his feet were already starting to crack and split. He gets a mixture of pine tar and hooflex liquid condition mix on them and a supplement. I literally have to put it on his coronary band every day and on the sole of his feet every other day. We have tried leaving him barefoot in a very grassy field with no rocks or really hard spots and they still split. So, the only way his feet will really hold together now is with shoes.
Appylover you actually have natural balance shoes on your horsey. They are good shoes. 3neighs where did you come up with the idea to use those shoes??? Ive done alot of reading on them and I have only heard good things! So, I might have to think about that one. Its either that or have the studs put on Poco's shoes.
Thanks! I wanted to say natural barefoot, but I knew it wasn't it.
I had the same thought about one of my horses, "there is no way my horse can go barefoot" even my shoer I had in the past said your horse has crappy feet. And I fed almost every hoof supp to try and make them healthier. Recently I went to a seminar and learned a lot about proper nutrition and how that plays in the quality of your horses feet. So I decided to give it a go. He's been barefoot for about 3 months now and with the proper trim I have not had any chipping.
I may get off on a bit of a tanget but hear me out a little.
If a horses foot is trimmed properly; the walls are level with the hard sole, the bars are not over grown and the frog has good pressure, your horse can do well bare foot. Now don't get me wrong he's a bit tender at times. But his foot was in shoes for atleast 25 years and basically numb/dead. Now that he's getting frog pressure his foot is able to function and flex the way it should. I use boots when I ride him for the time being untill he can toughen up some. Also he was a "corrective shoeing" case. His one from hoof grows more outside wall then inside wall ( hope that makes sense). He would grow off balance within a week. Now with him barefoot I can keep him more balanced. I'm also learning how to do my horses feet on my own (Saving a ton of money owning 5 horses!).
If you get a chance check out this website
www.swedishhoofschool.com
click on video clips and watch some of the videos. It gives you an inside look of how the hoof should function and what happens when a horse has shoes on that won't allow for the hoof wall to flex.
And you had mentioned about putting shoes on that would raise the heel... Just a suggestion BAD Idea! By raising the heels you are putting pressure on the horses toe. Take a look at horses that have "Navicular", in most cases the heels are TOO high which is allowing the coffin bone to point downward. The first thing you should do with Navicular is to take the heel down and toe back which will bring the coffin bone back to parellele (sp) in time.
Enough of that, I can go on forever. Hope that little bit helps out some