I wore my carhartt coveralls and muck boots over my work clothes this morning when went to take care of my horses ,I still managed to get horse hair all over the work outfit! Kind of embarrassing to show up in the office and everyone point out that you apparently got dressed at the barn this morning!
We've been having ridiculously warm weather (when it's supposed to be the coldest time of year for us!) and I noticed today that one of the girls has started to shed, just barely. Normally that's not happening until April/May!
---
O-Ba-Gee-Ba-Jabba-Joy!
mine lost theirs about two weeks ago it was 80 degrees and then it started snowing!
---
If your horse thinks your the greatest person in the world dont seek a second opinion.
hmmm. Well, my appyX started shedding about two weeks ago, but my haffie filly hasn't shed a single hair, and she has the thicker coat by far. It's getting warm enough, so I figure the haffie just isn't very well calibrated. :) We shall see.
---
There is just as much horse sense as ever, but the horses have most of it.
My miniature wooly mammoth has been blowing out gobs of coat since Jan. and still has enough on to not be shivering in 40 degrees. Im not sure he will ever slick out, and the BO is tired of getting balls of hair collecting on her back porch.
Quote:
Originally Posted by
Klassic Superstar
View Post
Ollie was a shedding mess today! It was pouring so I groomed and tacked him up Andy tacked him after our lunging and both times of grooming....wow! I could have made a pills for my car! The whole stall floor was covered in hair! Haha it felt so good to him today, he was very itchy ;)
I was grooming foxy when it started pouring as well!
---
I may seem small, but if you mess with my horse, I will break out a level of crazy that will make your nightmares seem like a happy place.
My horse started shedding about a month ago....but he never gets real hairy anyway.
Jax is still shedding... I tried to curry him out today before his chiro appointment, but to no avail. By the end of the adjustment, he had shed clumps of hair all over himself... and the poor woman's hands! hehe.
My Paint and my half Arab have been shedding for at least a month. My Canadian has just started to release some of her wooly mammoth-like coat this week. Just got 24 cm of snow two days ago. But, I remember that the groundhog has predicted an early spring so I'm putting all my faith in the semi-large rodent's predilection.
This came off my horse a few days ago...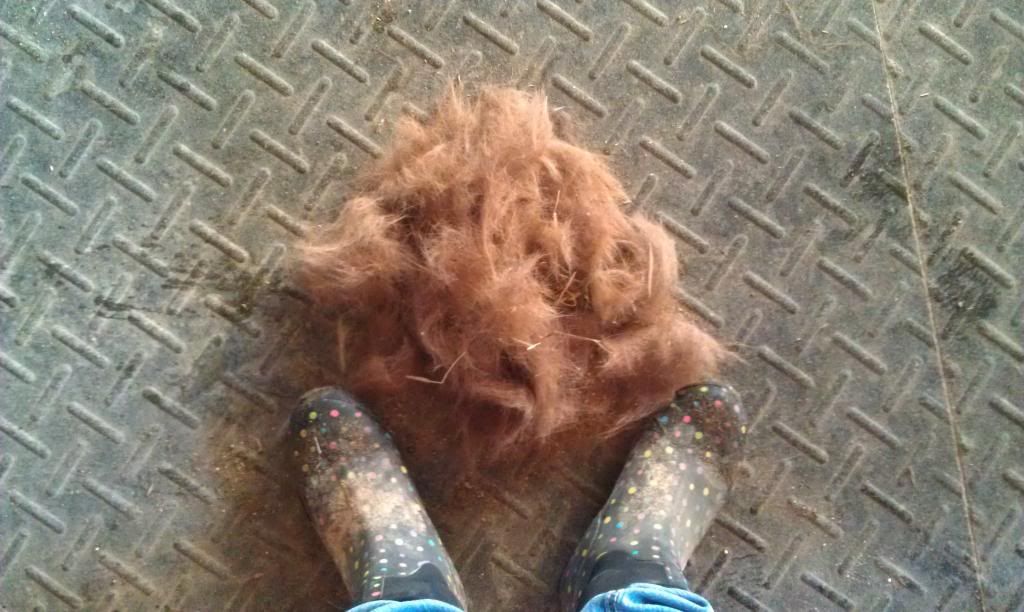 ... and I just got another identical pile off him today. He will be bald by spring.
---
"A rider who would trade partnership for obedience
will have to settle for neither."