*sigh* Another vet bill
---
I am having such a bad run these last few months. First there was Nippa's tail, then Hugo colicked, then Rex's leg got cut. And then last night, I went out the paddock to feed everyone an what not. Phoenix was laying down when I got there, so I got him up to check on him. He got up, stayed up for all of 2 minutes before dropping right beside me. Got him up again, down he went again. Got him up once more, down he went and started to roll.
So I grabbed his halter and got him up again and brought him up and called the vet. Sure enough, he's colicking. Luckily I caught it in the very early stages. He was sedated, given painkillers, anti-inflammatories, anti-spasmodics and drenched. Vet also wormed him to be on the safe side.
As I said before, just lucky that I caught it really early on. Within 2 hours he was pooping again and eating everything in sight. Now it's just a matter of keeping an eye on him, his temperature mostly, to make sure that there is no infections in his gut.
I was so happy with my vet last night too. He was very prompt in getting out to us and so informative every step of the way. Showing me where the tube was in his throat and what not. Here's hoping that we won't have any complications today and that all is well now.
Here's a photo of the boy, just because I can.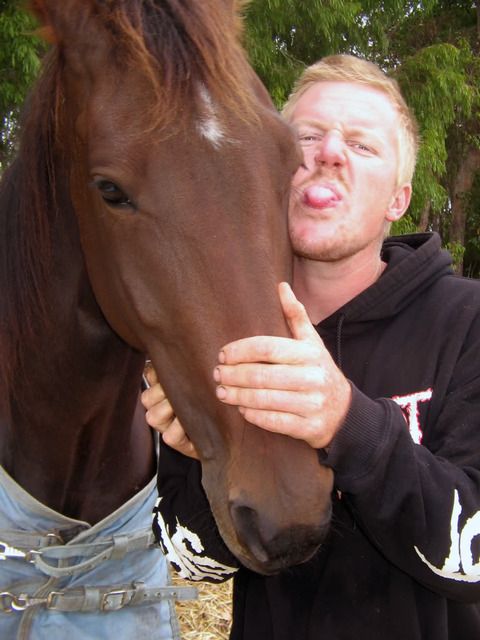 ---
Flirt-Hugo-Phoenix-Romance-Fanta-Nippa-Shiloh

Trojan 09.11.02 - 26.10.10 // Kody 01.09.89-25.06.12 // Rex 05.11.95-21.12.12

Awwww poor guy and poor wallet!

Good for you for taking such prompt action, glad everything is going to be OK!

That is a super cute picture!
---
Thanks Deerly. I'm getting to be a little on the paranoid side about colic!

I really love that picture too.
---
Flirt-Hugo-Phoenix-Romance-Fanta-Nippa-Shiloh

Trojan 09.11.02 - 26.10.10 // Kody 01.09.89-25.06.12 // Rex 05.11.95-21.12.12

glad you caught it in time. my horse died of what we thought was colic :( he was only 15 and poor baby he was so weak that at one point when he was onthe ground he laid his head in my lap and just closed his eyes. (my aunt and uncle are vets) so after we had an autopsy and turns our he had a tumor rapped around his intestine i was so sad! i cried and cried for a whole month and im getting tears in my eyes talking about this! he never showed any pain before those last 3 nights I had seen the signs and I thought it had to be colic and i thought i had caught it early.

r.i.p Bucardii (i live in the south and we got him from Denmark)
Aww the poor thing. At least you did your best for him. R.I.P. Bucardii

My next thing to save for is getting everyone drenched, because I can not afford to have them going down with colic one at a time. Neither my heart or my wallet could cope!
---
Flirt-Hugo-Phoenix-Romance-Fanta-Nippa-Shiloh

Trojan 09.11.02 - 26.10.10 // Kody 01.09.89-25.06.12 // Rex 05.11.95-21.12.12

yeah i definatly understand that ive been through that I am really bad with crying alot when i see my animals in pain and when I cry I dont stop for a while. well how is your horse doing?
I'm the same too, as soon as I realised something was wrong with Phoenix the tears started.

I checked him this morning and he appears to be back to his normal self. He's eating happily, has poop on his butt so has been pooping, appears to have the beginnings of the oil coming out now too and he's back to chasing the other horses around.

We did have him up in a yard last night to keep an eye on him a bit better, but he got so agitated at being away from the other horses when he started to feel a bit better that I had to take him back up to his paddock so he didn't hurt himself trying to bust out of the yard.

All in all, he appears to be over the worst of it, and we just have to watch his temperature so we can catch any infections if they occur and make sure he doesn't relapse.
---
Flirt-Hugo-Phoenix-Romance-Fanta-Nippa-Shiloh

Trojan 09.11.02 - 26.10.10 // Kody 01.09.89-25.06.12 // Rex 05.11.95-21.12.12

thats good (: hope everything goes well and he doesnt have a relapse
Banned
Join Date: Jul 2009
Location: In a land far far away, or so I wish.
Posts: 12,825
• Horses: 0
Glad he is doing better.

It does seem like horses like to spend every spare penny we have, doesn't it?
haha it sure does. My horses seem to like to spend every penny I DON'T have to.

Lucky I love them so much.

Phoenix appears to be 100% back to normal. He's pooping and eating, chasing everyone round. He's back to being a treat fiend. Only thing we haven't seen yet is the oil coming through. Although we aren't too concerned about that yet as it took Hugo a few days to start pooping oil.

Oh and we haven't had any temperature issues either so looks like we may be in the clear, for now.
---
Flirt-Hugo-Phoenix-Romance-Fanta-Nippa-Shiloh

Trojan 09.11.02 - 26.10.10 // Kody 01.09.89-25.06.12 // Rex 05.11.95-21.12.12