*Updated* Opinions needed on the best way to treat this injury
---
Well, today Cinny got silly and hurt himself. I had left my backpack just outside his stall and when I walked away to open my tack locker he stuck his head over the front door and grabbed the backpack. To his surprise a sweater started to fall out so then he decided he must KILL the backpack. He threw it on the ground and stamped it then, for some reason he turned and tried to jump out his back door.....with the bottom dutch part shut. He is not used to going in and out that door as I have ALWAYS had it shut since he moved in last weekend so I really don't know why he attempted it.
He seemed perfectly fine afterward, happy looking for treats and attention like nothing had hapend, but then when I took his blanket off I noticed that he wasn't fine. This is what he did...it doesn't look as bad in the picture as it does in person, in person it's more red and you can see tons of little veins as if his skin were clear celephane.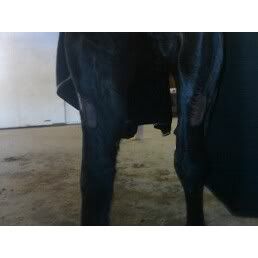 I am thankful he had his blanket on because the top of the door has a metal guard to keep horses from cribbing so it probably would have cut him bad without the blanket.The hair is completely off and maybe a layer of skin on his forearms. He didn't act sore at first so I put him on a lunge line and had him w/t/c in both directions with no problem to ascertain if there was anything major, but he is very clearly bruised and sore to the touch. I cold hosed the areas for about 15 minutes, cleaned them with betadine and called the vet. The vet couldn't come out but said as long as the horse wasn't lame or bleeding he should be fine and they left me some bute to pick up at the office in case he is more sore over the weekend. Vet said I couldn't do much more than what I had done.
Does anybody else out there have any ideas on treatments as well. What I gather happened is that he sort of rug-burned himself on the blanket. I am thinking keep it clean with betadine or maybe vetericyn and cold hose him for swelling, bute for pain if need be. Watch closely for signs of infection. My trainer said to not give him bute if I can help it, but I can't stand to see him in pain.
What are your opinions?
I believe that Betadine kills healthy cells that are trying to heal the wound in addition to the bacteria. By using it, you may be defeating the purpose, unless you have cause to think that it may be becoming infected, I wouldn't use it. Water is actually probably best for keeping it clean, and using antibiotic ointment would keep it moist and kill bacteria without damaging the good cells. Just try to keep it from scabbing and cracking, as that would be painful and hinder it's healing while increasing the chances of it leaving a scar.
---
"May your trails be crooked, winding, crooked, dangerous, leading to the most amazing view" -Edward Abbey
I personally would use either Tea Tree Oil or Neosprin on it... looks basically like a good scrape.

Keep it moist not wet and clean
---
I have been called the NSC Nazi more then once ... I hate traditional feed methods of loading our horses up on grains and junk food :)
Hated vetricyn, I think it s alot of hype, basically is just water..
I have used Schrieners, it works but the smell is so overpowering, makes me sneeze and it does sting a bit cause of the cayene pepper in it.
Lately, and with two HUGE accidents to my daughter and granddaughters horses, I have used Underwood and love it. It also has pepper in it, but doesn't sting like Schrieners and has no smell. You spray it on, put baking powder over the cut and it will heal so fast.
Thank you guys for all of your suggestions. Yes just big scrapes and yet, they somewhat look like huge rug burns too...which I know can heal differently...we'll see how it goes.

WG, I never thought of baking powder....I was wondering how to keep the wounds from sticking to his blanket and keep dirt out, what a wonderful idea. I was hoping you would have a thought because I know you went through a few bad horse wound yourself last year and have fresh experience with it :)
Don't do anything. He's not in pain as long as you leave it alone. It will heal just fine without you doing much to it. Certainly don't give him any bute.
---
There's nothing like the Rockies in the springtime... Nothing like the freedom in the air... And there ain't nothing better than draggin calves to the fire and there's nothing like the smell of burning hair. -Brenn Hill
Don't worry, have not given him any bute. I picked it up from the vets office just in case but I won't give it to him unless he's clearly so sore he can't walk to get to his food or water. I am going to go check him as soon as my mom gets here to watch the baby. My BO hasn't called to say anything is wrong so I'm assuming he is fine and dandy right now.
Quote:
Don't do anything. He's not in pain as long as you leave it alone. It will heal just fine without you doing much to it. Certainly don't give him any bute.
I agree...after originally washing it, just leave it be. In most cases, the more you mess with it, the longer it takes to heal.
---
On the sixth day, God created the Quarter Horse.
On the seventh day, he Painted the good ones.
I agree with Kevin. If you absolutely must put something on it, I would stick with a triple antibiotic ointment like Neosporin. And that just because if it scabs over, it is on a place of motion.
---
"Great spirits have always encountered violent opposition from mediocre minds."