150 lbs lost..this is what I'm doing
---
Okay,so I had the vet out cause Gidget had a swollen leg and some scrapes.The next day it swelled even more but she wasn't lame.I was still worried because she wouldn't let me touch it and would threaten to kick me so the vet came out in the morning. Luckily nothing serious happened to her leg..nothing pierced the skin but it was swollen do to getting stuck in something(checking all fences now). Annnyways,they noticed she was losing weight so they checked her teeth and they are good. She has been wormed soo anyways they asked to see what I feed her and how much and I showed them that I fed her four good sized flakes a day and she also eats whats in the pasture..well they told me that it was low quality hay(I was told by the lady I got this from that it was good quality and I believed her cause all her horses are fat and they ate it but we also on pasture). They want her to gain 150 lbs. I FEEL ABSOLUTELY HORRIBLE!. I was working her out thinking she was losing muscle when all along her body was eating her muscle.I have 3 more bales of this stuff and they told me to still feed her it but throw in half a bale,4 lbs of rice bran,and 2 giant bowls of alfalfa plus her supplement and mineral block. Well I think she is gaining some weight unless she is just bloated looking from all the food. She's been doing great. Do you know when I will be able to tell? her hips are a bit sunken in but not some starvation case.

Now,I guess I just feel like the worse owner on earth. Some people mention she doesn't look that bad but when the vet mentioned that i just felt like I let Gidget down because I am also researching info for the best care I can provide for her.
I wouldn't get so down on yourself. Everybody makes mistakes and the only way we get better is to learn from them. Its good it was caught now before she got to bad. People will tell you what you want to hear in regards to the hay.
The lady knows you wouldn't know the real difference in hay quality so she took advantage of you and now you learned a lesson. So no real harm done! You'd be a terrible owner if you didn't change her diet but now you will change it cuz you love her and want the best for her! :)
Posted via Mobile Device
Gidget, do not get so down on yourself. The difference between you and the "worst horse owner" is that you are making an effort to rectify the situation.
Believe me, I spent months trying to get some weight on my thoroughbreds. I was embarrassed to let anyone even see them. They weren't starved, but they sure weren't fat either.
As long as you have seen the problem and are fixing it you are doing just fine. Sometimes that does mean having something pointed out from someone on the outside. It's very easy to become blind to what is going on right under our noses.
Long story short, you are not a bad horse owner.
---
Flirt-Hugo-Phoenix-Romance-Fanta-Nippa-Shiloh

Trojan 09.11.02 - 26.10.10 // Kody 01.09.89-25.06.12 // Rex 05.11.95-21.12.12

I completely agree with HowClever. My sister-in-law bought an OTTB, and he was SKINNY! it took almost a whole year to get him in proper weight. and his problem is that he runs around a lot, and if we dont feed him lots of grain, he loses weight quickly.
Dont worry! your horse will be fine! good job taking it to heart and going out and doing what you now know is better for her! hope she gains weight quickly
Don't be so hard on yourself ! You are trying to do what's best for your horse. Also keep in mind that 150lbs isn't really THAT much for a horse. Some fox hunting hunters will lose that much every hunt.
Posted via Mobile Device
Thanks guys. I just ...I didn't know what other peole would think and to be honest I care what other people think when it comes to the care of my horse. I don't want them to think I'm some scummy horse owner who doesn't give a rats butt what happens to my horse. I do have to say though that the vet makes good money off of me :P
and here is a merry xmas and happy holidays to all of you from Gidget.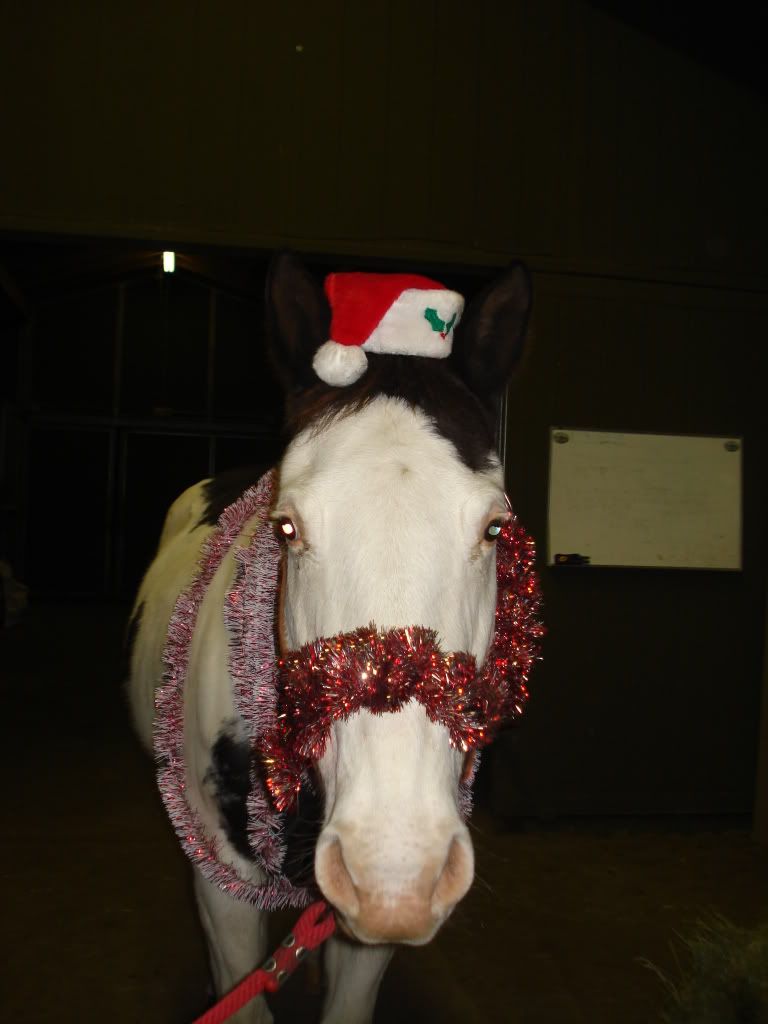 Horses need more hay than a lot of people think. If you're feeding grass hay and the bales weigh about 50-65 lbs, then yes, she should be getting 1/2 a bale a day. Fall/winter pasture grass does not have much nutritional content, so you need to supplement with hay. A horse should be getting 2-3.5% of their ideal body weight in hay every day, so for a 1,000 lb horse, that's 20-35 lbs of hay.
My hay isn't that great either, so I supplement it with alfalfa pellets, flax meal, and a good vit/min supplement. I would use this diet even if I fed really good hay, just with less alfalfa pellets
.
Love the cristmas picture, too cute!
My horses eat a bale to two bales a day depending on the weather and the quality of each bale. I don't have much choice in hay quality where I am, so I make sure they have enough by monitoring what they leave behind. If they eat up every scrap from the night before, then I give them an extra bale; if there is 1/2 bale left, I give them the same as the day before. It's a great system for my barn anyway. Only four flakes a day? I wonder if your bales are much larger than mine. I have no idea how much one of mine weighs -- probably about 60lbs or more.
We feed round bales of praire hay - it's decent hay with native grasses and bermuda - and was cut before it got over mature. The hay is on my inlaw's property and the guy who cut it on shares for us wanted it for his horses so he wanted it cut before it got stemmy. However, I'm still not totally convinced it's good enough for our horses on it's own. So we also supplement with soaked beet pulp and alfalfa pellets - though two of the daughter's horses have to settle for timothy hay pellets - one can't metabolize alfalfa and turns out alfalfa makes her paso fino mare
impossible
. We also feed crimped oats, flax meal and BOSS, just because I feel like they aren't getting enough calories.
Some day, I'm going to find someone who will customer blend a feed for me just so I won't have to do all the mixing and measuring!
---
Plain Old Dee, horses Dancer and Rain
I believe in dragons, unicorns, good men and other mythical creatures!
Yea 4 flakes. We have 100 lb bales and the flakes are heavy..some not so you had more...we also have clover hay(new stuff we have been waiting to feed) She will get 30 lbs of that as they are smaller bales. I don't weigh my hay with a scale but I guess the weight of it. It's not that I wasn't feeding her enough cause I was feeding her the amount I always do because she gets fat easily but I got taken advantage from a lady and ended up with poor quality hay.Looks good but it's not the vet said. Sooooo now she is on a big fattening diet and she loves it. I also put her out in the pasture and I ride her lightly right now as I don't have a saddle so we bareback it.