2 Health Related Questions
---
I just got my quarter horse Champ last night and I have 2 quick questions.
The first one is about rain rot, I'm assuming thats what this is: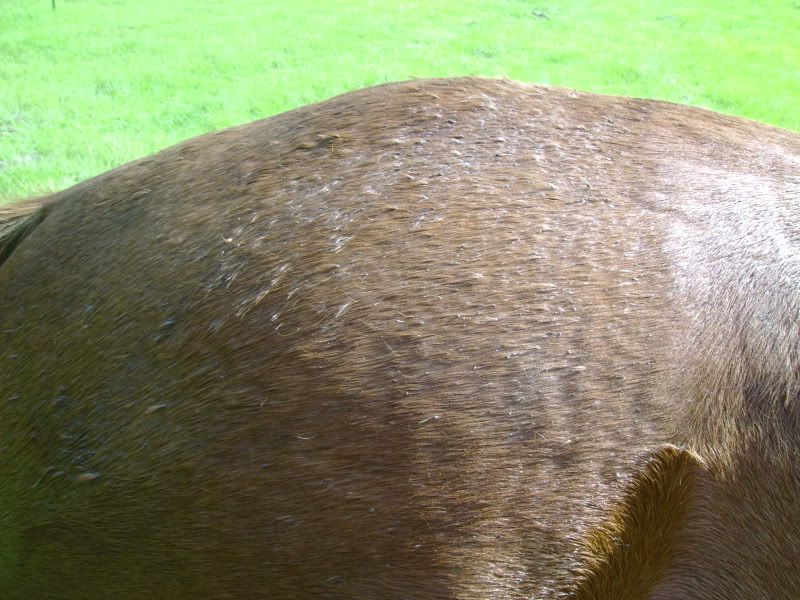 What is the best way to treat this. I have a bottle of spray stuff called LympDyp or something. Is that a good option? Is it a problem if the rain rot is on an area of his back where the saddle will go? Is it going to be sore for him?
The second question is about weight.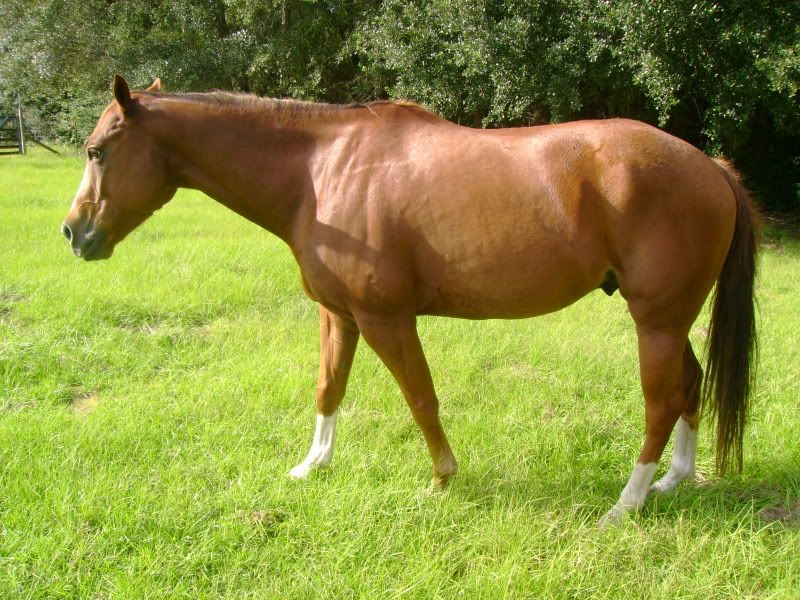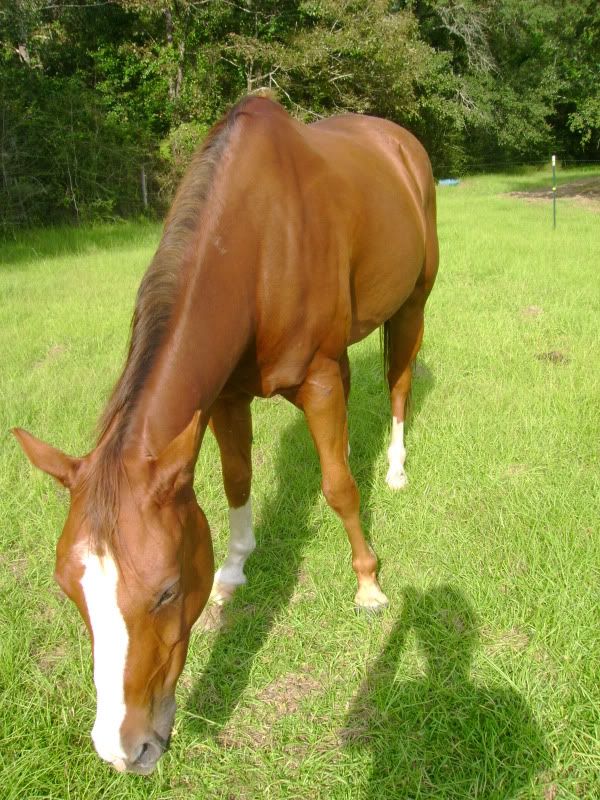 Does he look like he needs to lose weight? A few people (non-horsey people) have made comments that he is fat looking. I never thought he looked large but now its been put in my head and wasn't sure anymore. What do you think?
I have no idea about rain rot, I've been fortunate enough to never encounter it.

As far as weight, you have a QH, and he looks like a QH. He could tone up some and get more muscle in his topline and haunches, but his weight is fine. =]
---
"Great spirits have always encountered violent opposition from mediocre minds."

Thanks, that makes me feel better. I always thought he was a good looking horse and it kind of shocked/hurt my feelings to hear people saying he looked fat.
It could be rain rot but hard to tell. I am working with my colt now because he has rain rot. I posted a few days ago on this and got some suggestions which I have been trying.

First, I bathed him in an iodine medicated shampoo. Today I started with the TMG solution. Which I think I will use a couple of more days. It seemed to soften the areas more and made it easier to brush off the scaps. I had another horse that had it a little when I got her and it got well with just brushing but my colt has it worse so I am spending more time to try and get it cleared up.

Your horse does not appear to be over weight but not under weight either. You should be able to feel his ribs but they should not be real visible either. I would agree that some exercise would be beneficial but not because I see that there is any obvious problem with his weight.
What exactly is TMB solution, is it like a shampoo or a cream? Can I purchase it at most tack/feed stores? His is pretty bad so I will most likely need something else besides just brushing.
the best thing i have found for any rain rot/fungus is picking it off, and then taking nolvasin mixed with tea tree oil and rubbing that in. it usually clears it up REALLY fast.
Nolvasin. Never heard of it. What is that?