Adjusting to going blind?
---
So this is basically jumping the gun significantly, but Lacey has some changes in her inner eye (per the vet) where she apparently basically can't see at dawn or dusk, in dim situations, etc. Anything where the light is compromised, she has a tough time.
Of course, I'm having the vet out soon to get her teeth done, shots etc and I plan on getting the vet to check out her eyes and give me a definitive diagnoses since the vet who noticed it was just like "oh, she has some changes to her eyes, there's nothing you can do".
But in the mean time, we went for a ride (in the forest) on Monday and it was a bright day so there were spots of light all over in the relative darkness and Lacey was just having the hardest time. I was encouraging to her and reassured her when necessary and was basically a reliable guide, but I thinking that since she seemed worse on Monday than she ever was last year that it might be getting worse. And that means that she might end up being blind one day.
So, I figure that it's probably good to start "training her to be blind" so to speak so that if that day ever comes where she actually can't see, she'll be able to rely on her training instead of just being totally lost. I think that going blind would be really traumatic for her considering that she is a relatively hot horse so I want to make it as easy as possible, if she ever does go totally blind.

So what would you do to start training her/myself? Maybe I should start using words to describe the ground to her? What else? She's very auditory so learning new words should be a snap for her.

Thanks! :)
---
Fabio - 13 year old Arabian/Lipizzan gelding

~
Rest peacefully, Lacey.

Is she in a pasture with other horses, maybe one she is good friends with? If so would that horse be tolerant to having a bell attached to it? That way your horse can get used to following a noise while it can still see.
She's not with any other horses. Just two, basically wild, llamas. :/
However, that's an excellent idea for the summer! She'll be living in a paddock with another horse there that I could attach a bell to and even though it won't be the same horse if she ever goes blind, it'll be the same idea. Thanks! That's really a great idea.
---
Fabio - 13 year old Arabian/Lipizzan gelding

~
Rest peacefully, Lacey.

No problem. I do not have experience with a blind horse, but my dog went blind - before that I prided myself on his hand commands - error on my part! I will never do that in itself again, they need a verbal (hearing) back up.

I think it might be worth trying it with your lamas. As a spook to a frightening thing is the same for them too.
Going blind is no picnic for a horse. I will be brutally honest...be prepared for the worst. She may panic as her sight digresses; if she is in with other horses, that CAN help, but it is not a 100% given that she will rely on the other horses to help guide her. My mom's arab has been progressively losing his sight through out the winter, and he is not adjusting really well, even though he has a buddy; he panics alot, bumps into things, and just has a hard time over all.

Make sure the area she is in is really safe; so, if she is in an area that there are stumps, trees, etc...you may have to consider moving her to a different paddock that doesn't have all of those obstacles. I would want a horse that is losing sight in a panel type pen...where if he bumped into the panel, it wouldn't break, nor could he really get tangled in it... Finding water will be probably one of the most difficult things for her to find, at first when she loses her sight; she may get pretty scared, so you may have to be with her for a while to ensure she is able to figure out her trough, or buckets, so she doesn't dehydrate.

Safety is the key, I think, here...as long as you can get her in an area (hopefully with a horse that she really likes-and yes, put a bell on it!) that she can't get tangled in a fence, or run into sticks, stumps, and other natural 'dangers' to a blind horse, you may be able to get her to adjust. But it will take time...
As far as training, in regards to riding, or other handling...she shouldn't forget anything...she will just need some major time to adjust and regain confidence in herself and her surroundings.
---
"The ideal horseman has the courage of a lion, the patience of a saint, and the hands of a woman..."
Sadly, the llamas are wild enough that they're untouchable. I've been feeding them for over 6 months and I still haven't gotten closer than about a foot away.
I'm working on it, but I don't think I'll probably ever really touch them.
mom2pride- Thanks for the info! I know that it might be really traumatic for her and I'm really hoping that if she is in fact going blind, that she'll adjust well. I'm not super hopeful that she will adjust well, but at the same time, she's a very thoughtful mare (though hotter than bejeebuz) and she thinks before she reacts. Most scary things cause her to want to investigate instead of running away, so I'm hoping that sense of curiosity will help her if she does end up blind.
If the vet feels like her eye issues are the start of a progressive blindness thing, I will definitely start looking into a new living situation for her. Right now her situation is absolutely great for a senior seeing horse, but it would be an absolute disaster for a blind one (the second strand of the fence is dull barbed wire, it's a very sloped pasture, there's a burn pile in the middle, her water trough is at ground level, etc) so she'd need to go somewhere where it's safer and probably preferably before she was actually blind.
Thanks for the help! It's given me a lot to think about! I really appreciate it. :)
---
Fabio - 13 year old Arabian/Lipizzan gelding

~
Rest peacefully, Lacey.

Preparation is key when dealing with a blind horse. Set places for things now, so that she can learn them. A certain area for hay, no moving around of water troughs. You can add something like pea gravel near gates or objects so that she can tell by the footing that something is nearby. I use key words for my blind boy, like "halter" "blanket" "saddle" (yes, I can still ride my guy, but it took a lot of time and hard work).

Teach her to yield to pressure now, while she can still see. When you are leading her, remember that you will be her eyes, so you have to watch for holes, sticks, dips, hills, be careful of gates and stall doors, door frames, etc. Yielding to even slight pressure will be important when you are trying to keep her from bumping things that she can't see. "Head down" is a handy command as well. I say "easy" any time the footing is going to change, so my guy knows to place his feet carefully.

You have to be very careful who they are turned out with (if Lacy is only out with non-equines, she's probably fine) because picking order gets tough on a blind horse, as they can't rad body language anymore. They don't know to move until someone gives them a kick or bite. A very patient, non-aggressive pasture mate that doesn't mind being blundered into on occasion is ideal.

Striker went blind over the span of only two months, and was a very nervous horse anyway prior to losing his sight. It was hard work, and there were many days I questioned if I was doing the right thing by him. But now he goes out and trots around in his pasture with his buddy, and I am able to ride him some, and he is actually calmer now overall than he was when he was sighted. It's amazing how well they can acclimate, and if hers is a gradual change, I'm sure you will be fine.
---
"Keep a leg on each side and your mind in the middle"
This is my Appy gelding who we had to let "pass over the Rainbow" several years ago now, but he lived totally blind with us for over 5 years. He had my QH mare as his "seeing eye" companion for all those extra special years we had him with us. We never had to fasten a bell on my mare, Candy 'cause she is such an exceptionally maternal mare.
The only thing we had to with Cody when he went blind was to talk to him non-stop at feeding time or turn-out. Candy was always there to help him. I swear it was awesome, and breathing to watch the two of them interact with one another.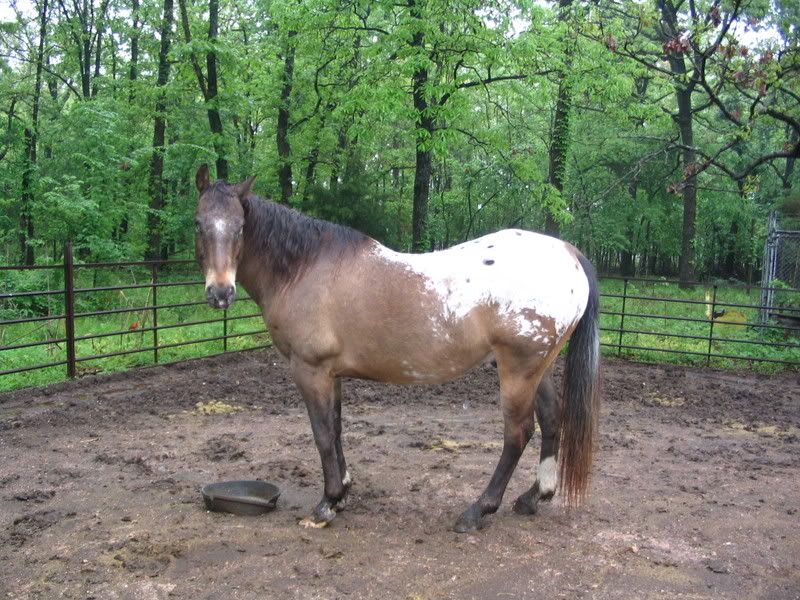 Yep, we've not had to put a bell on Phantom either, because the two of them are joined at the hip, and he is a very good babysitter. A good companion is priceless. They are a calming influence as well, worth their weight in gold.
---
"Keep a leg on each side and your mind in the middle"
I have a 32 yr old appy who went blind around 10 or so years ago. His was gradual and he took to it fairly well. Teach your horse to trust you and to follow your commands. Teach step up, step down, whoa etc... My horse was pastured with my herd until a few years ago when he began to loose weight from age, lose of teeth etc.. He wants company... Is rather unhappy and anxious without it but I cannot turn a horse in with him as they are mean to him.. I do house a pony near when possible tho I cannot keep them together as the pony would eat all his food and blow up.. LOL

It is possible so have faith. I keep the feed and water in the same place and try to not move things unless necessary. Knowing their area before lose of sight is best when possible.. It is their comfort zone.
---