Go easy on the oats for now. I'd give half for now fed twice daily until the hay puts some weight on her. Getting weight on her needs to be a slow process as too much feed taxes the system. When I'd bo't a horse, not quite this thin, he was started on one cup of oats 2 x daily for 5 days then one cup for another 5 days. He needed deworming but he also needed to put on a little weight first. Your vet should assess this mare to determine if she has sharp teeth, worms by fecal test, etc. I wouldn't look for a richer feed at this time, as the liver and kidneys need to adapt to the change as well as the gut. If you can get a water kefir culture you can grow your own probiotics for her at a cost of 2 T. of sugar per batch. The culture breaks down the sugar in 2 or 3 days which, after you strain the culture (looks like opaque crystals) to add to the next batch of sugar water. Give her the water as it's ready. The culture will grow so any time you have extras they are good for you to eat (tasteless) or add to the horse's feed. Lots of into on the internet.
Thanks for the advice given so far and I think we have it set up fer her to be taken to the vet tomorrow. I'm still waiting to hear if the details got worked out for the transportation and timing between schedules. I told her to take a fresh feces sample with her, but I assume they can pull a sample, if I understand the earlier post correctly.
Alicia did not explain the brooding part completely and I can understand the confusion..She was given the horse from the person who was using her as a brood mare for the previous 7 years.

I can tell you this, I have spent a lot of time reading over a lot of different sections on this board and flooding myself with so much great info...I find myself addicted to learning as much as I can when it excites me. I've probably logged 30 hours of reading since finding this and a couple other boards just a few days ago. I have a note book here at work with pages of....notes I felt would come in handy in the tack room for quick reference.
Here are the before and after pics of her hooves..
Before
After
Before
After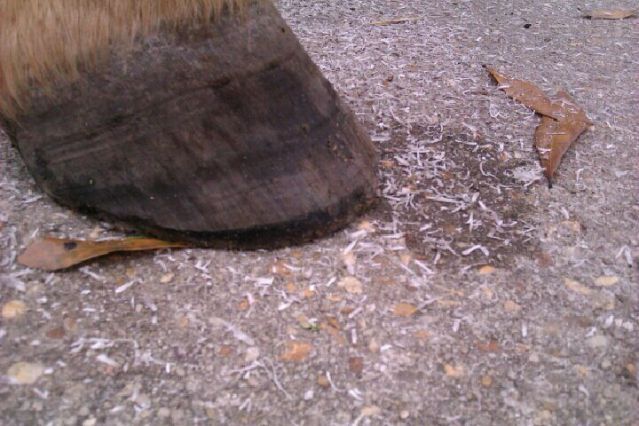 Before
After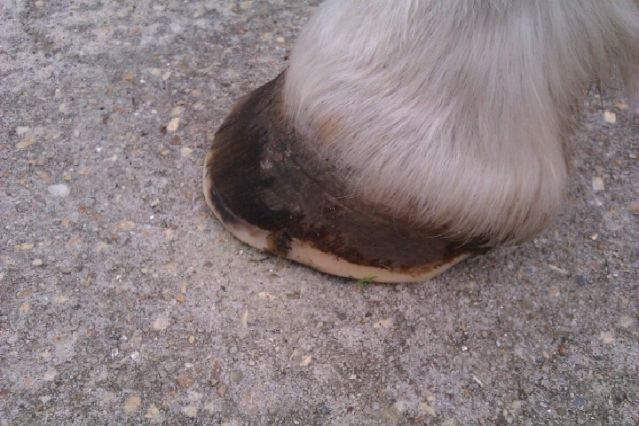 He said he would need to come out once more to get her close to where she needs to be or maybe even there. Then every seven weeks after that until we get her healthy, both body and hoof.
We are now trying to get the schedules matched within the week to get her to the vet and know where we stand from there.
Again thanks for all the advice so far.
Oh, the farrier said the oats are not going to do anything for getting healthy hooves. Should I wait until after the vet to start her on something to help with improving the hoof health or go ahead and start now? What would you suggest?
I would cut the oats completely if it were me. You can get her started on a base feed of your choice and feed either beet pulp or rice bran with it. Both beet pulp and rice bran are great for putting on weight. You have to soak beet pulp though, otherwise there is a risk of choking. And sweet feed is a no-no. It's very unhealthy and pretty much like feeding a kid just pixie sticks. Her feet are coming along great. It will take a few trims to get her where she needs to be, but that is a great start.
---
There on the tips of fair fresh flowers feedeth he; How joyous his neigh,
there in the midst of sacred pollen hidden, all hidden he; how joyous his neigh
I'd wean her off the oats and let her eat her fill of hay until the vet okays a different diet plan. Good, nutritious hay is going to be your miracle food for getting weight back on that baby.

if your vet doesnt suggest it themselves, something you could consider is beet pulp. Lots of people like to soak it, as it makes it more palatable, but i know some horses who will eat it dry.

For the hooves, wait for the vet. they'll be able to recommend a feed or supplement that will help without overloading her too soon.

Kudos to you for getting her back into health!
I did the same thing for my dogs after being shown I was just another sheep when buying their feed..After realizing 99% of the dog food sold retail is garbage, I switched them to Taste of the Wild and have seen such a huge improvement in all four of them that I will never have shelf dog food in my house again. It cost more per bag, but less per year due to less waste or serving amounts to fill them up.
Super Moderator
Join Date: May 2012
Location: CT USA an English transplant
Posts: 24,942
• Horses:
3
I would get the vet out to do some blood tests just to be on the safe side as she might be anaemic or have some other deficiencies going on, but she looks bright and alert so hopefully its only lack of food
Access to good hay 24/7 is the best thing at this stage and a good mineral & vitamin supplement to help get her condition back and hoof health unless you plan to feed a complete feed with those included
Get her dental work done
She will need a fecal worm count and a blood test to determine if she has encysted worms
I would personally not feed oats or any sweet feed - anything new should be introduced gradually and if you want to top up on the hay given how poor she is then you are better to go for a good quality low starch/low sugar balanced complete feed, they are mostly sugar beet/oil based. You can add extra soaked non mollassed sugar beet to that if she needs something extra and maybe some rice bran - but just a small amount to start with and in her condition its better to split a feed into several small feeds over the course of the day until her metabolism and digestive system adjusts.
Good luck with her
Just a non related point - do be careful of the lovely little child around her - he isnt going to be quick enough on his feet if she suddenly swings over towards him without thinking.
Thanks jaydee. On the grandson's presence ..there was an adult just outside of the pic in each of those and from my observation so far around her...She is almost impossible to move as long as he is close to her. Once he is atleast 15' away then she moves gently even with him being held by one of us... She "seems" as gentle as a new born kitten around him, but will continue to be wary with him around her.
Just an update..I'm taking off at lunch to take Jem to the Vet for blood work and fecel exam.. I'll post what the results are when I get them.
the people we got her from was using her as a breed horse for the last 7 years and i left my x husband in august and she went downhill after i left his horse is in bad condition as well. i still go over and feed his horses to maek sure they are taken care of... thank you all for the advice my x had them on sweet feed and the farrier said it hypes them up and that whole grain doesnt have the minerals shell need so if yall have any advice on what feed is good for her please let us know..