I will back out of the thread and let you take it from here, darlin. I'll sit back and keep up with the advice..
Update on Jems'. The vet said she is 150lbs underweight, but in good shape. Wants us to build her feed up to a gallon twice a day within a month. Add in some perrinial peanut hay to her coastal hay, and biotine for her hoof health. Said all of her vital signs sounded good, ran blood work, gave her vaccinations, running blood work for coggins. Said that her worm count was fine and said that she should be back to weight by spring.
Yay!! You might want to look into getting a ration balancer for her. That way, you know she will be getting everything she needs in order to be healthy. You could ask your vet about it.
What will happen to your ex husbands horses? If they are this skinny, and you have to feed them....should he really have them?
I've been taking care of his horses as well, but im to the point if he doesnt start taking care of them then I am going to turn him into animal control...His horse looks worse than mine did.. What is a ration balancer?
We got word last night that the owner of the pastures he is keeping them on behind us issued him an eviction notice of the property. He has 30 days to remove the horses. This means he will either have his dad fix the fence around their side yard for them again or be forced to sell them.

The one she mentions as being in worse shape is 22,IIRC, years old and was his roping horse. The other is a paint gelding that has kept the better shape of the 3.

The property they are on is approx. 13 acres with a lot better barn than mine so I may try to contact them about renting it. There is a section of the fencing dividing their pasture/property that has been cut where they used to pass between the 2 freely. It is linked closed at the moment.
Figured I would update this just a little bit.

My daughter's ex husband just called me and asked if we would take the 10 yr paint QH that he bought for the grandson so he could focus on getting his 21 yr old horse that is very mal-nutritioned back to health.

He is having to move him back to his parent's yard and out of the 13 acre pasture he has been in for the last 2 years.

I'll have pics of all four horses later this afternoon if I can get barn and house chores done before the rain moves back in.
Here is a pic of Little Man as Jason brought him over.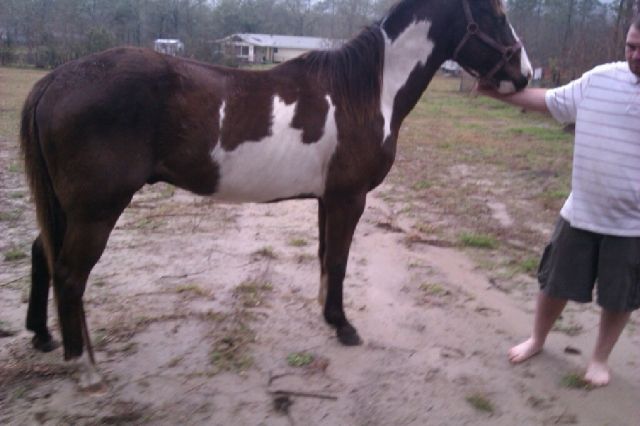 Poor baby, looks like he'll be a cutie with some TLC. I gotta comment about the bare feet.....accident waiting to happen (unless that's the X?)
Quote:
Poor baby, looks like he'll be a cutie with some TLC. I gotta comment about the bare feet.....accident waiting to happen (unless that's the X?)
That is the ex...I could only hope they would...uhmmmm..n/m...
I guess my daughter has found other things to do rather than keep up with this thread..Sorry
Here is a pic of Jems from Saturday afternoon to show how much she has improved since the beginning of this thread.. She isn't where she needs to be yet, but you can get an idea of the difference.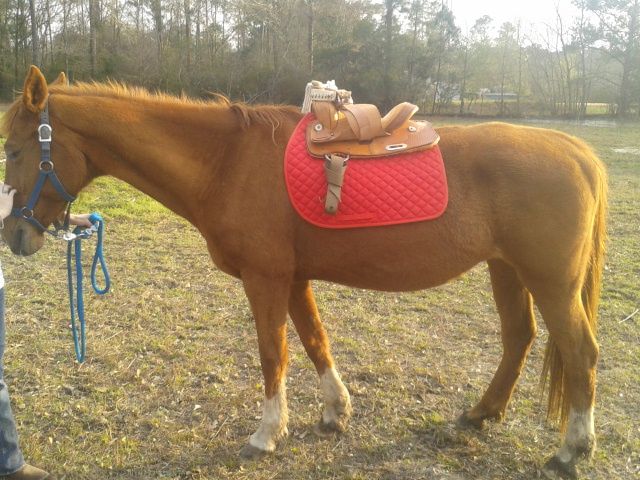 I had my daughter working her under saddle and she did great with very few twitches as we tightened the girth after each couple of walks in a 50' circle.
I'll get a good pic of her and the paint(Little Man) this evening to show them without saddles to show their progress better.