Another Update! WARNING GRAPHIC PICTURES!
---
It's healing up great! I think anyways! Yesterday he rubbed the scab off (it's very itchy)
Here is a picture of it right after I cleaned it: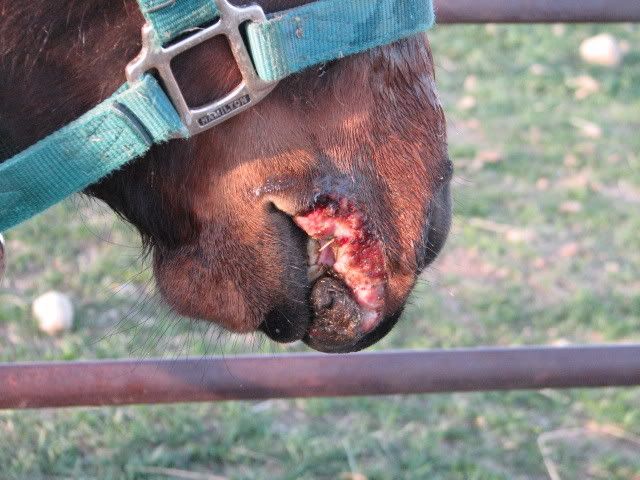 Looking MUCH better, Tiff - I'm very excited to see how it heals up!
---
The lovely images above provided by CVLC Photography cvlphotography.com
Wow, looks way better.
Keep up the good work!
---
Ride more, worry less.
That is looking really good!
---
Cindy D.
Licensed Veterinary Technician
There's a lot of improvement! It's looking good!
Thanks guys!
He's feeling much better as well!
wow that looks nasty - what happened to him/her?
---
When I bestride him, I soar, I am a hawk: he trots the air; the earth sings when he touches it; the basest horn of his hoof is more musical than the pipe of Hermes. ~William Shakespeare
Quote:
Originally Posted by FehrGroundRanch
Thanks guys!
He's feeling much better as well!
You should be feeling a lot better too! He is looking great. Keep up the good care
Looks like the swelling is really going down. Poor little bugger :( I feel so sorry for him, but glad he has you to look after him :)
---

"Until one has loved an animal, part of one's soul remains unawakened..."
- Anatole France
I'm sooo glad he's doing so well!!! Good on you . . . .and him!!
---
Riding a horse is not a gentle hobby, to be picked up and laid down like a game of solitaire. It is a grand passion. It seizes a person whole and, once it has done so, he will have to accept that his life will be radically changed.