Bad Attitude Under Saddle
---
First, the background information. As an aside, I don't know if this is a training issue, or a health issue, but I think it might be health, so that's why I choose here to post.
I've had my mare Evee since Dec, and I've been doing all the training with her. I got her off the track, and when I got her, I treated her for ulcers as a precaution. She was checked out by the vet in February, got shots, teeth checked, got a soundness exam and had her hock xrayed. I can't remembered exactly what the name of what wrong with her hock, but she has some minor issue in her hock that the vet said would improve with work, and said she was good to go with anything I wanted to do with her.
Up until a week ago, she was great. Here's two examples of her under saddle.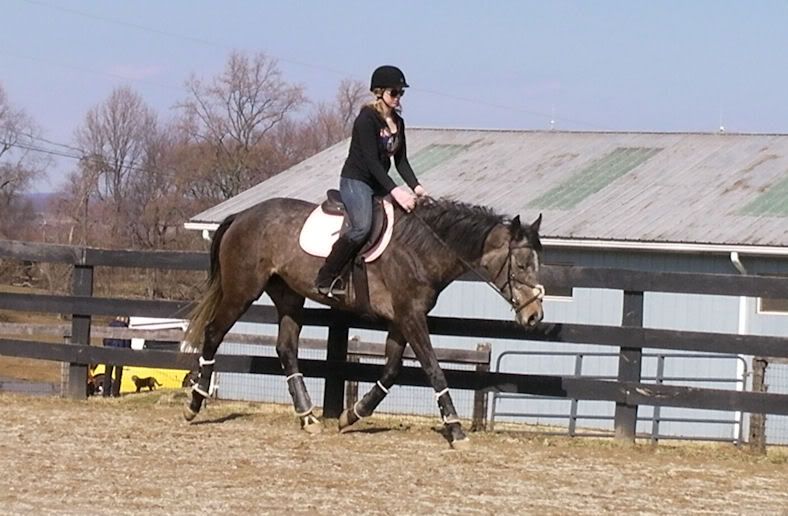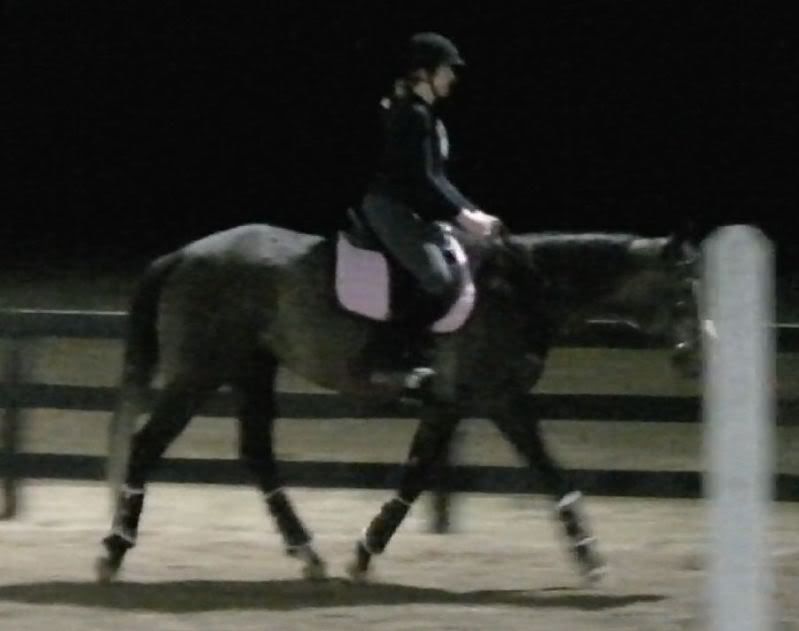 Now, I didn't feel like I was having any major problems with Evee. She was very sweet, very willing, and other than just general green horse things, I have had zero issues with her. The only thing she did that was strange, was her extreme stretching down.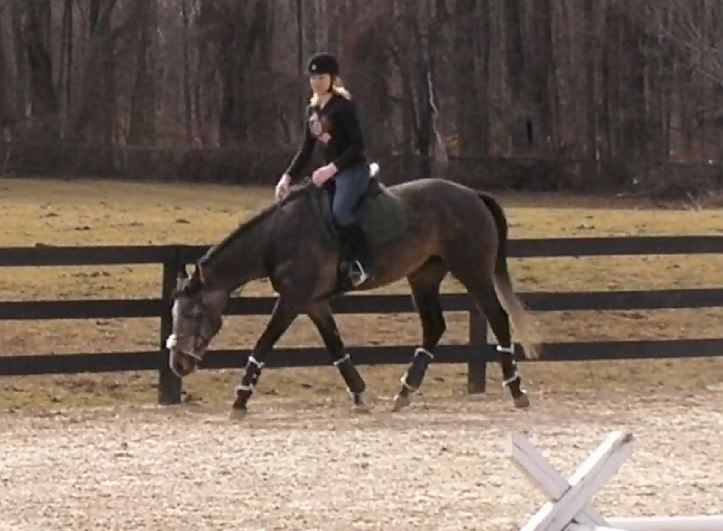 Here we are playing "western pleasure horse".
I don't mind her stretching down, it's just she started to do it a lot. Like, every 10 steps she'd stretch down. Sometimes she'd pull me forward she'd drop so hard.
So moving along with the story, I set up a lesson with my trainer. My trainer comes out last week, and she see's Evee doing the head drop, and while she agrees that it's good to let her stretch, this is a bit extreme. So we work on keeping her from dropping her head.
But then, in that same session, she develops a whole new habit. She gives up on stretching down, and she begins twisting her head to the side. I feel like I have a table made of horse head in front of me, the twisting is that extreme. We experiment, and she does it with contact, without contact, and at both walk and trot. We get her moving, and she does it less when I'm making her do things, but anytime it gets "boring", she starts twisting.
My trainer says "don't lose sleep over it", and that she's probably bored with all this ring work.
I ride her again two days later, and she's still twisting her head. I change her tack, it seems a little better. I changed her bit from a full cheek to an eggbutt snaffle, and changed the bridle to a plain noseband. I used my other saddle as well.
The next day, she's still head twisting.
Yesterday, she's still head twisting, and now she's pinning her ears back when I ask her to move forward, and curling her body a bit towards the right. Think of a grub curling when you'd poke it, and that's what she does. She's also become nasty when I groom her. She pins her ears back at me and shuffles sideways. (Although never far from my husband, lol). I've noticed that she does it when I touch her sides. I've switched to the softest possible brush, and she'll glare at me less, but she still is unhappy with me touching her girth area.
Yesterday, I did take her out of the ring, and she seemed to be much happier, for about 10 minutes. She moved forward, and didn't twist her head around, and she held herself nicely. But then it was back to curling her body and pinning her ears and head twisting.
So now I'm trying to figure out what the best course of action is. Is she being ring sour? I didn't have a professional saddle fitter other than what I know and my trainer looking at it, but I suppose that could be an issue. Do horses usually get sensitive when they shed their winter coat? I feel like I might have heard that before, but I never noticed with my previous horses. Is it just a training issue of a naughty horse?
Is it possible she's upset that I tried to stop her from stretching down? I did let her stretch again when I rode her yesterday, but I think the damage has been done, so to speak. She didn't really try to stretch down, and she still kept twisting. She also doesn't put her head in the long/low frame anymore. She still bends, but she likes to keep her head up now. Maybe she's defensive now, and thinks she's going to get punished by the bit?
I'm going to put her on a digestive supplement. I already ordered that from smartpak. Does anyone know if there's other causes of pain in that area?
I know it'd be impossible for anyone here to magically know what's wrong with her, but if anyone had a similar experience, or any thoughts of what it might be, I'd love to hear it. I personally am thinking it's a combination of sensitivy in the girth area (ulcers) and her being upset because she thinks she can't stretch without being punished. (although she does still stretch in the walk, she still does that all the time.)
Thanks for reading my rant. I'm just so frustrated. I want my super sweet mare back :(
I'd have a chiro take a look at her. Could be a poll/neck issue?
Aside from all the suggestions that it would be impossible to guess from the wrong side of a computer screen (!), is it possible that she is in heat? I am sure that you have had her for a few cycles but coming in to spring time the cycles can be much more noticeable as it is breeding season.

Could explain the discomfort?

She is looking beautiful by the way.
---
All horses deserve, at least once in their lives, to be loved by a little girl.
These are great suggestions. Have you spoken to the vet about these things? I think I would; If it is a possible medical issue, they will know the next course of action. They might even just have you watch for certain things, to rule out whatever as well. Keep us posted~
I haven't called the vet yet, as I was thinking it was a training issue at first, due to the twisting head. The sensitive sides didn't come into play until yesterday.

I may call the chiro. I'm actually not a fan of chiropractors in general, for either human or horse. It could be worth it though to try it and see if there's any improvement. Maybe they will make me a believer!

Sarah, she might be in heat. I did completely forget about that possibility. She had a heat when I first got her, and became very sensitive then as well. and thank you for the compliment :)
my clyde cross does this when his lower back is out. when his hip gets sore he tries to stretch and twist and get his hip looser. the best i can relate it to is think of when your lower back is out and there's no one easy way to stretch it out how you'll twist and turn to try to get the kink out lol. like that!

it may be something as simple as that - though all the other suggestions in here are definite possibilities too. if it is the lower back, lots of trot work on a long rein to warm up then on a contact is what seems to help. we do that for a few weeks a few days a week and pretty soon he's back to new!

good luck - she is beautiful!
some of the stuff you said, such as the glaring at you while grooming and pinning her ears when you ask her to move forward, are things that my mare would do(and cow kick if you persisted to ask her to move forward) She was also better out of the ring so i though it was behavioral(she's a 13 year old OTTB and i have no idea if she ever had training other then racing) Anyway, i stated doing some research and ulcers seemed to fit so i started her on ranitidine and she is like a new horse. I would talk to your vet about a possible ulcer flare up
you got some great advice. I just thought that one reason a horse might reach really down and forward like she did was to take weight off the hind, if there was a hock pain problem.

I think that ulcers or hip/back out sounds like a clear possibility.
Some vets have chiropractic training. That would be my preference. I am into science, not Woo-woo.
Thanks for all your thoughts guys. Interesting thought CJ82Sky, I hadn't thought of that. I'll have to look more into that. That would actually explain the constant stretching. And thank you! :)
I finally viewed the video that my husband had taken that day, and from the ground she doesn't look as bad as I thought she was being. I spoke with my trainer and she's going to go ride her tomorrow and tell me what she thinks. I hate that I won't be there to watch though :( Stupid work!
As another contrast, here's pictures of her the day she was sour.
This is her when she was in the ring.
I'll have to get a picture of her looking sour with her head twisted for a better analysis I think. This picture basically shows the lowest her head got the whole time in the ring. She just happened to have her ears forward at this moment. Most of the time they were pinned back.
And this was her when I brought her into the field.
The difference may have been less than I thought it was, but she is usually more willing in general. As I said, she's usually an extremely sweet mare. I could just be overreacting though. I might just have too might time on my hands to over analyze. lol
Oh! and when I talked to my trainer today, she said she might be in heat.
---
Last edited by ptvintage; 03-21-2011 at

10:25 PM

.
Sorry for the spam posting... I feel kind of silly that I posted the last ring photo, as it was a better moment in a poor ride, so I got up this morning and got some other photos of her on the poor ride. (I was on a different computer last night when I posted those, and didn't have access to the bad ones)
Here's being "upset"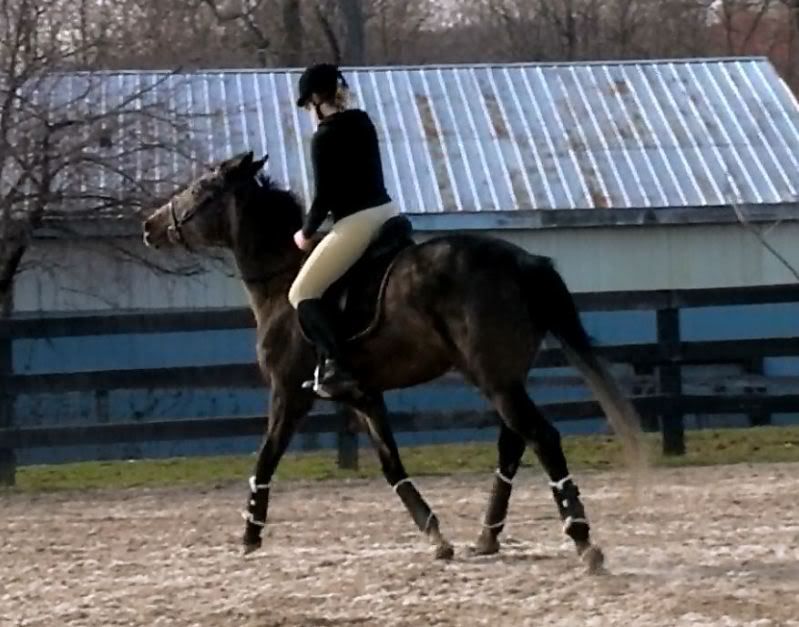 Here's the head twisting. Not sure how well you can tell, but she's twisting her head to the right.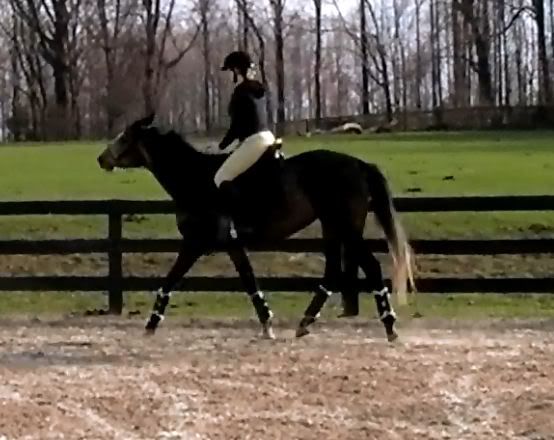 So that's how she was nearly the whole ride, and why I'm jumping to conclusions about what could possibily be wrong, and I'm not putting my own errors out of the question either. It's just frustrating when she seemed to be doing so nicely, and then suddenly it's like a different horse.
My trainer will be riding me today and letting me know what she thinks. Thanks again everyone for all your thoughts and ideas. I'm going to be looking into all of them. I don't think I'll be using that particular saddle again without professional assesment either. Looking back over the pictures made me feel like it's coming down too much on her withers.
Similar Threads
Thread
Thread Starter
Forum
Replies
Last Post
Attitude?!?

Angel5000

Horse Training

4

03-14-2011

11:33 AM

ATTITUDE!

ilovemydun

Horse Training

12

12-10-2007

03:59 PM

Mr.Attitude

xkatex

Horse Training

6

10-07-2007

07:11 PM