Barrel Racing a foundered horse
---
I recently rescued a varnish appaloosa who was very, and still is malnourished and has had previous founder. He is doing great in my care, picking up weight and got his feet trimmed properly. His previous owner claimed he was feeding him, which i highly doubt with as much weight gain he has put on in the two weeks under my care. The old owner was trimming his feet himself with no ferrier schooling or know how.

My ferrier said he has foundered but very very mild. I do know he limped real bad when i got him and his toes were super long. My ferrier trimmed him up and I cant believe the difference, you wouldnt even know he had foundered. He doesnt limp much at all anymore.

My question is, could he be sound enough to run barrels. No NBHA kind of competition, this is a local saddle club thats for fun. It will be next year before we start as he still has a ton of weight to put on. I probably wont go full out running with him, like i said, this is mainly for fun until my 2 yr old stud colt is sent off to be trained/broke next year, then it will be another year before working on pattern.

I do have pictures of his body, and feet if anyone is interested.
I would make sure that the damaged part of his feet was grown out before putting him in any real serious work. After that, with a vet's clearance, he should be good for just about anything you want to do with him.
I would get him checked by a vet if he's supposedly foundered, just to be safe. I had a horse with hellishly long toes that limped because of an abscess. After it healed for a few days, he was fine again and perfectly sound :)
---
Wait! I'll fix it....
My ferrier said he had great feet, despite that. You cant even tell he had it. I dont think it was major founder, thats the thing. He has a normal looking hoof, not the typical foundered hoof that you would see with the bumbs and rings of new hoof growing in. I will post photos of the feet before he got trimmed. My ferrier thinks that I would be able to ride him on barrels or do anything with him once he is at full weight and proper trimmings to get his feet back right.
I have to take him to get his teeth floated by the vet in next couple weeks so I will ask about that and see what they say about it. Im saving up for an Equine Dentist to come out since my vet doesnt do a very good job at teeth but will make him feel a bit more comfortable. He has hooks and sharp points bad in his mouth, took a while to get him to look at his teeth, he would throw his head and just had to hold him still and kinda bear hug his head. Im working one thing at a time within my budget.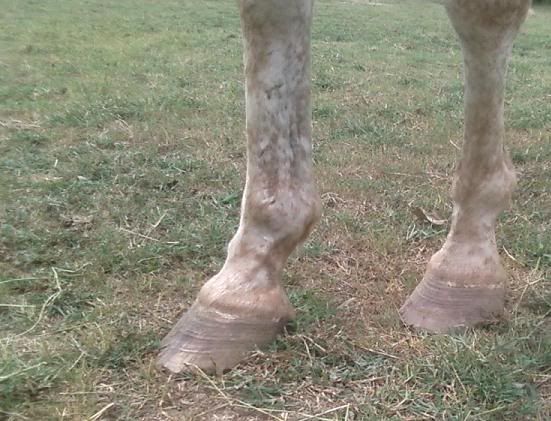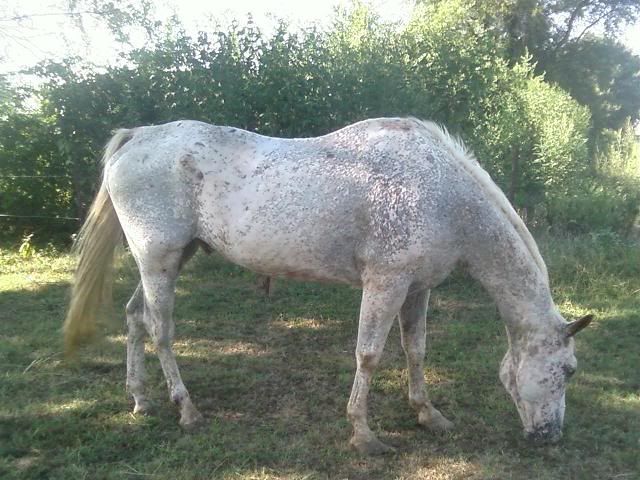 ---
Last edited by Azera; 09-05-2010 at

01:17 PM

.
Wow, poor guy. His feet look much better after the trim though. I am quite certain that by the time you get him up to riding weight, his feet will be in good enough shape to do whatever you want.
Aww poor guy! My adopted horse had similarly long toes when I got him, I don't understand how people can let that go on! :(
Why do they think he foundered? My guy has "chronic lamenitis" because he had foundered in the past. They could tell because he had a ring towards the bottom of his hoof which indicated some sort of stress or high fever and the x-rays revealed that it was rotated in the past but was all growing out.
As long as it doesn't relapse there shouldn't be any reason he can't do whatever you like :) Just make sure to keep his weight in control (once he gets healthy again) so he doesn't get too fat and watch what he eats. I feed my horse Remission supplements
Horse Vitamins & Minerals for Healthy Horse Feeding: Remission at Drs. Foster & Smith
, limit his alfalfa and sugar.
Poor horse, he's so lucky you found him!
---
Although I'm an advocate of bare feet, it's different after founder: the bone is usually rotated, so extra support at the heel MIGHT be needed. My pony did excellently with special oval shoes. He also had good feet. Your horse's feet look good! And don't worry too much about his weight-- I believe a little thin is MUCH healthier in the long run. My pony was on a very strict diet! (NO sugars, inslcuding carrots.
)
Actually, the pictures do not really show his true weight. He was really bad when i got him. His butt has filled out ALOT. Since he has white, it like a trick to the eye. I can tell and feel that he has put on a lot of weight in short amount of time. I know what your saying about being thin and not getting them too fat. I rescued an overly obese horse that had suffered from laminitis in the past also but that had been several years ago.

Oops, I feed alfalfa but only as like a treat. I have round rolls of grass hay, nothing special, just grass. But I spread out like 6 piles of alfalfa hay, which has really helped him put on weight. Not 6 flakes, I get about 3 flakes and make 6 piles out of it so they have to "search" for there food to simulate roaming free and to help them move around and walk in there pasture since pasture horses do not walk near as much as there wild counterparts, it encourages them to search and walk to help with digestion and to keep them from being bored.

I also feed him Senior feed which is a complete feed and its pelleted.

Deerly, my ferrier pointed out by the bottom of his feet, where it has come down and said that is typical founder and from the long toes. My ferrier has shod/trimmed foundered horses before, even a severe case. Usually with founder the toes grow longer I think. No x-rays were taken to fully comfirm, previous owner said he did founder from the owner before him. Not sure which owner really did because i know for a fact this guy was ridden HARD on the roads pounding away. I think he road foundered possibly. Stress from constantly pounding the pavement. He had shoes when I got him and my ferrier wants to trim him up and keep him barefoot for a while and see what that does. He limped bad or "walked on eggshells" bad with shoes on and I do not see that while he is barefoot. If after several months barefoot isnt working, we will try shoes.


I also have him on Biotin supplement too and a joint suppliment.
Most domesticated horses have had sub-clinical laminitis due to weight, feeding of grains and sweet feed, or simply the spikes of sugar in grass. As long as the internal structures of the hoof haven't been damaged or misplaced, he should be fine to be worked.
---
I dont think it was a very bad case of it but I could get x-ray to find out but would have to wait a little bit due to finances. Im getting one thing at a time done right now. Wish i had the money to get everything all at once. LOL. Im nervous of getting the poor ones out and about.
---
Last edited by Azera; 09-05-2010 at

08:02 PM

.