Beefing up your horse??? for show season??
---
i have my horse on ultmiate finish by buckeye and it has a lot of fat in it to do the same as like beet bulp and stuff like that..... but its not working...hes been on it for about 3 months and i dont notice anything... can any one recomend anything that has helped your horse gain just a little weight?????? i work him every other day at least.
Started
Join Date: Jan 2009
Location: USDF Region 1, USEA Area 2, USEF Zone 3 - Maryland
Posts: 1,903
• Horses:
3
I've had good results with cool calories 100. Or you can use flax or oil over the grain.
---
-Melanie
Mom to 3 bays: Beau, Daisy & Cavalina
Add probiotics to make sure he's using the nutrition he's getting.. and maybe increase his feed some to compensate for what he's working off??
---
<\__~
.// \\
More hay. Works like a charm
If you can't feed more hay, then alfalfa pellets work well. 1-2 scoops a day using a 3qt feed scoop.
I agree with luvs2ride. Alfalfa will add a bit more protien to his diet and will help him bulk up on muscle instead of just getting fat. Especially if you are working him.
---
Always remember that feeling of looking at a big, open country over the ears of a good horse, seeing a new trail unwind ahead of you, and that ever-spectacular view from the top of the ridge!!! Follow my training blog:
http://robertsontraining.blogspot.com/
What kind of horse? Some horses are naturally more lean built than others.
Thanks guys!!! good info!!!
I also tried the Ultimate Finish & didn't get results. I switched to Omega HorseShine (which you can pick up at Fleet Farm) and saw great results in a matter of weeks. It gives the horses a shiny coat, makes their mane & tail grow, gives them strong hooves and plumps them up just enough. Feed as much hay along with it as you can.
Before Omega HorseShine: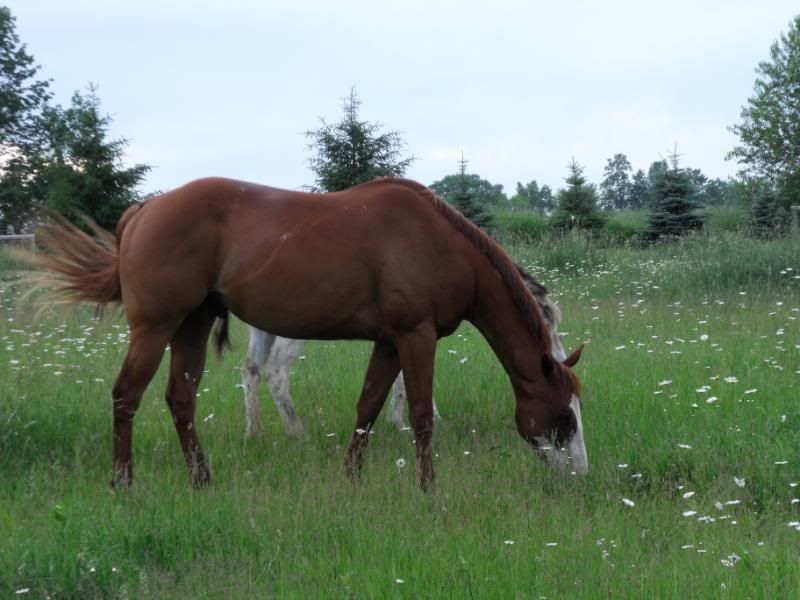 After Omega HorseShine:
---
http://www.cedarviewpainthorses.blogspot.com
Home of:
Perfect Jin N Scotch - 2004 APHA Palomino Overo Gelding - Western Pleasure and Showmanship
Hanks Rainy Sky - 1998 Black and White Tobiano Paint Gelding - relaxing rides and blazing trails