Blanket Suggestion for Low Withered Pony?
---
I'm looking for a turnout blanket for a little guy (13.3hh). He's built slightly bigger and has a short neck and back..pretty small withers..
He's had a problem with blankets slipping back on him. We've tried a few different blankets, even ones with extra velcro straps on the neck, and they've all done the same.
Has anyone had this problem and found a blanket that worked for this kind of horse?
It can't have too long of a drop, or else it'll swallow the poor little guy's legs.
Here's a picture of him to kind of give a better idea of his build: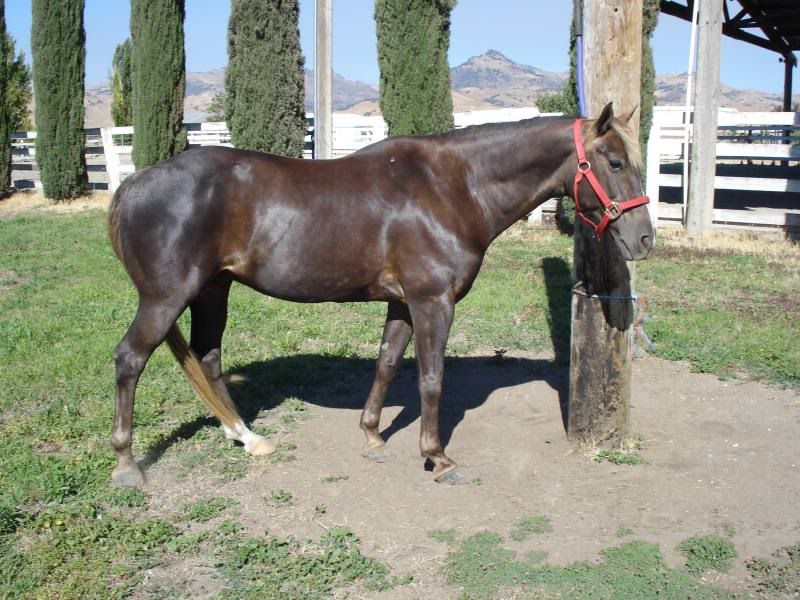 That's exactly what I was thinking. They are the greatest blankets.
to me thats not small withers lol thats high withers. I use high neck blankets on my high withered mare. at night i just tug it foward to make sure its not too far back. i do that with my reg. blankets too.
I was just about to say that too, barnprincess! That pony looks like he has pretty high withers to me lol.
---
- If today was your last day, and tomorrow was too late, could you say goodbye to yesterday?
Lacey has a similar sort of build to your guy and she was having the same problem with her old blanket. It always ended up smooshed up behind her withers...
Here's a picture of her to compare:
(she was being my golf caddy, only horse caddy)
And I got her a Weatherbeeta Landa Freestyle blanket (I don't think they come in sizes smaller than a 69 but a similar style might work for you) and we haven't had any issues with it sliding back at all. I really like this blanket, it hasn't given her any rubs (and she's been wearing it 24/7 since October with small breaks every few days) and it doesn't slip anywhere, not even side to side.
Good luck! He's super cute. =)
---
Fabio - 13 year old Arabian/Lipizzan gelding

~
Rest peacefully, Lacey.